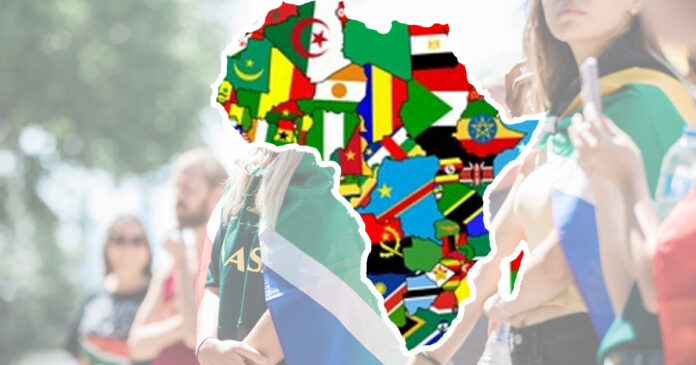 UK-based Africans are calling for a citizens gathering outside the South African High Commission in Trafalgar Square this Sunday 5 December. All are welcome to join and show solidarity against "the harsh punishment of Africans" between 12:00 – 14:00.
The 3 core issues to be highlighted at the #stoppunishingafrica demonstration are:
Shell's seismic survey along the south east coast of Africa in Marine Protected Areas is threatening the "greatest shoal on earth" (as coined by Sir David Attenborough and filmed by the BBC). This could result in a complete marine eco-system collapse which would have disastrous effects on marine biodiversity and local indigenous communities, their livelihoods and tourism for this region.
The event organisers – who include two South Africans who grew up in KwaZulu-Natal and a third 'sister' from the UK who spent years on the Wild Coast – say: "Shell has recently pulled out of the Cambo oil field exploration as there is no business case [IEA NZ2050], we believe the same holds true for oil & gas exploration in Africa. We demand Shell halts operations immediately, failing to do so will result in a citizen's legal action that we are preparing to file in the UK and European courts to stop Shell.
"We are also aware that there are plans to split Shell into two companies and rebrand the oil & gas exploration so that Shell can continue to destroy the Earth whilst greenwashing the British public into believing that they are investing in Green energy," say the organisers.
2. Inequality of the global health system
The #StopPunishingAfrica organisers say: "The hoarding and price-gorging of vaccines resulted in Africa facing a shortfall of 470 million vaccines this year, with only 2.5% of the African population vaccinated so far. Patents owned by western corporations are preventing access to manufacturing generic vaccines more cheaply in Africa, even though the research has been publicly funded.
"It is impossible to accuse the entire African continent of vaccine hesitancy when there are no vaccines in the first place. We call on vaccine manufacturers and the WIPO, World intellectual property Organization, including the European Union, Biden Administration, IMF, World Bank and British Government to end the patent on vaccines immediately. According to the WHO, there is a shortfall of other vaccines that are no longer being supplied, resulting in outbreaks of other infectious diseases throughout Africa, such as measles, creating other pandemics."
3. The knee-jerk travel bans across Africa
The recent 'knee-jerk' travel bans against countries in southern Africa, following the announcement of the new Covid-19 variant Omicron, has caused detrimental socio-economic impacts. These bans are affecting the ability for Africans to access medicines and it is estimated that there will be a potential £30-million loss in the tourism sector for South Africa alone, between now and March 2022 due to inbound cancellations, say the organisers.
They say the current UK travel restrictions are "inhumane" and that there are other alternatives to test travellers before they leave any country. The hotel quarantine costs are "exorbitant", they say, and unaffordable to most travellers from Africa.
"It is after all… Christmas in Africa too!"
According to the organisers there are hundreds of thousands of African expats working in the NHS, police and service jobs throughout various sectors in the UK. "These expats are an invaluable asset to the British economy. We demand that the UK government addresses our concerns regarding travel to and from Africa to ensure a more humane approach. It is after all… Christmas in Africa too!"
Event organisers
The event organisers are African sisters – Hayley Reichert, Paris Oomadath and Kate Swart. Hayley and Paris were born in KZN, South Africa; and Kate in Pembrokeshire, Wales but spent most of her life living in the Xhosa villages of the Wild Coast of Africa.
"We  invite citizens of the world to support and create a multicultural sea of flags and traditional dress in solidarity with our motherland. We are not the Dark Continent, show your colours, and raise your voice, Amandla!" they say.
If you would like to attend…
To register attendance for Sunday's gathering, please click here: https://bit.ly/StopPunishingAfrica
To see latest updates please join the Facebook event page: https://fb.me/e/2Dr60E2EC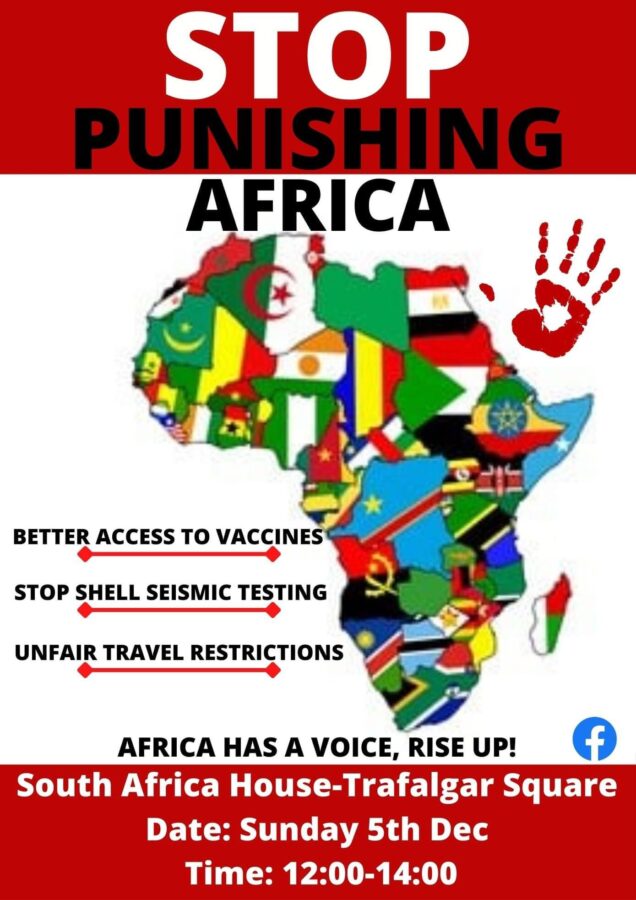 This is a legal demonstration with relevant permission from the authorities.