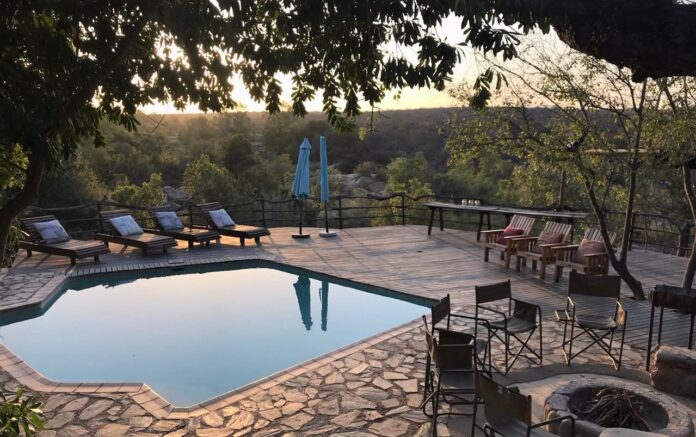 A South African woman's beautiful view from her outdoor kitchen is inspiring people across the world. But it's not just Heather Leigh Wagner's lovely Limpopo view that's made over 71,000 people (and counting!) 'like' her post. It's her story of overcoming tragedy and how the view literally saved her life that has moved over 9,000 people to send her a message since her post was shared, on 'View from my window' facebook page, seven hours ago. That's well over 1,000 messages per hour!
This was Heather's message, her story of tragedy and triumph: "I am a quadriplegic and live here with my one-eyed dog Pirate and three-legged cat Samoosa, both from rescue centres (I also have another cat with all his legs and eyes). ?
"I broke my neck in a car accident on Valentine's Day 1993 when I was 19 years old and my boyfriend, who was driving, was killed. I live in South Africa and was lucky to have grown up spending a lot of time in the "bush", what we call a game farm.
"Nature and wildlife is my passion and for the next 18 years I wondered how I was ever going to be able to realise my dreams in my condition.
"But in 2011 it all came together and I bought a 21-hectare property in a Nature reserve – not Big 5 but we still have all the plains game like giraffe, zebra, kudu, warthog etc and I'm on the Olifant's river so crocs & hippos too! (The river is just in front of the pool deck).
"This property and this view literally saved my life, I was able to come off anti depressants and am grateful every day for where I live.
"View from my outdoor kitchen… Hoedspruit, South Africa"
In the seven hours since View from my window shared Heather's post, the messages have streamed in from Newcastle in South Africa to Nova Scotia in Canada, from Scotland to Scottburgh, Australia to Austria, UK, Germany, Puerto Rico and everywhere else! Some are from friends who are so proud of her, others from strangers who've been touched by her story. One expat, Kim C, wrote "much love sent your way from Derbyshire UK from an ex south African, looking at your photo reminds me of the sounds and smells of home and how the rhythm of Africa will always beat in my soul❤❤"
A fellow animal lover in Canada, Melody G said: "You have a great view on life and it is amazing the unconditional healing we receive from animals. If only everyone in the world could experience and feel that."
Cindy C from Deer Park, Texas said "Your strength, courage, and inspiration are amazing! I love that you are an animal lover and your view is just beautiful. God Bless You."
A friend in South Africa said Heather is an inspiration to everyone who knows her, and knows about her.
Bettina F in Australia said: "What a spectacular story. Or really, spectacular recovery to feel so blessed. Your home with your beautiful special rescues seems to me like your dreams did and are coming true."
Rosie P in the US added: "Beautiful story! You had two choices. Stay depressed or be happy, accept your condition, and make the most out of your situation. It's great to see that you rescue animals that otherwise might never find a forever home, because of how they appear. You are so blessed to live in such a beautiful paradise, surrounded by nature, people and pets that love you. So happy you chose to be happy."
Glinda R commented: "What a story! Your story has to be my favorite ever! Greetings from Tennessee, USA!??"
A friend wrote: "You are an amazing person Heather and I am lucky to have had the pleasure of knowing you, through your sister and your awesome family. I am so happy that you have found your happiness again. Love all you guys like family. Xxx"
Health worker Kellin M said: "Your story is amazing. So happy you found your peace, and love the life you live. I'm so glad I followed this page. I am an ICU nurse and over the last few months I've been feeling very depressed and down but these posts have honestly given me a whole new perspective on everything and I love it and I needed it!"
View from my window was originally created to connect people from all over the world during the Coronavirus lockdowns, by sharing their views. The project was launched by Barbara Duriau on 22 March 2020. It now has over 2.6 million members. You can join here.