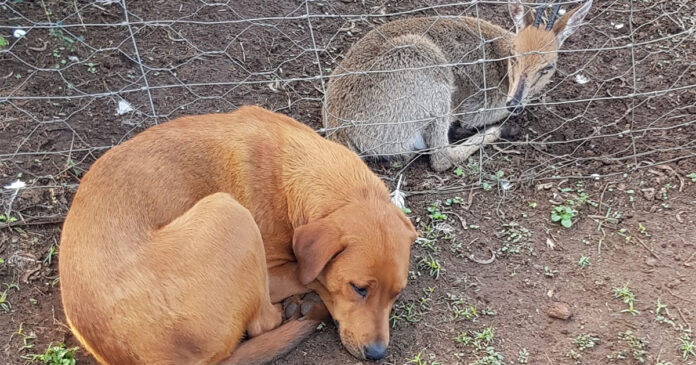 Sjoe, a heartwarming story from Utrecht in KwaZulu-Natal (KZN), South Africa, is being shared on social media today.
The story was posted by Nico Moolman on Monday afternoon, after his son – also named Nico – had found a distressed animal on Sunday.
Nico Senior said: "Yesterday my son Nico found an old steenbokkie tangled amongst branches of a fallen tree, in the bush a few yards from the inner fence here on Cesaréa farm.
"He carried the scared buck into a holding pen adjacent to our house. Then we noticed it was blind…"
After the little steenbokkie (or klein duiker as others have said – the two are often confused for one another) had calmed down, Nico Junior put out some water and grass for it.
And then the most precious thing happened…
"Our Lulu dog immediately took charge and growled the other dogs away," wrote Nico Sr. And beautiful Lulu didn't just stop there. As warm-hearted and caring as her human owners, she took on the full responsibility to protect the blind antelope.
Nico revealed that Lulu – who is a cross of "maybe a rifrug and doberman" – spent the whole night there, sleeping beside the frightened animal, which is where Nico took the photo on Monday morning. Nico told SAPeople that Lulu was born on 8 July 2020, and is the daughter of one of his family's rescue dogs. "We have 10 more… ?"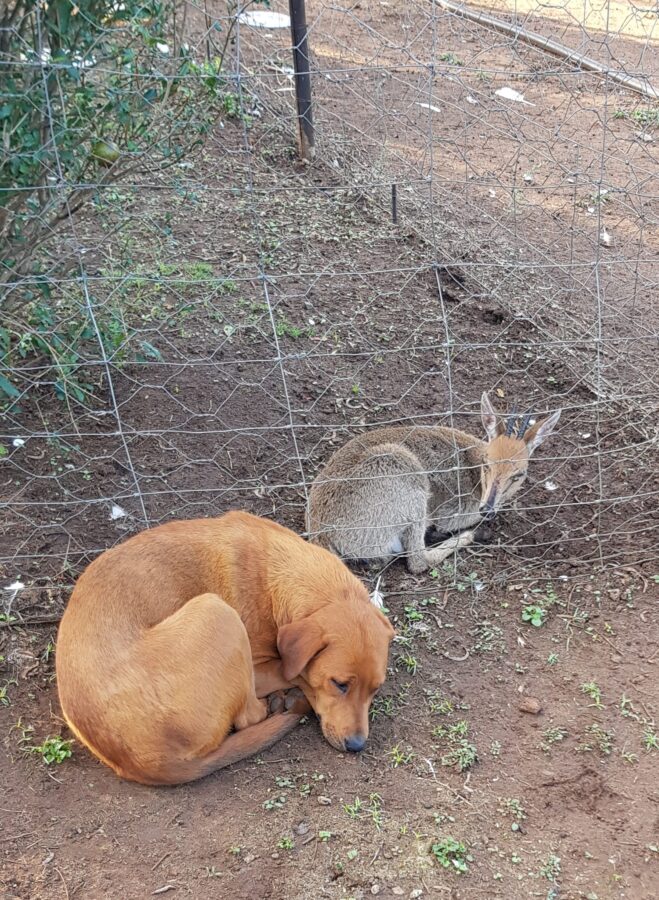 The good news by afternoon was that the "bokkie grazed and seemed to be calm".
And even better news is that when someone asked Nico "now what will become of the poor little thing if it is blind", Nico replied: "We will raise it with kindness…"
Kindness clearly runs in the Moolman family, both humans and dog. May we all treat each other with such kindness!
Nico told SAPeople he plans to name the bokkie Hendrik "in honour of my friend Hendrik Steyn. Born blind and great pal of mine."
If you're in the area of Utrecht (or would like to head that way for a peaceful holiday!) – it's the only town inside a game park, Nico's daughter and her husband – Dana and Pheona Kemp – own Cesarea Guest Farm, a working farm that's home to an assortment of animals and abundant birdlife! And Nico's house is about 6km away, next to a museum he keeps called 'Buskruit en Laventel' / 'Cordite and Cologne'. Nico is also the author of The Boer Whore and other books.