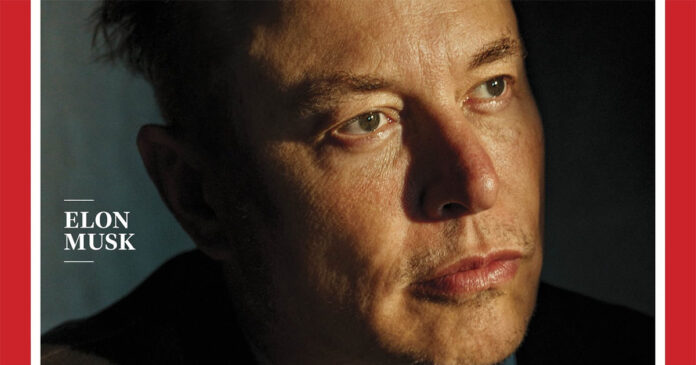 Elon Musk has been named Time Magazine's Person of the Year 2021, an honour that Time describes as "not an award, but a marker of influence, it is a reflection of impact, a way to capture the meaning of the moment". Time says its Person of the Year recipients are those who led us or enraged us, amused or inspired us. Of South African expat, Elon Musk, they say he is "the visionary who captured our attention".
Previous Time Person of the Year people include Greta Thunberg, Donald Trump, Mark Zuckerberg, Vladimir Putin, Barack Obama, you (yes, YOU), Martin Luther King Jr, Adolf Hitler, Angela Merkel, Elizabeth II, and many more. Time says it features a person, group, object or idea that "for better or for worse… has done the most to influence the events of the year".
With 50-year-old Musk emerging as the world's richest person in 2021, as well as "perhaps the richest example of a massive shift in our society", he is Time's natural choice. "This is the man who aspires to save our planet and get us a new one to inhabit," says Time.
"His startup rocket company, SpaceX, has leapfrogged Boeing and others to own America's spacefaring future. His car company, Tesla, controls two-thirds of the multibillion-dollar electric-vehicle market it pioneered and is valued at a cool $1 trillion. That has made Musk, with a net worth of more than $250 billion, the richest private citizen in history, at least on paper. He's a player in robots and solar, cryptocurrency and climate, brain-computer implants to stave off the menace of artificial intelligence and underground tunnels to move people and freight at super speeds."
Time says: "Person of the Year is a marker of influence, and few individuals have had more influence than Elon Musk on life on Earth, and potentially life off Earth too."
Summing up the former Pretoria Boys High student, Time says: "The richest man in the world does not own a house and has recently been selling off his fortune. He tosses satellites into orbit and harnesses the sun; he drives a car he created that uses no gas and barely needs a driver. With a flick of his finger, the stock market soars or swoons. An army of devotees hangs on his every utterance. He dreams of Mars as he bestrides Earth, square-jawed and indomitable. Lately, Elon Musk also likes to live-tweet his poops." (This refers to Musk admitting many of his tweets are made from a "porcelain throne".)
this shy South African… bends governments and industry to the force of his ambition
The magazine says that it was just a few years ago when Musk was mocked as a 'crazy con artist on the verge of going broke" but that "now this shy South African with Asperger's syndrome, who escaped a brutal childhood and overcame personal tragedy, bends governments and industry to the force of his ambition."
Tweets from Elon Musk's proud family… and Trevor Noah
Elon's proud mum, model Maye Musk, has already tweeted: "Well deserved. #ProudMom #ProudFamily" and tagged Elon and his siblings. Brother Kimbal said: "Congratulations bro. I can't think of a more deserving person ever. You are changing the world and humanity for the betterment of all." Sister Tosca said: "My big brother is @TIME Person of the Year! So proud of him and everything he's done and keeps doing for all of us. I love you, @elonmusk".
Maye told Time: "He was always different. He was my little genius boy. From the time he was 3, we used to call him that—Genius Boy."
South African comedian and fellow SA expat, Trevor Noah, joked: "Good to see TIME recognize a person, unlike Tesla's Autopilot cameras" (referring to crashes with parked emergency vehicles that have resulted in injuries and fatalities).
Time calls Musk's father "a monster" with whom Elon no longer has contact. The magazine says that after Musk's parents divorced (when Elon was 9) Kimbal and him lived with their dad who "was a brilliant engineer and entrepreneur; he was also, in Elon's telling, an "evil" man who tormented the boy psychologically in ways Musk still finds painful to discuss."
Errol Musk told Rolling Stone magazine that he fatally shot three armed robbers when they broken into his home, and in 2017 he admitted he had fathered a child with his former stepdaughter who was 42 years younger than him.
Of his schooling – in Bryanston, Johannesburg (before he moved to Pretoria Boys High) – Time says Elon Musk was targeted relentlessly by "vicious gangs of bullies" who "at one point (beat) him so badly he was hospitalized, until he hit a growth spurt in high school and started punching back." (Elon Musk has talked about the bullying in South Africa before and said that "South Africa was quite a violent place".)
After school – at 17 – he left SA, moving to Canada, partly to avoid going to the army. The rest is history. Musk now holds South African, Canadian and American nationalities.
Time named 24-year-old US artistic gymnast Simone Biles as Athlete of the Year, Vaccine Developers as Heroes of the Year and Olivia Rodrigo and Entertainer of the Year.
Read the full Time profile on Elon Musk here.
WATCH TIME Person of the Year 2021: Elon Musk
Elon Musk (@elonmusk) is TIME's 2021 Person of the Year #TIMEPOY https://t.co/8Y5BhIldNs pic.twitter.com/B6h6rndjIh

— TIME (@TIME) December 13, 2021