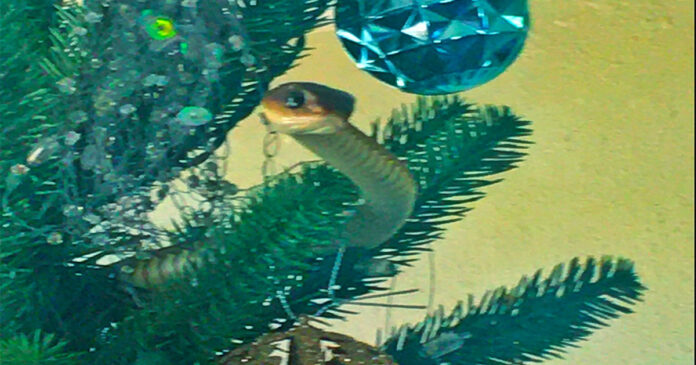 You wouldn't be surprised to see a game of snakes and ladders under the Christmas tree… but imagine the shock for a Western Cape family, when they saw a real live snake IN their Christmas Tree. And it wasn't just any snake. It was a boomslang… which is of course named for the fact that it is usually found in trees, just not normally indoor Christmas trees! Even snake rescuer Gerrie Heyns said it was "a first for me".
The Wild family, who live on a farm between Robertson and McGregor in South Africa, discovered the snake on Friday (10 Dec) and called Gerrie.
"They sent me two photos and I couldn't believe my eyes!" Gerrie wrote on Facebook. "Yes… Boomslang in their Christmas tree! It was 62km from Montagu and I told them to not bother it, and keep eyes on the snake. It was rural farm area and it took me about 90min to get there."
The snake was still in the tree when Gerrie got there, and as can be seen in the video below, he interacted very calmly with her… whilst also letting the family know that as a female boomslang (identified as such by her olive brown colour) she's capable of opening her jaw very wide!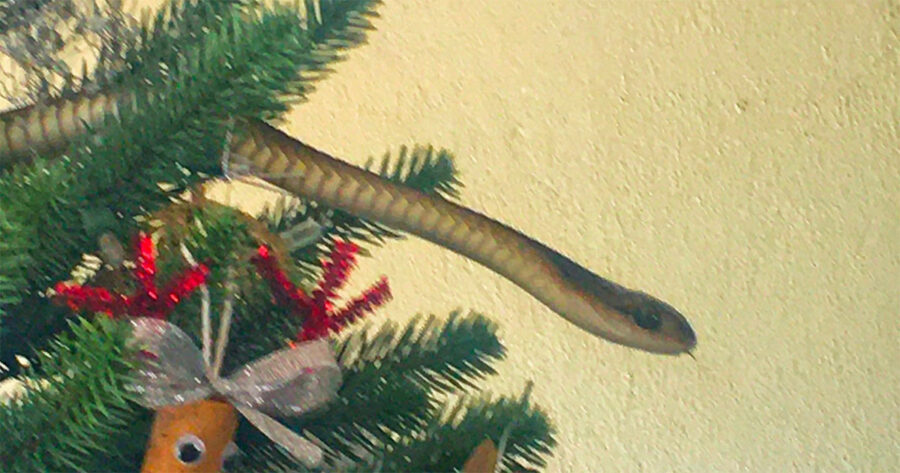 The Boomslang (Dispholidus typus) males are usually bright green, rust red, or a mixture of black and yellow; while the juveniles have bright emerald eyes and a white throat, according to SANBI (SA National Biodiversity Institute).
On Sunday, Gerrie released the snake back into nature.
A boomslang – which means 'tree snake' in English – is a highly venomous snake! According to SANBI, "the boomslang's venom is haemotoxic, which means that it affects the blood-clotting function of the victim, causing internal and external bleeding".
SANBI does say however that "in general snakes do not attack stationary objects and they never chase after humans."
WATCH Boomslang in Christmas Tree, South Africa, 10 December 2021
Boomslang in Christmas Tree, South Africa – photos:
If you would like to follow Gerrie, please do so on his snake group page SNAKE LIVES MATTER (and not his personal page). Thanks!