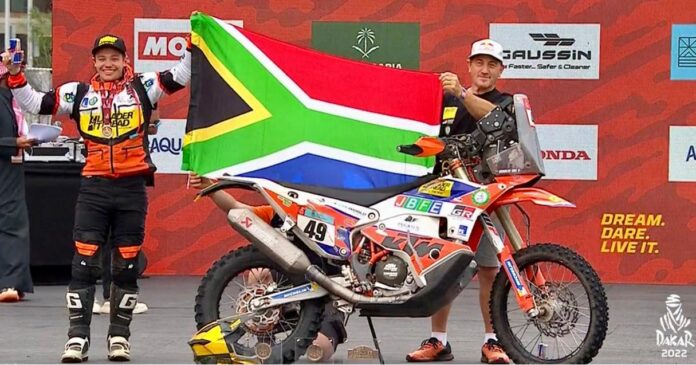 Young South African rider Bradley Cox has followed in his legendary father Alfie Cox's footsteps with a fabulous podium finish at the Dakar Rally, coming second in his class and thanking all the South Africans who got behind him to make this dream come true.
Congratulatory messages have poured in for the legend-in-the-making for his "outstanding performance for your first Dakar. We await much more in the future…"
It was a special moment for Bradley, racing with the KTM Racing Team, to be joined on the podium for photos with his father. Alfie left the family shop – Alfie Cox Racing (which specialises in KTM motorcycle sales) – in his wife's capable hands for three weeks to join his son in Saudi Arabia, where the Dakar began on New Year's Day and ended today.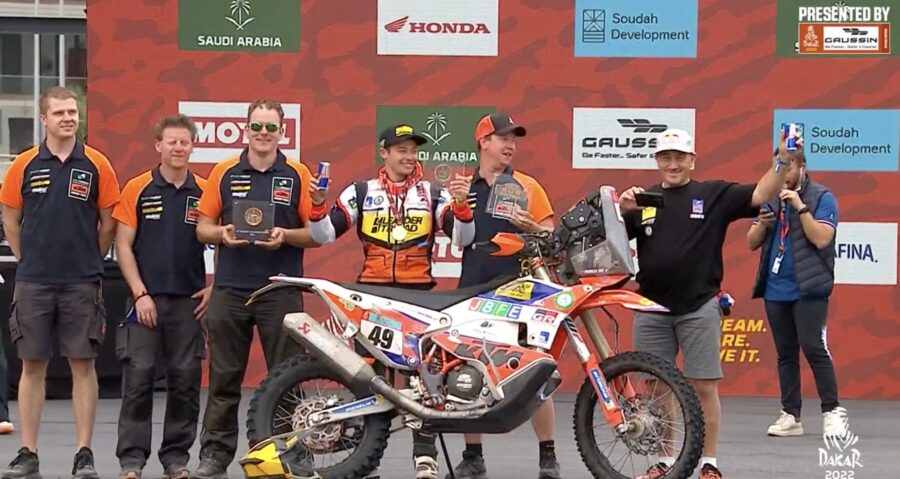 Alfie Cox Racing said on Friday evening: "Well done on your first Dakar, Brad! We are so proud of you!"
Alfie was an official KTM rider himself from 1998 to 2005, finishing three times on the podium and winning eight stages.
Speaking before the rally, Alfie said he hoped his presence would help calm his son, and that the key to the rally is not speed but to get the navigation right. "You don't have to go that fast and take unnecessary risk," he said.
While Bradley laughed and insisted that his strength for now would be his speed… and youth, he did say how amazing it was to have someone to ask questions to at the dinner table, and that one of the main things he's learnt from his father is "always make a plan".
?Like father, like son…

Meet Bradley Cox, son of 13-time Dakar racer Alfie Cox, now himself taking on the Dakar.
Hear his story and how he came to be lining up on the bike ⬇️#Dakar2022 pic.twitter.com/lsor02Mrj6

— DAKAR RALLY (@dakar) January 3, 2022
According to Alfie – who raced at Dakar 13 times – it's the mental pressure that needs to be overcome rather than the physical. Coming second today in his debut, it's clear that Bradley – Number 49 – accomplished it!
This was the Dakar's third time in Saudi Arabia with spectacular sandy landscapes and challenging chains of dunes.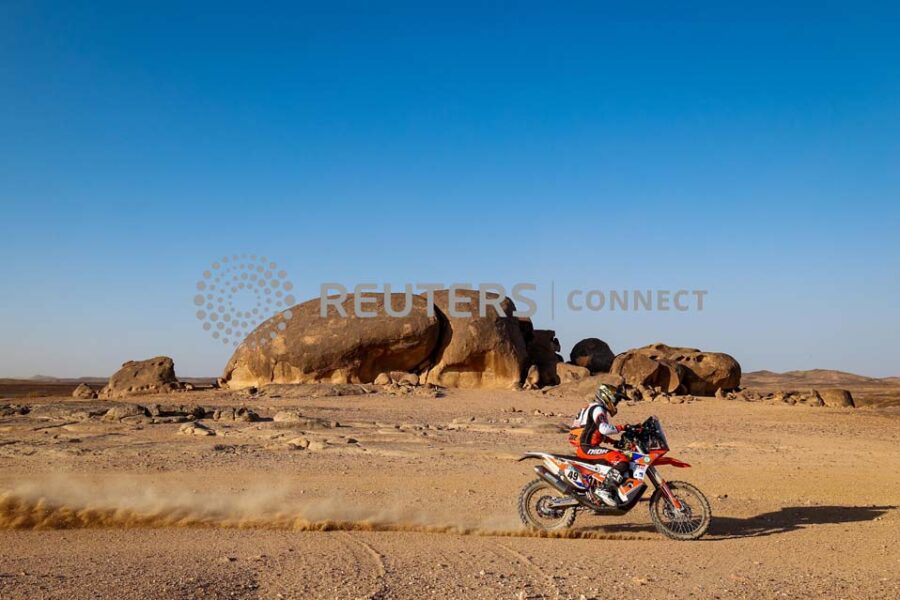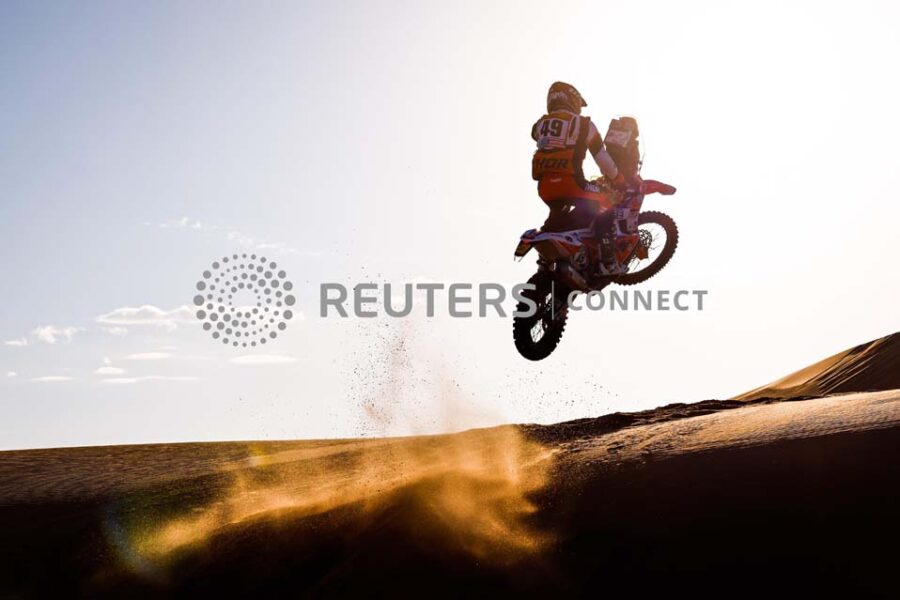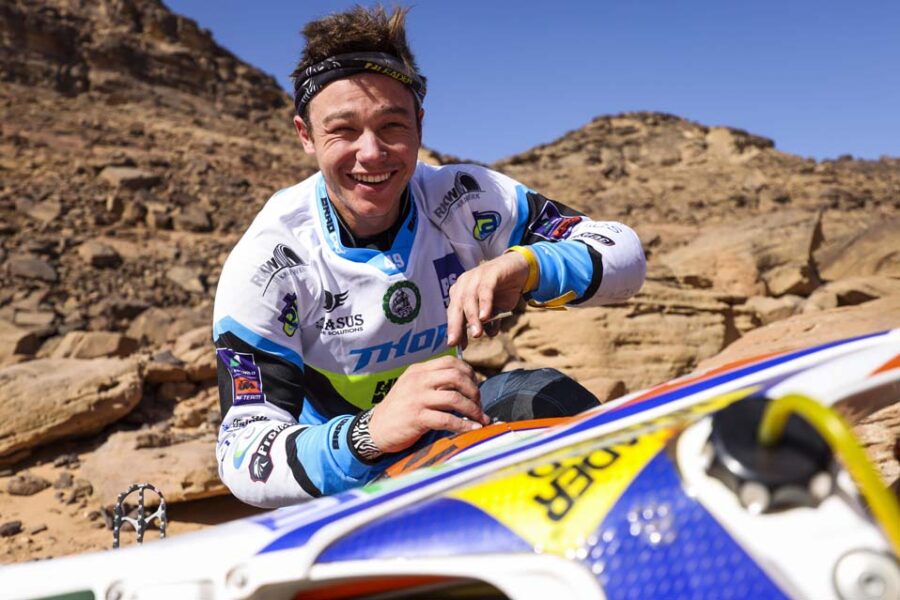 Brad, who hails from Cato Ridge in KwaZulu-Natal and went to Maritzburg College, said on Friday: "I honestly want to say, from the bottom of heart, thank you so much. I've received so many messages in the last two weeks… I really appreciate it. I had a dream and so many people believed in me and helped me get to the start line."
Brad thanks the people of South Africa
He particularly thanked the "people of South Africa" who were "incredible" for helping get behind him, and said "I hope I did you guys proud".
Bradley also thanked his dad – "my left hand to my right hand", his mom and brother Trey, as well as his aunt and everyone else who gave him and his family such amazing support.
He said he hopes he'll be given a couple of days off before he returns to work in the family shop!
Brad's journey to Dakar took a detour when at 15 he left home to live in Belgium and pursue a career in the European Moto-X championship. But after some injuries, and the challenge of getting sponsors, he returned home at 18 for a year… but ended up staying after he entered a local enduro for fun and almost won it, according to Dakar Rally's website. The rest is now history…
Brad has nine national titles to his name.
WATCH Thank you South Africa from Brad Cox
WATCH Emotional moment as Werner Kennedy becomes first person from Lesotho to complete the Dakar
Werner Kennedy becomes the first person from Lesotho to complete the Dakar!

? An emotional moment#Dakar2022 pic.twitter.com/ZjrSgpCl1l

— DAKAR RALLY (@dakar) January 14, 2022
South African Henk Lateran set the fastest time in his class:
? After 120km, @henk_lategan set the fastest time. ⏱

? Overall leader @AlAttiyahN concedes only 3 minutes to runner-up @SebastienLoeb and is heading for a 4th Dakar title.

Follow the race live ?https://t.co/1EEGudf7s0#Dakar2022 pic.twitter.com/SrKWe6Dmdd

— DAKAR RALLY (@dakar) January 14, 2022
? Here are @Sundersam's first words at the finish. ?

? The british rider just won the #Dakar2022! ? pic.twitter.com/pg0OTh3OZi

— DAKAR RALLY (@dakar) January 14, 2022
More: https://www.dakar.com