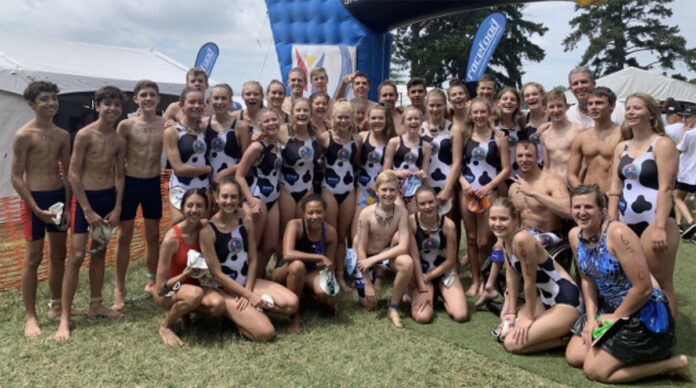 DURBAN – Gutsy para-swimmer David Williams will don the colours of The Cows as he sets out to swim the aQuellé Midmar Mile on Saturday 12 February to raise funds for the CHOC Childhood Cancer Association of South Africa. By Dave Macleod.
Born without legs, the 34-year-old Durban North resident has already done the Mile four times, but now wants to channel his energy into the charity element of the world's biggest open water swim.
"I recently started open water swimming in the ocean on Friday mornings. I enjoyed it so much that I thought… why not do the Midmar Mile again. Then I thought, why not do Midmar to raise money for a cause," said Williams.
"I have had friends and family effected by cancer, so I wanted to do the swim for CHOC," he added. "I thought it would be a mission to become a part of the team and raise funds, but it was probably the easiest, smoothest thing I have ever been through.
"I am definitely still rusty with swimming, but I am super excited to be a part of The Cows team ," said Williams.
After struggling to take part in able-bodied sports as a scholar, Williams was introduced to adaptive sports through swimming, and immediately made his mark, setting six national records, before turning his attention to adaptive rowing.
His friend Tracy McKay, who has introduced him to adaptive sport, then paved the way for Williams to try adaptive surfing in 2021, and he won the KZN and SA titles in his first year.
"I was selected for the SA team to surf in ISA Worlds in California in December 2021, but unfortunately due to the banning of SA flights from the new strand of Covid, we were unable to make it to the US to take part in the competition," explains Williams.
Setting his sights on the aQuellé Midmar Mile allows Williams to continue to pursue his competitive goals, while at the same time enabling him to realise a wish to contribute to CHOC through the popular 'herd' of The Cows at the Midmar Mile, which will top 100 swimmers this year.
"I have always been extremely competitive and love to try tough things, or push my body and mind to the limits! So I'm always looking for the next thing to do!
"When I do any sport or extreme distances or events I would like to always do it for a cause going forward, so I am definitely up for the challenge of swimming for The Cows and CHOC," said Williams.
Supporters can contribute to his GivenGain account at https://www.givengain.com/ap/david-williams-raising-funds-with-the-cows-at-the-midmarmile-2022/
More information about The Cows can be found at www.thecows.co.za
David Williams can be reached on 071 259 5886.