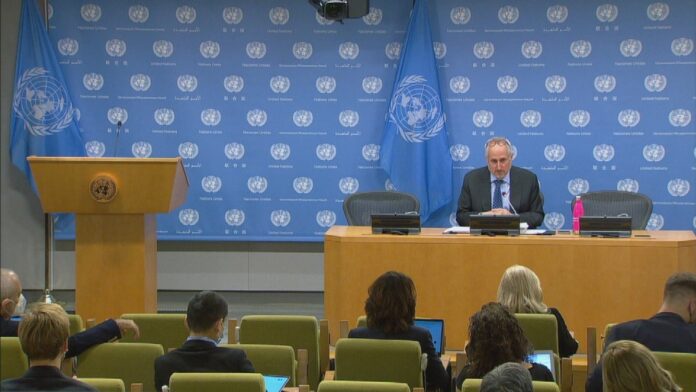 The United Nations Secretary General is "shocked by the numerous reports of racism, harassment and discrimination that people of different races have been subjected to" as they flee Ukraine, according to the UN SG's spokesperson Stéphane Dujarric.
Dujarric said they have seen reports of "basically outright racism" as these people have tried to leave Ukraine, "as well as in neighbouring countries, as they seek refuge from the conflict."
South African students were amongst those complaining about discrimination as they tried to leave Ukraine. They said they were made to wait three days at the border while Ukrainian citizens were allowed through in another queue. They also reported being kicked off buses and trains to make way for Ukrainian citizens instead.
Briefing reporters in New York on Thursday, Dujarric added: "The Secretary-General very much appreciates the generosity of those governments bordering Ukraine. He calls on all governments in the region to crack down on any manifestation of racism and xenophobia.
"It is vital that they ensure that all people, regardless of ethnicity, religion or culture, are afforded the same treatment and protection."
The spokesperson said that colleagues at agencies working in the area received "credible and verifiable information from partners, and humanitarian presence on both sides of the border have documented signs of abuse on several third-country nationals arriving in neighbouring countries. Also documented acts of xenophobia based on people's race and nationality in several border cities.
"We've also seen the overwhelming testimonies shared in traditional media and social media from people who have been subjected to discrimination, including not limited to people from Africa, European citizens of African descent, as well as people from the Middle East and Asia. They reported having faced discrimination on their journey."
Generosity from border countries
Dujarric did point out: "I think there are few things here to note. One is that there's been an amazing generosity from the border countries of Ukraine who opened up their borders and allowed for protection."
The spokesperson said the issue of racism "has been raised with the leadership of a number of these countries who all committed to investigating it and to ensure it doesn't happen, and we are not saying in any way, shape or form that it is action by those governments, on the contrary, I think they are all very aware of the problem.
"We've also seen and welcome the statements from the Ukrainian foreign minister who has also condemned these acts and ensure that Ukraine will treat every one equally, and I saw also in a tweet from the foreign minister that they set up a special hotline for third-country nationals who feel they are stranded and they are not getting the help that they need."