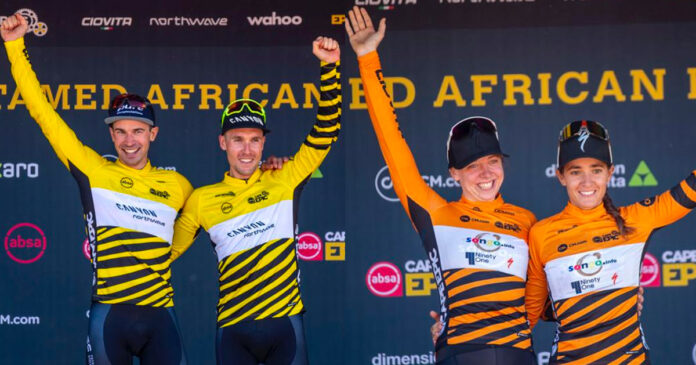 "Heat. Dust. Climbing. And more climbing. Today's stage was nothing short of brutal and it saw the Ciovita leader jerseys change hands in both the Men's and @CMcom_ Women's category," said Cape Epic today, as Stage 1 of the famous, and gruelling mountain bike race came to an end.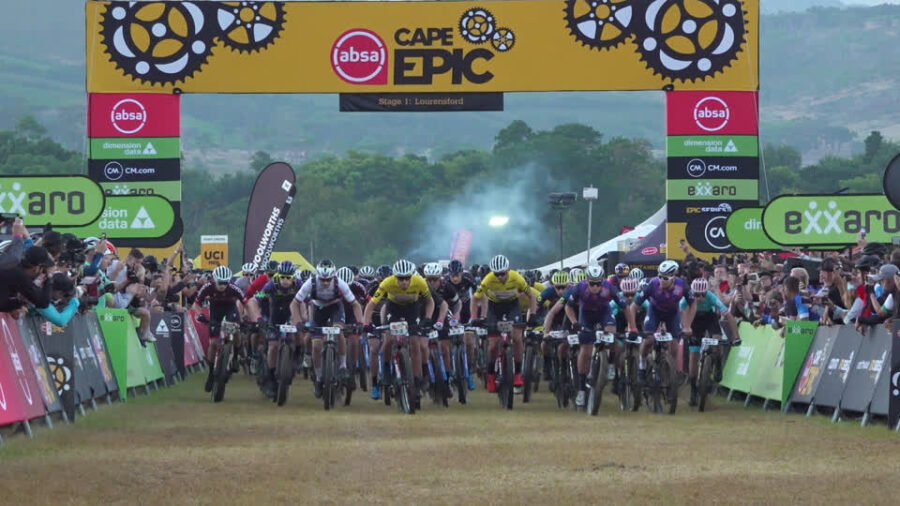 "It was a hot stage with cool heads from the winners," said Cape Epic. The stage covered 92km in and around the Lourensford Wine Estate and left "nowhere to hide". It was a "brutally long and steep ascent from Lourensford Wine Estate to the heights of the Helderberg Mountains" followed by trails through Ernie Els and Alto wines, with the most challenging "brutal" climb being Die Nek back into Lourensford.
Germany's Andreas Seewald and the Czech Republic's Martin Stosek (Canyon Northwave MTB) took the stage with relative ease in 3 hours 58 minutes 23 seconds, almost three and a half minutes ahead of the second placed team; while the women's race went to Argentina's Sofia Gomez-Villafane and Haley Batten from the US (NinetyOne-Songo-Specialized) in 4 hours 50 minutes and 2 seconds… a minutes and 49 seconds ahead of Symbtech ZA riders Ariane Luthi of Swizterland and South Africa's Amy Wakefield. The South African pair Candice Lill and Mariske Strauss were third for Faces Rola.
The famous, and gruelling, mountain bike race (the most televised in the world) is the only eight-day mountain bike stage race classed as hors catégorie by the Union Cycliste Internationale (UCI). This official UCI status makes it a highlight on the professional racer's calendar, says the Cape Epic, as well as attracting aspiring amateur riders wanting to test themselves against the best. "It is a full-service race, meaning that everything is taken care of from the start – all riders need to think about is riding," says Cape Epic.
According to the race's website: "The race must be completed by both members of a two-person team with only 680 teams allowed to ride the race each year. Every edition follows a different route, leading aspiring amateur and professional mountain bikers from around the world through roughly 700 untamed kilometres of unspoilt scenery and up 17 250m of vertical ascent."
Cape Epic 2022 finishes on 27 March. You can watch the progress on their YouTube channel – with stunning South African scenery!
Andreas Seewald and Martin Stosek (Canyon Northwave MTB) take Stage 1 of the Absa Cape Epic with relative ease. A commanding ride. Stosek pumps the air in delight, as well he might. A hot stage with cool heads from the winners. #untamed pic.twitter.com/vunRTNyFZy

— capeepic (@CapeEpic) March 21, 2022
The winners of Stage 1 in the @CMcom_ Women's Category. Strong finish! @WOOLWORTHS_SA #epicwomen pic.twitter.com/zm4I82ksOP

— capeepic (@CapeEpic) March 21, 2022
We gave you a little teaser of Nino having a blast on the trails earlier; here is the man in his element, jumping and whipping it like the champion he is. #Untamed pic.twitter.com/w1ZH2m4PRu

— capeepic (@CapeEpic) March 21, 2022
More on Cape Epic's website.