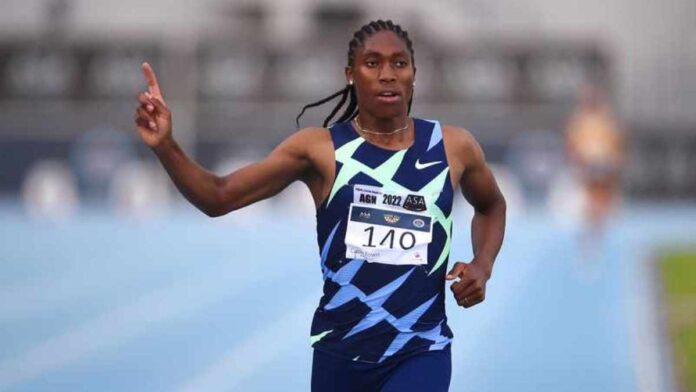 Double Olympic champion Caster Semenya dipped under nine minutes for the first time in the 3 000m and bettered her personal best by 10 seconds at the Athletics South Africa Grand Prix at the Green Point Athletics Stadium in Cape Town on Wednesday night.
The 31-year-old Semenya, who has been barred by World Athletics from competing in distances from 400m to the mile, is aiming a campaign at the 5 000m at the World Championships later this year.
"We are always happy with performances — as long as you are improving, and you are running PBs, you will always be happy! So, for now, the main goal is just to be better in each and every race we run, so that we can be contenders in the 3km, 5km in the European season," Semenya said after the victory in windy conditions.
Semenya ran alongside Glenrose Xaba for much of the race, but with 1 000m to go she put her foot on the accelerator and stretched away to won in 8:54.97. This was almost 10 seconds quicker than her previous PB of 9:04.20.
The 3 000m national record is held by Elana Meyer, whose mark stands at 8:32.00 set in Durban in 1991.
Top of mind for Semenya, the 800m gold medallist at the 2012 and 2016 Olympics, is the world championship qualifying time of 15 minutes straight in the 5 000m and that's the distance she will race over at the National Championships on the same track in April.
"If it comes, it comes. But it is possible, if you are able to run a sub-nine on a 3km, it shows that you are almost like 15:00 on a 5 000m," Semenya said, referring to qualifying for the 5 000m.
"But for me, it's not always the goal. The goal is to come back and show up for my people, show that I still have a love for athletics. But it would be great if we can do the world champs. At the moment, the goal is to run the African champs."
Former junior world champion Sokwakhana Zazini won the men's 400m hurdles in 49.66 , while the strong headwind put paid to Antonio Alkana's hopes of a fast time in the men's 100m hurdles, but he still won in 14.02 sec.
Source: TeamSA