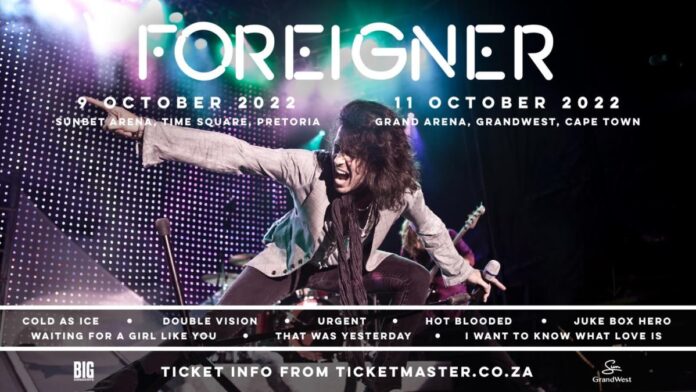 Hailed as one of the most popular rock acts in the world, FOREIGNER will be touring South Africa in October 2022, performing in Gauteng and the Western Cape.
With 10 multi-platinum albums and 16 Top 30 hits, FOREIGNER is universally hailed as one of the most popular rock acts in the world with a formidable musical arsenal that continues to propel sold-out tours and album sales, now exceeding 80 million.
Responsible for some of rock and roll's most enduring anthems including "Juke Box Hero," "Cold As Ice," "Hot Blooded," "Waiting For A Girl Like You," "Feels Like The First Time," "Urgent," "Head Games," "Say You Will," "Dirty White Boy," "Long, Long Way From Home" and the worldwide #1 hit, "I Want To Know What Love Is," FOREIGNER still rocks the charts more than 40 years into the game with massive airplay and continued Billboard Top 200 album success. Audio and video streams of FOREIGNER's hits are over 15 million per week.
With more Top 10 songs than Journey and as many as Fleetwood Mac, FOREIGNER also features strongly in every category in Billboard's "Greatest of All Time" listing. At times, the band's weekly catalogue sales have eclipsed those of Led Zeppelin, AC/DC, The Rolling Stones, The Who, Def Leppard, Van Halen, Aerosmith and most of their Classic Rock peers (Source: Nielsen SoundScan). FOREIGNER's catalogue sales were recently celebrated in Business Insider as hitting the Top 40 among the Best Selling Music Artists of All Time.
FOREIGNER's founder is Songwriters Hall of Fame member Mick Jones. A visionary maestro whose stylistic songwriting, indelible guitar hooks and multi-layered talents continue to escalate FOREIGNER's influence and guide the band to new horizons.
Jones reformed the band after a 2002 hiatus and selected lead singer Kelly Hansen to help write an inspired new chapter in the history of FOREIGNER. One of rock's greatest showmen, Hansen is among the most respected, consummate professionals in rock and roll. With a 40-year career that spans almost every area of music, from the role of lead vocalist to producing and engineering, Hansen has led FOREIGNER into the digital age while inspiring a whole new generation of fans.
FOREIGNER tour dates in South Africa
FOREIGNER will perform in Pretoria on 9 October 2022 and in Cape Town on 11 October 2022.
FOREIGNER's lineup that will be touring South Africa is Kelly Hansen on vocals and also includes noted Dokken bassist Jeff Pilson, Michael Bluestein on keyboards, guitarist Bruce Watson, Chris Frazier on drums and guitarist Luis Carlos Maldonado. An unprecedented new level of energy led the group to a re-emergence of astounding music that speaks to FOREIGNER's enduring popularity.
With renewed vitality and direction, FOREIGNER hit the Billboard charts again with the 2005 release of their live Greatest Hits album, Extended Versions. Can't Slow Down followed in 2009 and entered the Billboard chart in the Top 30, driven by two Top 20 radio singles, "In Pieces" and "When It Comes To Love." To follow was the release of the band's three-disc set, Feels Like The First Time, which included an acoustic CD with an intimate and unique re-interpretation of many FOREIGNER classics, studio re-records by the new lineup and a live performance DVD showcasing the group's exceptional live energy.
FOREIGNER's music experienced another surge in popularity in recent years thanks to usage in primetime television, major motion pictures, video games, advertising, and digital content. Films such as Rock of Ages, Bad Moms, Angry Birds, Magic Mike, Pitch Perfect, Good Boys and The Eternals, and television shows Orange Is The New Black, Stranger Things, The Late Show with Stephen Colbert, The Tonight Show Starring Jimmy Fallon and Tacoma FD have all strongly featured Foreigner's songs. Advertisers including Toyota, Google, Molson, and Ford have turned to FOREIGNER's music to engage their fans.
MORE: www.foreigneronline.com