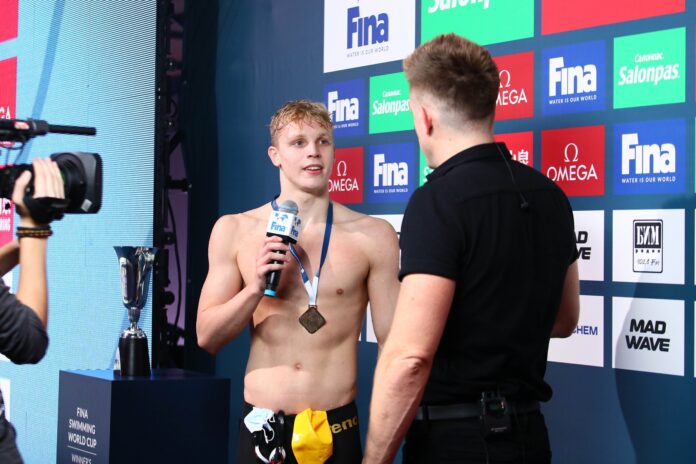 South African swimming sensation Matt Sates has continued his rise up the rankings with victory in the 500 yard freestyle event at the NCAA Championships in Atlanta, Georgia.
Still just 18, the Tokyo Olympian timed 4min 08.73sec in the prelims before rocketing to victory in the final, in a meeting record 4:06.61, as he fought back in the second half of the race to down a field that included defending champion Jake Magahey and Kieran Smith.
In Tokyo last year, after finishing 14th in the 200 IM and 32nd in the 100 butterfly, the Pietermaritzburg teen said that he believes international swimmers have an advantage at NCAAs.
"It is definitely cool (having swimmers from all over the world at this meet). Coming from a different country, I see it as a big advantage actually. Coming here, not having the main focus being NCAA, having that be worlds, it makes the pressure less for this meet. But that makes us a little more calm when we race. I think that shows in the finals."
Olympic 800m and 1500m gold medallist Bobby Finke didn't reach the final, which shows the company Sates was keeping – and went on to beat!
Smith took the lead at the 100 mark and led through the 200. Luke Hobson made a slight move ahead of the pack during that span but was still behind Smith until the 350 mark when they turned about the same time, with Sates closing.
Sates made his move at the 350 and surged past Hobson and Smith. Sates broke the meet record at 4:06.61, three tenths off the NCAA overall record.
Magahey was second in 4:07.38 after his late charge, also breaking the previous meet record of 4:07.97 that he set last year as the NCAA champion in this event. Hobson finished third in 4:08.42, ahead of Smith (4:08.68).
"It was a good swim. The title at NCAAs has been a goal for the last month, since I got to Georgia," Sates said. "I am getting used to yards and the 500. I still have a lot to learn and improve and I am happy with the swim. That was my fourth 500 (ever), my second final.
"This final was supposed to be a 300 then 200 (strategy) but I actually miscounted. So I did it 150, so a little bit to learn. My strategy is to finish hard," he said.
Going 1-2 with Magahey, the defending champion, made it extra special.
In November, Matt (Matthew) won the overall title of the FINA World Cup in Kazan, Russia, pocketing a cool US$100,000 prize money, which he said "changed my life".
Source: TeamSA