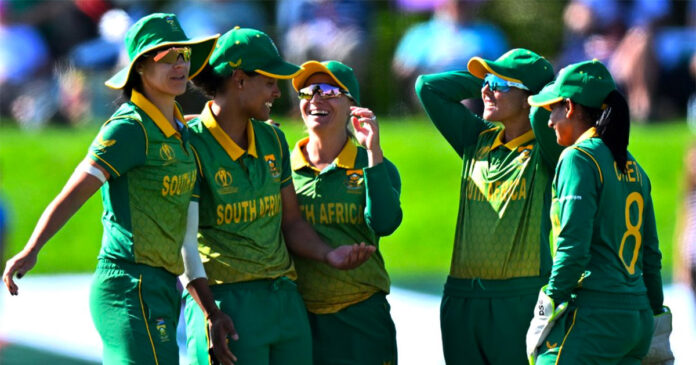 WELLINGTON (Reuters) – South Africa pulled off a thrilling victory over India on Sunday (27 March) in the quarter-finals on the country's march to the Women's World Cup semi-finals in New Zealand!!
Laura Wolvaardt (80) and Lara Goodall (49) led South Africa's chase but it was Mignon du Preez's unbeaten 52 that secured their three-wicket victory on the last ball of the game in Christchurch.
Du Preez was caught at long-on in the final over but was recalled after replays confirmed spinner Deepti Sharma had overstepped.
Cricket SA noted the team's "Nerves of steel ?? ?".
India captain Mithali Raj admitted afterwards: "The (India) girls have given it all knowing the importance of today's game." But India's all was not enough to take on the South Africans. India – who were the 2017 runners-up – have now crashed out of the World Cup.
Former SA men's cricket legend Jonty Rhodes tweeted: "Very tough on #TeamIndia to get knocked out of the #CWC22 off the last ball of the game, but what an incredible finish (again) by @OfficialCSA. Incredible team performance. Glad @LauraWolvaardt is saving that 100 she owes me for the semis #BePartOfTheForce #AlwaysRising"
Australia, with its perfect 7-0 record, had already secured their spot in the last four; as had South Africa. They are now joined by England who won their last group match (against Bangladesh); and the West Indies which benefitted from SA's victory over India, to also go through to the semi-finals.
Only Australia has beaten South Africa who have put on a fine performance in New Zealand.
Proteas Captain Sune Luus said last week: "Everybody's extremely excited and happy to be in the semis. We are pretty pumped to be getting into that Final. It has been a dream for us for so long, but we still need to get through the semi-finals."
Before setting off for the ICC Women's Cricket World Cup 2022 in New Zealand, Luus said her side was feeling confident.
South Africa, who are ranked second in One-Day International (ODI) cricket, came into the tournament in notable form following five straight series victories since the start of 2020, including a thrilling 2-1 win over the West Indies in Johannesburg last month.
Cricket South Africa tweeted Monday afternoon: "The #MomentumProteas are one match away from reaching their first-ever World Cup final ?? ?. But first, in a repeat of the 2017 semi-final, South Africa take on England ?…"
Sources: Reuters and Cricket.co.za
Women's Cricket World Cup 2022 Semi-Final Dates:
Wednesday, 30 March: Semi-final 1 – Basin Reserve, Wellington
Thursday, 31 March: Semi-final 2 – Hagley Oval, Christchurch – South Africa vs England
Couldn't help but express my excitement for the #MomentumProteas beating India in the #ICCWomensWorldCup2022 this morning ????

Congratulations ladies ? What a match! @OfficialCSA pic.twitter.com/afsy0yQtrG

— Janine Van Wyk (@Janinevanwyk5) March 27, 2022
The #MomentumProteas are one match away from reaching their first-ever World Cup final ?? ?

But first, in a repeat of the 2017 semi-final, South Africa take on England ? #SAvENG #CWC22 #BePartOfTheForce #AlwaysRising pic.twitter.com/xo2g8A6moP

— Cricket South Africa (@OfficialCSA) March 28, 2022
There is always one who brings the banter? #CWC22 #BePartOfTheForce #AlwaysRising pic.twitter.com/CySHKcKEO3

— Cricket South Africa (@OfficialCSA) March 28, 2022
Masabata Klaas has the knack of always picking up wickets at crucial times for the #MomentumProteas?

5️⃣ 1️⃣ wickets
3️⃣ /2️⃣ 7️⃣ best figures#CWC22 #BePartOfTheForce #AlwaysRising pic.twitter.com/sS8tmiT4tf

— Cricket South Africa (@OfficialCSA) March 28, 2022
Nerves of steel ?? ? #INDvSA #CWC22 #MomentumProteas #BePartOfTheForce #AlwaysRising pic.twitter.com/vxXveJy8iT

— Cricket South Africa (@OfficialCSA) March 27, 2022
A partnership worth its weight in gold ?? ? #INDvSA #CWC22 #BePartOfTheForce #AlwaysRising pic.twitter.com/LRiqaFm0nK

— Cricket South Africa (@OfficialCSA) March 27, 2022