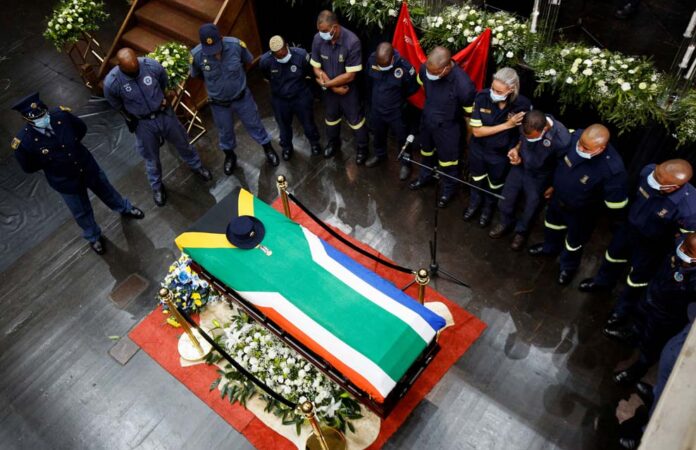 ETHEKWINI, (Reuters) -"Brave and fearless" is how colleagues remember South African police diver Busisiwe Mjwara, who drowned a week ago while searching for flood victims during one of South Africa's worst natural disasters in living memory.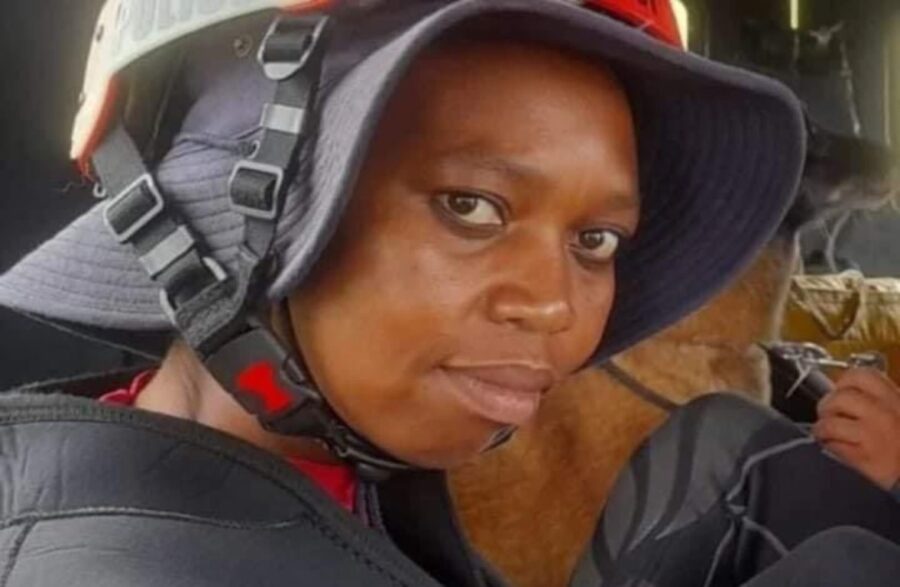 Torrential rains on April 11-12 triggered a deluge of muddy destruction that claimed around 435 lives and displaced thousands of people as homes and roads were swept away in widespread damage initially estimated at R10 billion ($639.6 million).
Part of multiple, challenging search and rescue operations, Sergeant Mjwara, a 42-year-old mother of two, was pulled from the swollen Msunduzi River close to Durban where she was trying to locate three missing people, before getting into difficulty herself on April 17.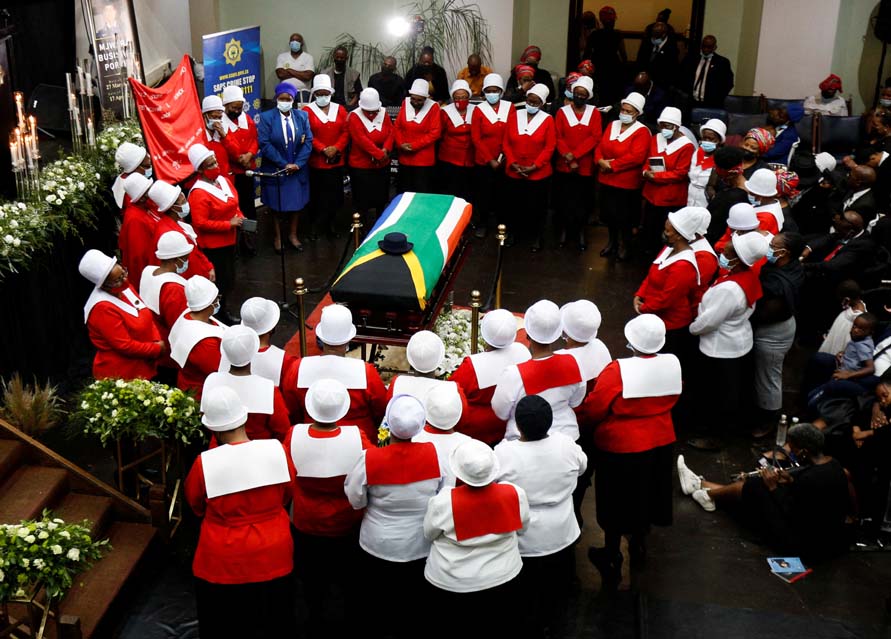 She was airlifted to hospital but sadly declared dead on arrival.
A K9 rescue dog, Leah, from a separate search and rescue unit, died trying to assist Mjwara, police said in a statement.
"She was fearless, brave and dedicated and she served with all her heart," Sergeant JA Mare, who worked with Mjwara, said as his voice cracked with emotion at her funeral service in a packed city hall on Friday.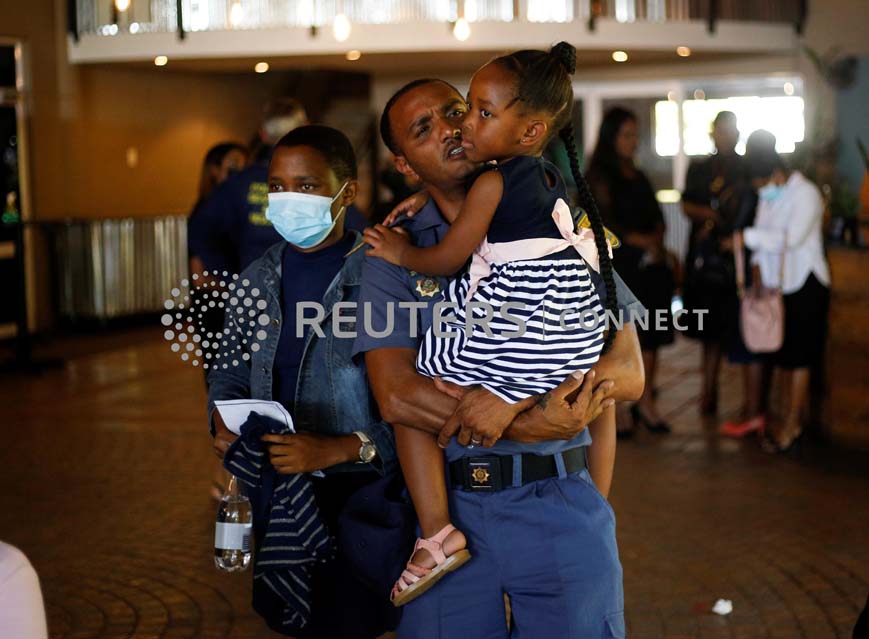 "And all the time I spent with her, Busi was, Busi is a kind, loving, warm-hearted, strong woman, a dedicated mother," said Mare, sobbing, as two colleagues supported him on either side.
The service, where Mjwara's coffin was draped in the national flag and a choir sang traditional Zulu church hymns, was attended by senior politicians and police officers.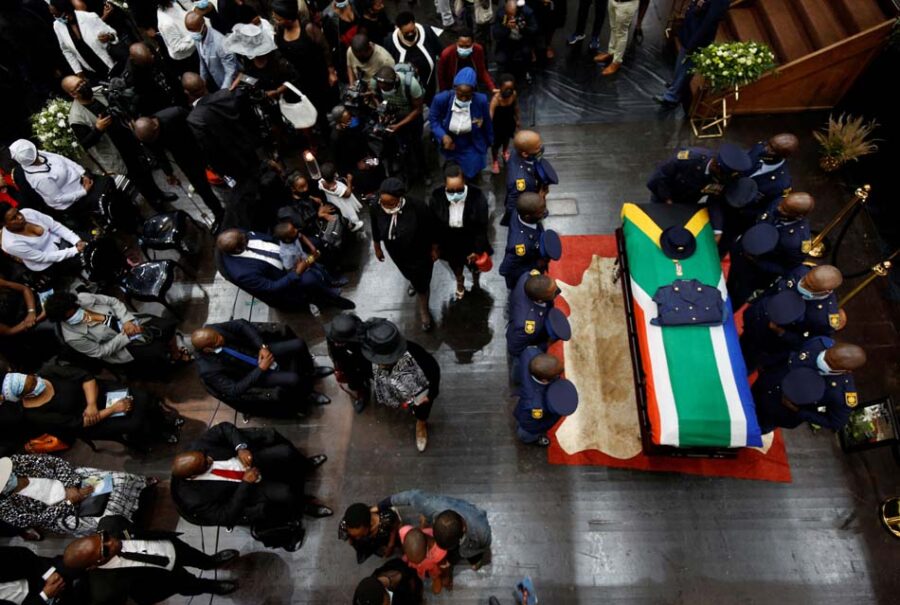 Members from her tightly-knit Hilton K9 search and rescue unit, where she was one of only two women divers, stood holding hands, mourning over her coffin.
Family waiting for explanation
Mjwara's family, however, were struggling to come to terms with their loss, given her ample swimming experience and training.
"Until today, I am still waiting for a real explanation about what happened," Mjwara's brother, Sibonelo Shangase said at the service.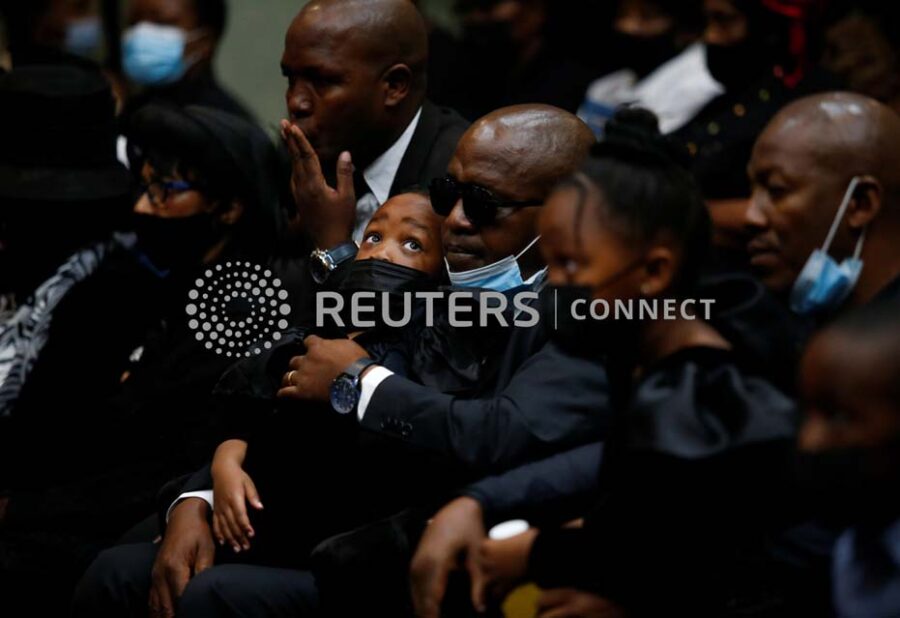 Comforting the family, Police Minister Bheki Cele said the Sergeant had concluded her life's journey and called on the family to find solace in knowing this.
She was the epitome of 'excellence'
"She did not die in vain, she did not die for herself, she also didn't die for her family, she died for the nation. Why would you not be proud of that?" said Cele.
Paying tribute, he described – in jest – Mjwara's commitment to the police service as "very arrogant"
"The girl sleeping here is very arrogant. She knows herself. It wasn't enough for her to be a police officer. She said she wanted to do what others couldn't do. I'm told that in the entire unit, there were only two women among a host of men. She did what others avoided," he said.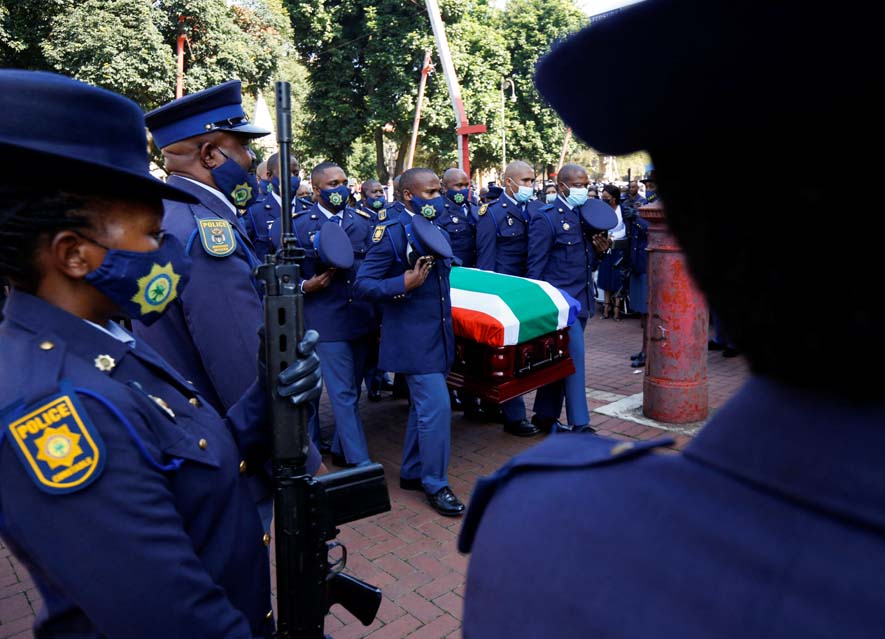 The Minister said Mjwara was the epitome of police "excellence".
"Very few police officers go the extra mile – she's one of them," said Cele. The Minister paid tribute to all police officers who had risked their lives to provide service to flood-ravaged areas in the province.
No greater sacrifice
National Police Commissioner, General Fannie Masemola, described Mjwara as a "brave and courageous officer", saying her death was a sad turn of events for SAPS.
"There is no greater sacrifice than for one to give up their life in the service of others. Police (provide) a service to communities… One of the critical services we provide is also search and rescue."
When Mjwara joined SAPS in 2008, she "took up the oath of office, and promised to uphold and enforce the law".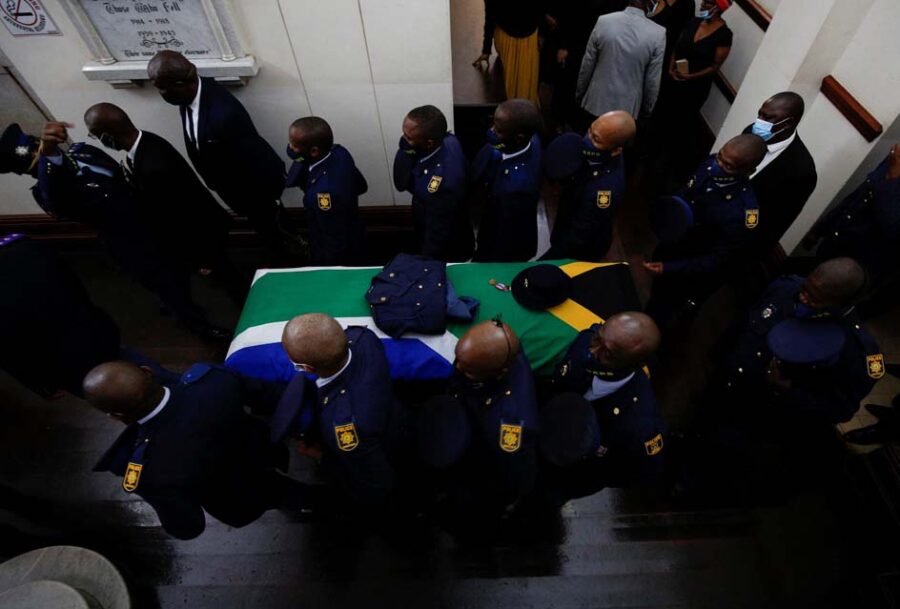 Masemola said: "Most importantly, she promised to serve and protect the people of South Africa. As management of the SAPS, we have no doubt that she played a role in protecting the people of this country. She upheld the code of conduct, and also the ethics and integrity with pride and dignity."
#PoliceMinistry The #SAPS family gave a #FinalSalute to Sergeant Busisiwe Mjwara who was part of the K9 Search and Rescue unit, conducting operations in the flood hit province of KwaZulu-Natal. #PatrioticAndSelflessService NP https://t.co/QbaXCR70NR pic.twitter.com/uGiKXM6ZxB

— SA Police Service ?? (@SAPoliceService) April 22, 2022
"In the face of danger, she did not step back, but chose to put the safety and security of the people of this country first."
KZN Premier, Sihle Zikalala, said Mjwara's death was a reminder of the importance of police in society.
"They don't just protect us from criminality but they even protect us in times of strife.
"To the family, do know that we grieve with you in this difficult moment of grief and find comfort in God.
"Let us accept that she left us in a painful manner. Let us imagine her conceding that she fought a good fight and has concluded her journey. She served the country with distinction. As we speak here, we speak of her patriotism, bravery and heroism. When all is said and done, Sgt Mjwara teaches us that courage and bravery are born out of a deep care for others.
"Without that human compassion and ubuntu, we cannot talk of courage and not speak of a crown of glory given to those who fought courageously," he said.
The Premier saluted the late sergeant, saying she died a "heroic death".
"Her work is risky by nature. She could have easily said the river's current was too strong and not worth the risk, but she did not do that. That is courage, that is commitment," he said.
(Sources include SANews.gov.za and Reuters; Reporting by Reuters TV; writing by Wendell Roelf; editing by Emelia Sithole-Matarise/Reuters and Jenni Baxter/SAPeople.)