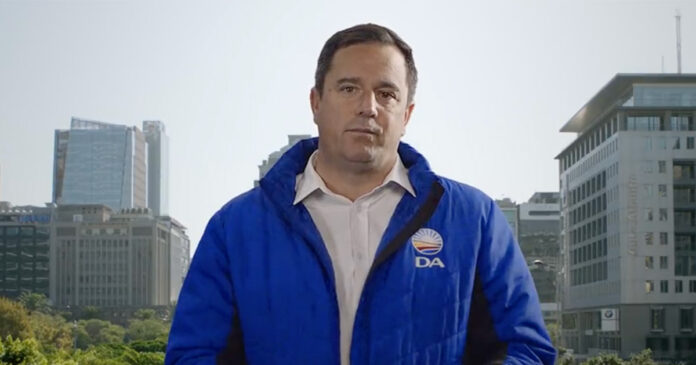 Democratic Alliance (DA) Leader John Steenhuisen has arrived in Lviv, in western Ukraine, on a six-day fact-finding mission. The South African politician is not the only one visiting Lviv this weekend, as film actress Angelina Jolie – who is special envoy for the United Nations High Commissioner for Refugees – surprised locals when she was also spotted in Lviv yesterday (Saturday 30 April 2022).
And Steenhuisen may just bump into Jolie as he too will be visiting refugee camps over the next few days (although of course meeting Jolie is not his priority!).
Steenhuisen will mainly be spending time around the capital of Ukraine, Kiev, "to ascertain for myself the situation in a country that has been under siege from the Russian army for over two months."
He said that aside from visiting refugee camps, he will also meet with various mayors, governors, business leaders, students and ordinary Ukrainian citizens to see, first-hand, the effects of the Russian invasion and the ongoing occupation of parts of Ukraine.
"In the era of fake news and propaganda, this is the only way to truly know what is happening," said Steenhuisen.
"My predecessor and stalwart of South African liberalism, Helen Suzman, used to live and work by this motto. She often offered this advice to others: 'Go see for yourself. Don't take what the press tells you, don't take what other people tell you; go and see for yourself.' That is the purpose of my visit. We owe it to the people of Ukraine to tell the unfiltered truth about what is taking place there so that the world can stand united in bringing this injustice to an end."
Steenhuisen said it is also important to remember that we live in a super-connected world where disruptions in one part cause major ripples everywhere else.
Russia's invasion is a global problem, already felt in South Africa
"Russia's invasion of Ukraine is not a European problem, it is a global problem. The knock-on effect of this war on our own fuel, maize, cooking oil and fertiliser prices will reach deep into the pockets of poor South Africans who can already not make ends meet," said Steenhuisen.
"We dare not pretend that this is a war that has nothing to do with us. And we dare not pretend that remaining 'neutral' in this situation is admirable. When we have clear and undeniable evidence of injustice, we owe it to the victims to pick a side and speak out."
Meanwhile, current affairs show Carte Blanche will be following another South African into Ukraine on tonight's episode. According to Carte Blanche, in the five weeks of Russia's invasion of Ukraine, more than four million refugees have fled to neighbouring countries – many clutching pets in their arms. But what about the numerous exotic animals in private ownership? Carte Blanche tonight joins a wildlife activist on a risky but rewarding journey back into Ukraine.
"Lionel de Lange made it out of Ukraine and returned to SA where his wife had been waiting, leaving behind friends and family. Join us this Sunday at 7pm on #CarteBlanche #MNet101 as we follow his risky but rewarding journey back into Ukraine to save exotic animals," says the show.
Watch Carte Blanche on Showmax International if you're overseas (most countries) | Watch in SA on DStv Now
WATCH South Africa's Lionel de Lange saving animals in Ukraine
Angelina Jolie's surprise visit to Ukraine
Angelina Jolie delighted customers in a coffee shop in Lviv yesterday when she popped in. The US movie star was also seen at a railway station, meeting displaced people, as well as fleeing to a safer location when an air siren went off, warning of imminent danger. When asked if she was afraid, Jolie can be heard saying at the end of the video "no, no…".
Angelina Jolie popped into Lviv today and spent some time at the railway station meeting displaced people. pic.twitter.com/734EKQrijG

— Raf Sanchez (@rafsanchez) April 30, 2022
Angelina Jolie a été aperçue dans l'un des cafés de #Lviv en #Ukraine ?? pic.twitter.com/YtSJ0ehwai

— Alexandre Guitakos ?????? (@AlexandreGTKS) April 30, 2022
Angelina Jolie a dû se mettre à l'abri en raison d'une alerte de raid aérien pic.twitter.com/3cTi4qYbqs

— Alexandre Guitakos ?????? (@AlexandreGTKS) April 30, 2022