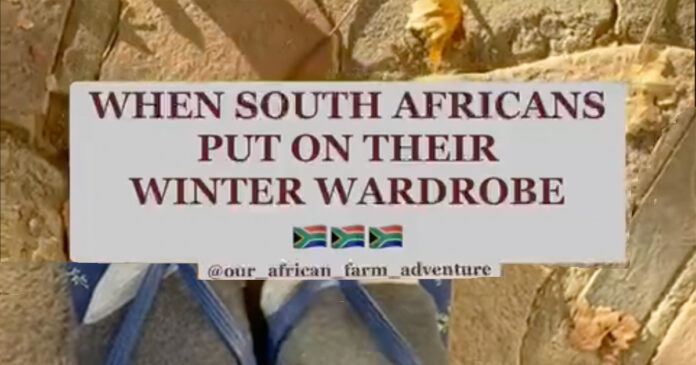 As they say on Game of Thrones, Winter is Coming… and as Autumn gets well underway and South Africans brace themselves for cooler temperatures, this hilarious video by Lauren Bradley – of a typical South African winter wardrobe – is going viral.
As Lauren jokes, in South Africa, "anything below 27 Celsius is winter 🥶🩴🧦🇿🇦"
Since posting the video, many in SA have agreed with Lauren, saying "🤣😂 It's me😂🤣" while expats have also reminisced about those good old days in South Africa!
Sophie Anna said: "I'll never forget the day I thought I would genuinely die of the cold as a teenager in Durban. It was 14 degrees 😂 I now live in England and 14 degrees is fairly warm 😂"
Inge Dagmar Manders said: "Absolute classic for us in the Midlands…100% spot on!!!" See more below.
WATCH VIDEO: Classic South African Winter Wardrobe
#WinterIsComing!! When #SouthAfricans put on their #Winter wardrobe!😂 Thank you Lauren Bradley – « Anything below 27 Celsius is winter 🥶🩴🧦🇿🇦" Follow: https://t.co/Dh0JpSPw6X pic.twitter.com/OyPiv7lrwD

— South Africa People – SAPeople.com (@sapeople) May 5, 2022
Anthea La Grange joked: "Lowvelders and Durbanites can die of hypothermia at 14°C, this is a scientific fact."
Martin Altmann pointed out not all of SA enjoys the same weather and said in Pretoria and Joburg "it can get freakishly cold, and water can have a solid skin on top, at least in the mornings."
This wouldn't however deter South African expats like Rich MacDonald who "lives in the US now, so I add socks to my sandals when it starts to snow."
Lethiwe Nkwanyana said: "I tried this when I arrived in Canada! I couldn't last a minute. 😂😂😂"
Adele Labuschagne-Hansen revealed in winter "in the Freestate they put on two different pairs of shorts 😉"!
Glynis McGrath said: "Never! I love Winter-wear for men in Durban – shorts, slops and a puffer jacket 😂. Definitely no socks ever!"
Marie-Therese Reddy reminisced: "I was in Margate in October in 2016 and it was freezing cold. Had to search the shops for warm PJs and jerseys. Lived in Underberg for 5 years and never knew such cold as I experienced there. Johannesburg was freezing in winter too so we wore winter clothes and boots. The difference in the UK is we have central heating so are not cold in our homes. I will always miss though, the sunny days and gorgeous summers of SA."
To all the South Africans in SA and abroad who've enjoyed seeing her flip flops (slip slops) and socks combo, Lauren says: "So glad this made so many of you smile ♥️😁🩴🧦👍🏻🇿🇦" Follow Lauren and her African Farm Adventure on Instagram for more brilliant SA-related posts: https://www.instagram.com/our_african_farm_adventure/
If you miss SA, stay connected with Showmax International. And if you're in SA, stream Game of Thrones on Showmax.