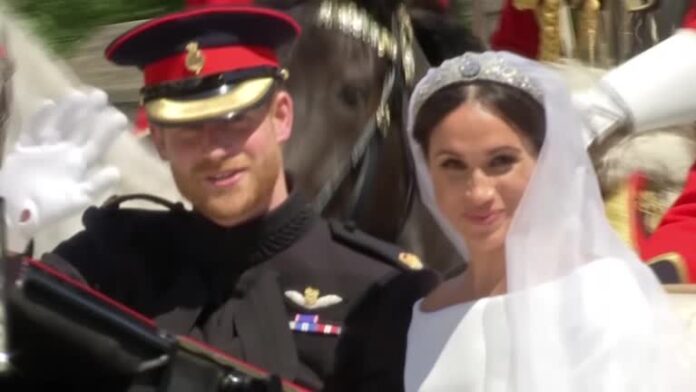 REUTERS – Britain's Prince Harry and his American wife, Meghan, celebrated their third wedding anniversary on Thursday (May 19).
Meghan, a former U.S. actress, and Harry, Queen Elizabeth's grandson and sixth in line to the British throne, became one of the world's biggest celebrity couples since their glittering marriage at Windsor Castle.
The Duke and Duchess of Sussex welcomed their first child, Archie, the following May, but have since shared a fraught relationship with the UK media.
In January 2020, the couple announced they would step away from their position as senior royals, citing false and invasive coverage as a major factor in their decision.
The announcement sent shockwaves throughout the royal family as it tried to reposition the couple's position in public life.
They subsequently relocated to the United States, where they launched a new charitable foundation, Archewell, after stepping away from their royal roles.
The couple told Britain's biggest tabloids that there would be "zero engagement" with them in future due to issues with their coverage, and Meghan brought about a legal case against the Mail on Sunday newspaper.
Since their move to the United States, they have signed deals to deliver and produce content for Netflix, Spotify and Apple.
In June 2021, Meghan gave birth to their second child, a baby girl, whom she and Harry named Lilibet after Queen Elizabeth and his late mother Princess Diana.
There has been much speculation in the British press about whether Harry, who has been in a dispute with the government over security arrangements that caused him to miss his grandfather Prince Philip's memorial service in March, would return for the Queen's Platinum Jubilee in June.
One feature of all major royal occasions is the gathering of the royal family to wave at crowds from the palace balcony. But, the queen has decided neither her son Prince Andrew nor grandson Prince Harry will be on the balcony this time.
Harry's spokesperson confirmed he would be at the jubilee celebrations with Meghan and their two children. The family was "excited and honored" to be attending, the spokesperson said in a statement.
A palace source had said Harry, Meghan and his children remained "much loved members of the family" and that those absent from the balcony moment "will be invited to events."
During his recent visit to The Hague, Prince Harry said: "The world needed to be reminded of the power of the human spirit, the ability to heal and the strength of resilience that allows us to recover and come back stronger."