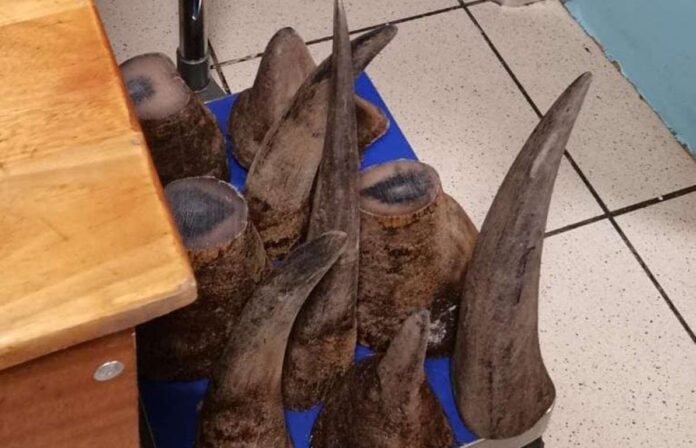 A multi-disciplinary team at OR Tambo International Airport (ORTIA) have been applauded for their vigilance in detecting, preventing and clamping down on illicit activities – particularly poaching – at the international airport in Johannesburg, South Africa.
The SA Police Service (SAPS) General Fannie Masemola commended the team for the arrest of a 41-year-old man, and the seizure of rhino horns which were being illegally transported. The accused will appear before the Kempton Park Magistrate's Court on Monday to face a charge of contravention of the Biodiversity act 10 of 2004 which prohibits the illegal trade of the rhinoceros horn.
At about 12:36 on Thursday afternoon, a security official at the Airport had alerted police to suspicious-looking items in hand luggage that had been carried by a man who was destined for Singapore.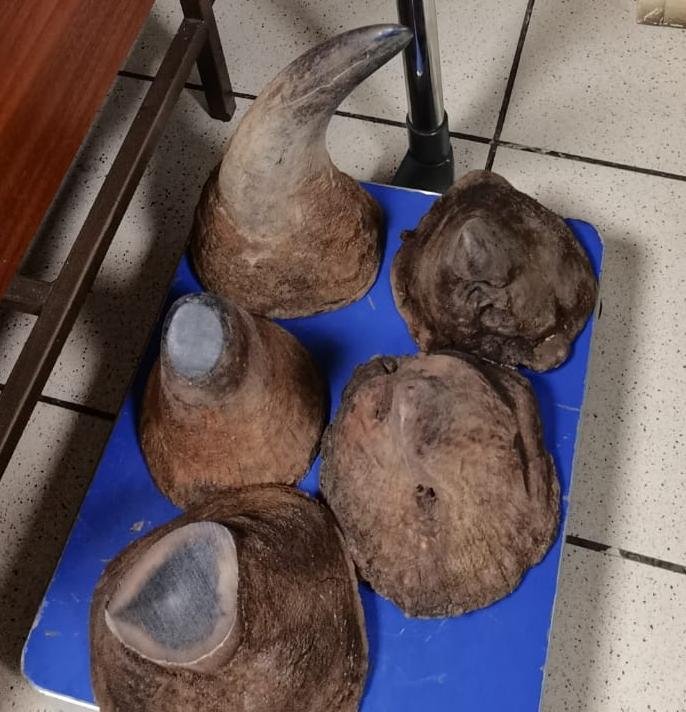 Endangered African rhinos continue to be slaughtered by poachers for trade in countries like China and Vietnam where the rhino horn is mistakenly believed to have medicinal qualities, and where several rich and ignorant society members believe the horn is a status symbol of their wealth and power… rather than realising all it shows is that an innocent animal was brutally killed for them to have 'luxury' jewellery and ornaments made from their horns.
According to Reuters, South Africa is home to nearly 80% of the world's rhinos. Currently, there are less than 30,000 African rhinos remaining, with the biggest population – of black and white rhinos – at Kruger National Park in Mpumalanga province.
International traffickers are targeting black rhinos, whose numbers have decreased from 65,000 to around 3,800 in the last half century, for their horns worth 100,000 dollars each kilogram in the international market.
Frik Rossouw, one of the Kruger National Park officials, told Anadolu Agency Video News (AAVN) that they are fighting against hunters and smuggling groups with around 300 guards.
"We are focusing mainly on rhino issues. It is a conflict between poachers and rangers. Rangers became more paramilitary force," Rossouw said.
Stressing that rhino horn smuggling has a serious organizational structure consisting of five levels, from local hunters to international consumers, Rossouw said that the hunters in the field are directed by local gangs located in the middle of this criminal pyramid.
Rossouw said that because rhino horn can be sold for 10,000 dollars per kilogram that price is effective in the popularity of rhino hunting despite the high penalties.
Mentioning rhinos are almost extinct he said: "If you look at that as recently as 1970 there was estimated 65,000 black rhinos in Sub-Saharan Africa and currently it is just about 3,800 left."
In Vietnam, and other parts of Asia, powdered rhino horn is considered a cure for everything from a headache, hangover, or cold to cancer; and is also often advertised as an aphrodisiac (although only a small portion of the Chinese population believe this, according to Rossouw).
A total of 451 rhinos were poached in South Africa between January and December 2021, the Government of South Africa said in a statement on February 8, 2022.
This is a 13% increase on the number of rhinos killed by poachers in the country during 2020 when local and international travel restrictions were thought to have played a significant role in decreasing poaching.
Despite the depressing rise in poaching cases last year, there were, at least, fewer rhinos poached in South Africa last year than were poached in 2019. However the figures are sky-rocketing in KZN where rhino poaching crime syndicates have now focused attention since the clampdown in the Kruger.
According to official data, there were 189 arrests relating to rhino poaching activities in 2021. Of these, 77 were in Kruger National Park. There were 61 successful convictions of poachers and/or rhino horn traffickers, some of which carried sentences of more than 35 years.