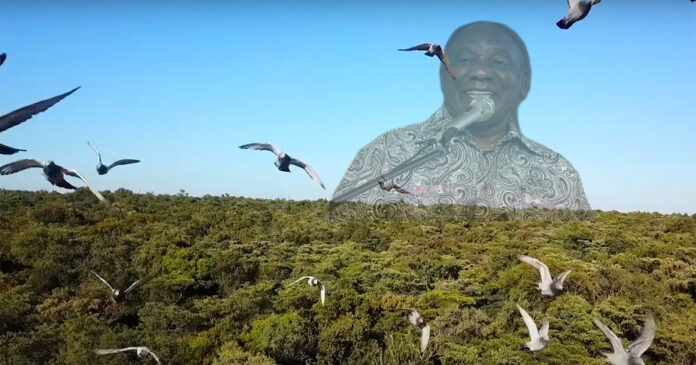 PRETORIA – In light of the recent US$4 million scandal involving President Cyril Ramaphosa, People for the Ethical Treatment of Animals (PETA) sent a letter today urging the South African Revenue Service, the Financial Intelligence Centre, and the Financial Surveillance Department of the South African Reserve Bank to investigate Ramaphosa's pigeon-racing financial dealings for any potential evidence of tax avoidance or evasion, money laundering, or exchange control violations. Specifically, PETA US wants the agencies to audit Ramaphosa's new international pigeon race, AfrikaPro, which promises over US$2 million in prize money and is to be held at his Phala Phala farm.
PETA previously filed a complaint with these agencies after the group's 2020 undercover investigation into the now-defunct South African Million Dollar Pigeon Race revealed potential financial crimes as well as egregious cruelty. Pigeons were crammed together in lofts, where disease spread quickly, and forced to compete in gruelling and deadly races for more than US$1.5 million in prize money.
Now that Ramaphosa's AfrikaPro has replaced the South African Million Dollar Pigeon Race, PETA US is raising questions about whether money generated from this new race has been illicitly obtained or failed to be reported.
"If President Ramaphosa is feathering his nest by exploiting suffering birds, he must be held accountable," says PETA Foundation General Counsel Jared Goodman. "PETA is calling on financial authorities to take a close look at his burgeoning involvement in the seedy world of pigeon racing and make their findings public."
A follow-up PETA undercover investigation conducted in 2020 exposed both President Ramaphosa's secretive investments in trophy hunting and his plans to host AfrikaPro. Ramaphosa's own property manager confessed on video recorded covertly by the PETA investigator that the president wanted to keep his involvement in pigeon racing out of the headlines at the time, as he has spent millions of rand on this hobby amid South Africa's struggle with poverty.
PETA – whose motto reads, in part, that "animals are not ours to abuse in any way" – opposes speciesism, a human-supremacist worldview. PETA's letter is available here.
ArikaPro calls itself the Grand-Slam of pigeon racing, and says its aim is to "establish an event where winning it will become the most prestigious and sought-after title in the sport, where the best Fancier and Pigeon will be acknowledged in their own respective right."
AfrikaPro's website says the event is "set in the South African Bushveld in the Waterberg region of Limpopo lies a spectacular piece of Africa called Phala Phala Wildlife. Here, some of its most iconic game species are being bred, such as Cape Buffalo, Greater Kudu and Sable antelope…"
AfrikaPro's activation race will be on 1 July: https://afrikapro.com/
READ ALSO: Investigation reveals mass deaths at SA Million Dollar Pigeon Race, and Apparent Money Laundering, June 2020