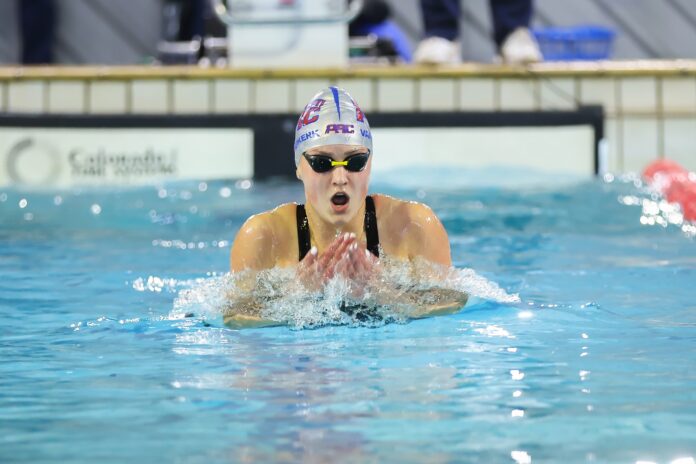 The 19th FINA World Championships are under way in Budapest, Hungary. In Friday's action Lara van Niekerk won her 50m breaststroke heat in an African record 29.77, which qualified her the fastest from the heats.
After missing out on qualifying for the 100m breaststroke, Lara says: «I'm excited about the 50. With all the speed and all the starts that we've been practising I think the 50 is going to be the better one – and we focused more on the 50 for world champs."
Emma Chelius took to the water in the 50m freestyle. The 25-year-old was also impressive, finishing third in her heat in 24.87sec and qualified for the semi-finals 7th fastest overall out of 82 starters. Her SA record stands at 24.64.
Here is a list of all the Team SA swimmers and their results for the event that runs until 3 July:
DIVING
Women
Grace Brammer
(3m synchronised, 3 July)
Bailey Heydra
(1m springboard, 29 June)
(3m springboard, 1 July)
Zalika Methula
(1m springboard, 29 June)
Kerry-Leigh Morrrison
(3m synchronised, 3 July)
SWIMMING
Men
Ruan Breytenbach
(5km, 27 June)
(10km, 29 June)
(Mixed 4x1500m, 26 June)
Connor Buck
(5km, 27 June)
(10km, 29 June)
(Mixed 4x1500m, 26 June)
Brendan Crawford
50m breaststroke: Placed 26th overall in the heats in 28.21 and didn't qualify for the semi-finals
100m breaststroke: Placed 23rd overall in the heats in 1:01.25 and didn't qualify for the semi-finals
Clayton Jimmie
50m freestyle: Finished 7th in his heat in 22.74 and placed 43rd overall (out of 90 swimmers) and didn't qualify for the semi-finals
100m freestyle: Finished 7th in his heat in 50.68 and placed 55th overall, and didn't qualify for the semi-finals
Chad Le Clos
50m butterfly: Placed 33rd overall from the heats in 23.86 and didn't qualify for the semi-finals
100m butterfly: Withdrawn
200m butterfly: Withdrawn
Matthew Sates
200m freestyle: Placed 14th overall in 1:47.28 and qualified for the semi-final. There he swam 1:46.63 to finish joint 5th but missed out on a place in the final, with 17-year-old Romanian David Popovici swimming a world junior record of 1:44.40 to qualify fastest.
400m freestyle: Did not start
200m Individual Medley: Finished 2nd in his heat in 1:58.61 and qualified 7th fastest for the semi-finals. There he went quicker, his 1:57,84 qualifying him 8th fastest for the final. There he finished 8th in 1:58.27.
400m Individual Medley: Placed 11th overall in 4:14.81 and did not qualify for the final
100m butterfly: Finished 10th in his heat in 54.17 which placed him 41st (out of 65 swimmers) overall and did not qualify for the final
Women
Emma Chelius
50m freestyle: Finished 3rd in her heat in 24.87 and qualified for the semi-finals 7th fastest overall out of 82 starters
100m freestyle: Finished 8th in the final heat in 55.39, which was 22nd fastest overall and missing out on a place in the semi-finals
Amica de Jager
(5km, 27 June)
(10km, 29 June)
(Mixed 4x1500m, 26 June)
Stephanie Houtman
1500m freestyle: Placed 21st overall in 17:08.12 and did not qualify for the final
Olivia Nel
50m backstroke:Finished 7th in her heat in 29.06 and placed 23rd overall, missing out on a place in the semi-finals
100m backstroke: Placed 25th overall in 1:02.95 and did not qualify for the semi-final
Lara van Niekerk
50m breaststroke: She won her 50m breaststroke heat in an African record 29.77, which qualified her the fastest from the heats heading into the semi-finals.
100m breaststroke: Placed 10th overall in 1:06.75 and qualified for the semi-final. There she led in the first semi-final at the turn, but tired in the last 20m to finish 7th, also in 1:06.75, but that left her in 13th place after the semis and missing out on a place in the final. Lara says: « It was actually an amazing experience … I enjoyed that moment so much, walking out there and experiencing all that. I definitely felt a bit nervous but it was good nerves. I saw at the turn that I was in front so I just tried to keep that gap, but I did die a bit at the end. »
Catherine van Rensburg
(5km, 27 June)
(10km, 29 June)
(Mixed 4x1500m, 26 June)
ARTISTIC SWIMMING
Sky MacDonald: Placed 32nd in the women's duet free preliminaries with Xera Maharaj
Laura Strugnell
Xera Maharaj: Placed 27th in the women's solo free preliminaries. Placed 32nd in the women's duet free preliminaries with Skye Macdonald
Ayrton Sweeney
WATERPOLO
Team SA's men went down 22-4 to Italy in their opening match.
Head coach Vaughan Marlow: "It's always difficult to start against the defending champions. This was our first match since the Olympics and the team has changed a lot. I was relatively happy with our performance. I'd like to see how we can progress over the next two games in the preliminary rounds. We are here to gain experience, to learn and develop our style as we play against top teams, like Italy or Spain, to see where the gap is, and maybe we can figure out how we can get closer to that gap. Spain is our next opponent; it's gonna be a big challenger, for me personally. They are definitely medal contenders. We would like to grow from this game into that match."
Team SA's women went down 7-6 to Argentina in their opening match.
Head coach Delaine Mentoor: "Going into the game we were never expected to win it. But I think that we had really good moments of play, especially given the lack of time we had in terms of preparation. Our girls fought for every single goal that we scored. At some point we were down by two goals and the girls came back. But I think the difference in the end was the inexperience. For us having not ever played together, knowing how to fend them off in those dying seconds and just play a smart game of water polo is a little bit difficult to adapt to."
Source: TeamSA