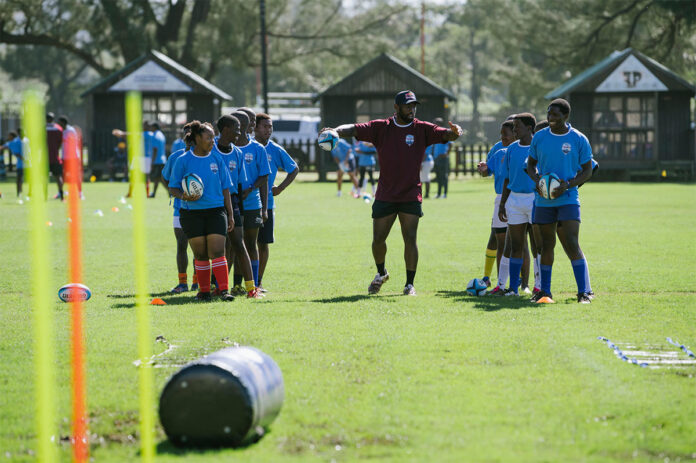 When most young people are educated, it is one of the steps to alleviating poverty. When young people are empowered and confident to achieve anything that they want, they become active contributors to the community. To end off Youth Month Red Bull sat with Springbok Captain and Red Bull athlete, Siya Kolisi, as he expands on the importance of investing in youth and the future of the Rugby sport in South Africa.
1. Considering the lifestyle of the majority of the youth in South Africa, and how they are consumed by technology in this day and age, how do we "bridge the gap" by taking our children back to sports?
Technology and sport obviously go well together. I think the point is to make sure that we can harness technology as a tool for good and use it to support the holistic development of children through sport. One example of this is the great strides that have been made in using technology to attract more people to sports by enhancing the sporting experience.
2. How do we fight social issues through sports?
As sportspeople, our main job is sports and we need to focus on being the best at what we do. We are also human beings and members of our society. So we need to be educated and be better people who do good in our communities. People are also watching us, so can also use our platforms for good by creating awareness on social issues, giving relevant and true information, and encouraging an attitude and behavioural change where needed to make our society better.
3. This youth day, what message would you like to relay to the youth of South Africa?
Firstly, we need to make a commitment to the youth, that we care for them and that we will support them in their struggles and challenges. We need to commit resources, opportunities, and support to set the youth up for success. Then we can encourage them to use everything that is put into their hands and work hard to shape the future that they dream of.4. In your opinion, how can we make ruby accessible to townships/rural areas?
My story is an example of how you can take an individual out of the township and take him to where the resources are to better his/her opportunities and chances of success. My conviction is that we need to take resources to where people are. That way, stories like mine don't become the exception in terms of success. By investing resources in townships and rural areas, we will see more potential released and sports like rugby will only benefit from having a wider pool of talent and multiple development pipelines.
5. "There is no gender in rugby" – Siya Kolisi, how do we change the perception around rugby being a male sport?
It really starts with investing in girls and women playing rugby and creating pathways of success for them. It is also about understanding the unique challenges that girls and women in sports face and supporting them through policies that set them up for success and other resources. Then it's about partnering with storytellers like the media, to make sure that we are showcasing our talent to everyday South Africans.