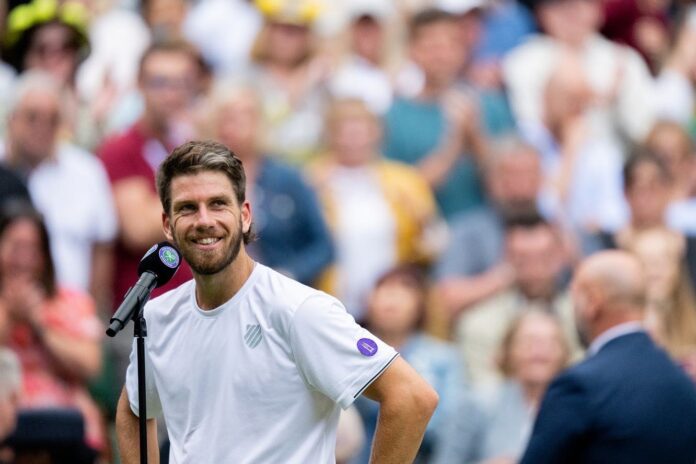 South African-born Cameron Norrie has reached the quarter finals of a Grand Slam tennis tournament for the first time in his career, after beating American Tommy Paul at Wimbledon on Sunday 3 July 2022: 6-4, 7-5, 6-4.
And this afternoon he will step onto Court 1 carrying the hopes of a few nations on his shoulders: South Africa (where he was born and raised for a few years), New Zealand (where his family moved to after suffering a scary home burglary in Johannesburg, and where he went to school and pursued his passion for tennis) and England, where he chooses to live and the country he chooses to play for (his parents are Welsh and Scottish).
In Great Britain, the headlines are calling him the "last Brit standing" and for the homegrown crowd, they will be urging him on to victory against Belgium's David Goffin.
Cameron told reporters on Sunday that he's pretty "shocked" by how well he's done. He said it's "pretty crazy" to be going through to the quarter finals. After beating Tommy Paul, Cam said "I have a lot of feelings, and really enjoyed it", made even more special by his biochemist parents (who still live in New Zealand) being in the crowd, along with so many friends from College. (Cameron studied in Texas, USA.)
"It's so special. It was a huge match for me and it was great to execute the way I did," he said.
As one reporter said: at the start of the week there were 17 British players, by the second round there were only 10, and by Sunday there was only one left: Cameron Norris.
Cameron, who has now participated in five Wimbledons, reckons he's a lot calmer now than he used to be, and that he's learned to embrace the crowds and use them to definitely help him get through some challenging play.
In fact, joking with the crowd on Sunday, the 26-year-old left-hander said: "I'm the last one left, so why not get behind me now even more!"
Physically he's in great shape and admits "I've definitely improved and matured a lot on the court" since 2017 when he was impatient.
Cameron lives near to Wimbledon, in Putney, and cycles to the famous All England tennis club, choosing to avoid the traffic rather than own a car… even though he's worth about £3-million (and counting!)
He's come a long way since he was four-year-old and first picked up a cut-down squash racket in Joburg and used to play on an 'imaginary court' beside his home.
WATCH Cameron Norrie Continues to Fly British Flag | Wimbledon 2022
Last eight ? @Wimbledon pic.twitter.com/FfBRpskp6L

— Cameron Norrie (@cam_norrie) July 3, 2022