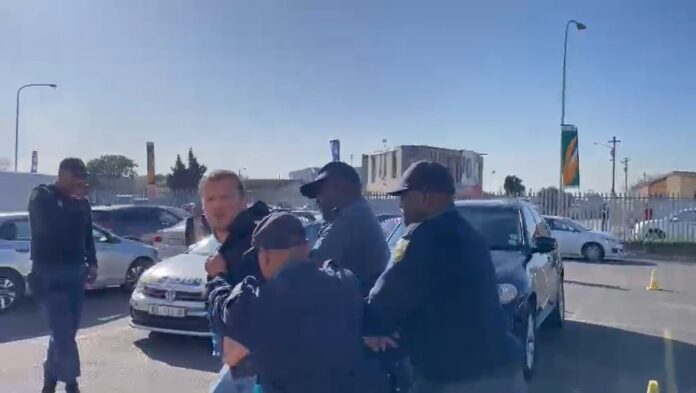 South Africa's Police Minister, Bheki Cele, today clashed with Ian Cameron, anti-crime activist and Action Society director of community safety, in an angry and emotionally-fuelled outburst that ended with him yelling at Cameron to sit down and listen, or to 'get out'. Cameron was then led out by police.
The Police Ministry was meeting with residents of Nyanga and Gugulethu in Cape Town, when Cameron apparently interrupted and accused Cele of neglecting the Western Cape Government, and failing in his ministerial duties to protect local residents from serious crimes.
A visibly upset Cele told Cameron not to try teach him about human rights when he (Cele) was sent to prison, to Robben Island, for fighting for human rights. "Don't tell me about the safety of my people – I fought for it, I nearly died for it, I was arrested for it, I was exiled for it," he said.
Cele told Cameron not to provoke him and said while Cameron talks about things he's studied and learnt about, he – Cele – has actually lived this life.
With his voice breaking, Cele – referring to Apartheid days – said: "I've lived the life of being African. I've lived the life when my mother was called a kitchen girl, when my father was called a garden boy… and I'm not going to take any nonsense from somebody who regards me as a garden boy today… because you regard me as a garden boy…"
Members of the DA came out in support of Cameron. DA Shadow Minister for Trade, Dean Macpherson, said Ian Cameron "has done more to fight crime and improve policing in poor communities than Bheki Cele will ever do because he's too busy trying to be SA's number 1 socialite."
The DA issued a statement saying it "stands with Ian Cameron who was forcibly removed from a community meeting after advocating for the safety of Gugulethu and Nyanga residents. The police under-resourcing by national government must be exposed and policing powers must be devolved. Bheki Cele must go!"
Helen Zille added: "Good for you Ian Cameron. Stand Firm! Strangely enough, when Bheki Cele has you arrested, you generally know you are doing the right thing"
Action Society released a statement after the incident saying it refuses to sit down and shut up "while crime in South Africa is out of control".
The statement reads: "Survivors and families of victims of gender-based violence mandated Action Society to speak on their behalf during the meeting.
"During his turn to speak, Cameron invited the Minister of Police, Bheki Cele, to do patrols with the women from the area. He also took on the minister about his political anti-devolution statements about residents taking their safety into their own hands. Cele replied by going into a political tirade about freedom fighting and told Cameron to shut up and sit down. After Cameron refused, the SAPS forcefully removed him from the hall and escorted him to his car."
Cameron says: "Cele is once again abusing the police force for political gain and holding authority over ordinary citizens. The SAPS will never succeed in fighting crime if Cele stays in his position. Action Society will, however, continue to be a voice for the voiceless where the police neglect their duty."
Cameron is considering laying a charge at Ipid – the police watchdog – and a charge of assault at the police.
There was a tense exchange as Police Minister, Bheki Cele, met Gugulethu residents today. Action Society accused him of neglecting the Western Cape. The group wants policing devolved to the province. #DStv403 pic.twitter.com/TKwp2L6n2C

— eNCA (@eNCA) July 5, 2022
Director of Community Safety at Action Society, @IanCameron23 is considering laying a charge at @IPID_ZA and a charge of assault after being forcefully removed by SAPS from a community meeting between the Police Ministry and residents of Nyanga & Gugulethu. pic.twitter.com/GfNxlCc8Lo

— Action Society (@ActionSocietySA) July 5, 2022
Today, @IanCameron23 and the team at @ActionSocietySA, had the courage to say to Cele and the @MYANC, exactly what millions of South Africans want to say. pic.twitter.com/RkTmDTaeAZ

— GunnySA (@wrexniz) July 5, 2022