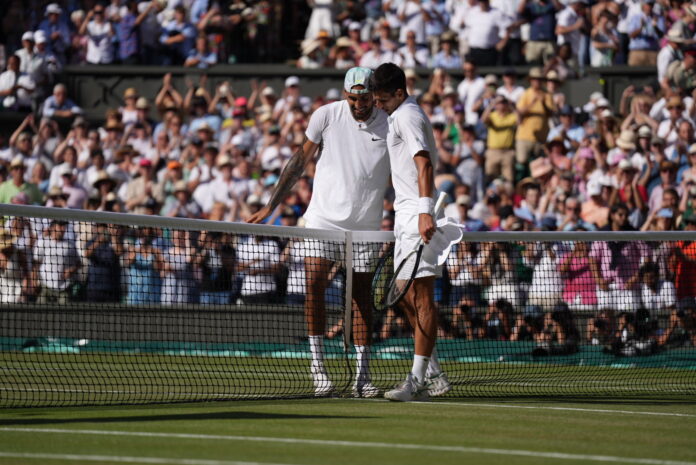 Serbian tennis champ Novak Djokovic has won the men's single championship at Wimbledon, his fourth in a row, seventh overall, and his 21st Grand Slam title! Djokovic beat Australian Nick Kyrgios 4-6 6-3 6-4 7-6 (3).
And although they may not have seemed that enamoured with one another on court, Djokovic (35) and Kyrgios (27) appear to have "officially" begun a 'bromance'.
Djokovic told Sue Barker after the match that he would definitely be honouring the deal he and Kyrgios made beforehand (on social media) – that the winner would take the other one out for drinks and dinner. (Although the Aussie's suggestion was to "go nuts in a club".)
"I don't know if we're going to make it happen tonight or some other night," he said, adding "this is a start of a wonderful relationship between us off the court as well." For Kyrgios' part, he called Djokovic "a bit of a God" after the match.
"It's been an amazing couple of weeks for me"@NickKyrgios has had an unforgettable run at The Championships 2022#Wimbledon | #CentreCourt100 pic.twitter.com/NSZybuzMIX

— Wimbledon (@Wimbledon) July 10, 2022
The two tennis stars once shared a frosty relationship, and after gushing about just what a phenomenal, talented player Kyrgios is, Djokovic joked: "I never thought I'd be saying so many nice things about you, considering the relationship… Okay, it's officially a Bromance!"
"It's officially a bromance."

—@DjokerNole to @NickKyrgios ? pic.twitter.com/QQCZyFDbxX

— SportsCenter (@SportsCenter) July 10, 2022
Mates ? @DjokerNole x @NickKyrgios #Wimbledon pic.twitter.com/dy1xV61YYI

— #AusOpen (@AustralianOpen) July 10, 2022
"She's the one who looks like she's had like 700 drinks bro'"
Kyrgios was his usual verbal self on court… shouting at his team, the umpire (although he did thank them afterwards for putting up with him) and a woman who had had at least 700 drinks… in his opinion. He asked for the female spectator to be removed because, he said, she was drunk "out of her mind" and distracting him. Here are just some of the memes his quips have triggered:
"She's drunk out of her mind and talking to me in the middle of a game. She's the one who looks like she's had 700 drinks."

Classic Nick Kyrgios#Wimbledon pic.twitter.com/mhDw7M2Zbd

— Chris Hammer (@ChrisHammer180) July 10, 2022
Kyrgios has stopped blaming his own Player's Box supporters and is now blaming a woman spectator 'who's had like 700 drinks bro' for distracting him. ?

— Piers Morgan (@piersmorgan) July 10, 2022
"Mummy, is that the lady who's had like 700 drinks bro and is pissed out of her mind?"#Wimbledon2022 #Kyrgios pic.twitter.com/Alnki5xwp0

— Craig Jones (@craigjones150) July 10, 2022
Has today's match made Kyrgios hungry for more? "Absolutely not," he says, Kyrgios said he's exhausted and needs a vacation. Djokovic knows better – he says Kyrgios will be back.
WATCH Djokovic's full interview
A champion's interview which had a bit of everything ?

Hear from @DjokerNole, after collecting yet another Wimbledon title#Wimbledon | #CentreCourt100 pic.twitter.com/v7sqCl7VPD

— Wimbledon (@Wimbledon) July 10, 2022
Kyrgios made hella casuals watch this Wimbledon and final with passion. Tennis should be lucky to have him.

— Faysal (@elfayz_) July 10, 2022
"Don't drop it!" ?

It's been a special first #Wimbledon visit for Prince George ?#CentreCourt100 | @KensingtonRoyal pic.twitter.com/VKXg06hPCU

— Wimbledon (@Wimbledon) July 10, 2022
Back in his hands ​?#Wimbledon | #CentreCourt100 | @DjokerNole pic.twitter.com/FvtwwBBZ3N

— Wimbledon (@Wimbledon) July 10, 2022
Also massive respect to Nick Kyrgios for being one of the few players to defend Djokovic when he was persecuted over a personal medical choice by the Australian government.

— Paul Joseph Watson (@PrisonPlanet) July 10, 2022