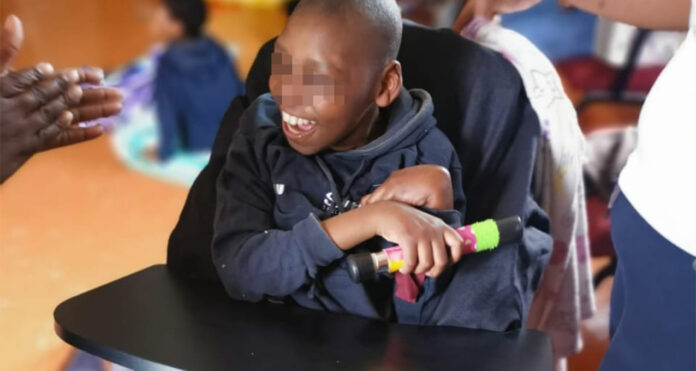 Municipalities not allocating available national government funding to poor under-resourced areas can result in terrible human suffering. Something which Marilyn Bassin, founder of Boikanyo the Dion Herson Foundation, recently discovered in a small village in the Eastern Cape, South Africa…
Rats had made a meal of the tips of one child's fingers, and the foot of another.
Every few months Bassin arranges an outreach into different deep rural areas, where she has managed to locate groups of profoundly disabled children born with cerebral palsy (in clinics, hospitals, and residential facilities) who desperately need specialised wheelchairs (buggies).
"These children will never be fortunate enough to be issued with their own buggy, many die waiting for this precious commodity," Bassin told SAPeople. "Each child is beautiful, each one a little human being who was born into a life of terrible adversity."
Bassin works in collaboration with the Paige Project which collects discarded and condemned buggies throughout Gauteng. They are then renovated by Boikanyo the Dion Herson Foundation, with the help of the Rotary Club of Rosebank volunteers.
The team then travel to a site where children have been overlooked and spend a weekend fitting these children into buggies. They also take along humanitarian aid in the form of blankets and e'Pap nutritional porridge.
"teenagers are being carried around on the backs of grandmothers"
"The clinical picture they find is often pathetic, teenagers are being carried around on the backs of grandmothers. Children's bodies are hopelessly deformed. A heart-breaking sight," says Bassin.
Last weekend the group went into a village in Fort Beaufort, to a residential facility, Sivenathi Special Care Centre, where 36 children who were born profoundly disabled have been placed. In a province where the medical system has been on the brink of collapse for the last 20 years, these children are lucky to have found placement here. The caregivers are loving and caring despite them only earning a stipend. The director and management do as much as possible to ensure that the children thrive.
Twenty-three specialised wheelchairs were brought along, as well as spares to renovate and fix broken and condemned equipment that the children of Sivenathi were forced to utilise.
"unloved and forgotten… a rat's paradise"
"The area where Sivenathi is situated in Fort Beaufort is unloved and forgotten," says Bassin. "The roads are almost non-existent, and refuse is strewn everywhere. Children, dogs, and pigs roam freely in ankle–high refuse. A rat's paradise."
The children of Sivenathi are housed in interleading flimsy structures with gaping holes in the walls where rats can enter, as well as a large hole in the ceiling where rats appear to be living.
"There are no extra funds to fix the building, but rats have multiplied at such an alarming rate anyway, they would find their way in through the doors and windows," says Bassin.
The local councillor attended the opening ceremony to thank the NGOs who were giving their time and resources. She explained later that a decision had been made to not clean up this village, despite funds being made available (funds are allocated from wealthier areas to poor ones), because the residents don't pay for services, says Bassin.
"She was called to see the horrific rat bites; one child had lost the tips of a few fingers as well as nail involvement. The attack on the foot of the other child was as severe and agonising, rats ate right up to the bone in his foot."
The group returned home with Bassin determined to expose the shame of municipalities that will not clean up residential areas.
Sivenathi has already put in a complaint to the South African Human Rights Commission, Boikanyo the Dion Herson Foundation submitted their own complaint as well. The councillor of the area showed the photos to her municipality, and they committed to a clean-up on Mandela Day. This clean-up apparently is an occasional event.
Bassin feels this is not enough.
A horror replaying around SA as Municipalities shirk their responsibilities
"The entire area needs to be maintained regularly. People should not have to live in rubbish dumps, helpless children should not fall prey to rats. This horror is replaying itself in so many areas in this tragic province, as well as in other provinces," says Bassin. "Municipalities have side-stepped their role of ensuring that people live in dignity, funds which are made available for clean-ups, as well as basic services, are going astray.
"Misappropriation is rife. In the Eastern Cape alone, 17 municipalities are being investigated for corruption by The Hawks. Sometimes it's not corrupt activity however, sometimes it's as simple as the municipality not knowing how to access such funding."
How you can help repair the walls and ceiling to prevent rats eating the children:
Boikanyo the Dion Herson Foundation is raising funds to help repair the walls and ceiling at Sivenathi. Bassin would also like the staff to take a first aid course as well, so that caregivers would understand that terrible wounds like these need to be dressed in bandages. Not torn sheets. These are the fundraising details:
Boikanyo the Dion Herson Foundation
Standard Bank Balfour Park
Account: 331 784 408
Br: 051001
SWIFT: SBZAZAJJ
About Marilyn Bassin
Marilyn is a guardian angel who has worked with indigent children for nearly 30 years and founded and run an NGO (Boikanyo) which allows her and her beautiful supporters to help the poorest families who live in shacks, squatter camps and overcrowded hostels. Marilyn's projects have been shared regularly by SAPeople, and we thank every one of our readers who has helped Marilyn make a positive difference to the lives of so many underprivileged in our country. Thank you to you, and thank you to Marilyn.