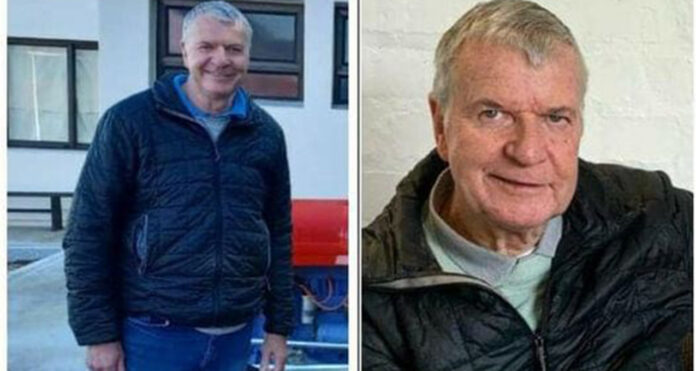 The search for missing Cape Town man Gus Thompson came to a bittersweet conclusion on Sunday morning when his body was discovered on Chapman's Peak… in his favourite place he used to visit, before he was diagnosed with dementia. The 70-year-old father of former Olympic gold medallist rower James Thompson, had walked out of the elder care facility – where he lived in Noordhoek – at around 6pm on Thursday 14 July. At around 8pm he was spotted at the day-pass checkpoint on Chapman's Peak Drive. Tracker dogs lost the trail shortly after that point. Hundreds of volunteers had joined the search to find the popular local resident. Today, many South Africans – friends and strangers – have left heartfelt tributes on his daughter Kate Thompson's Facebook page for the man whose smile touched so many people's lives.
Gus' family issued the following statement:
"At 9am this morning a drone search was able to locate Gus' body. He had walked down below the picnic site on Chapman's Peak, and he was found sitting beside a stream with a view of the Atlantic.

"It is most likely that he succumbed to hypothermia last Thursday, and died peacefully after falling asleep. Chapman's Peak was Gus' favourite place in the world, and he loved to explore the mountains before his health declined and prevented him from doing so. His wishes were to have his ashes scattered in this location, and our family is extraordinarily grateful that he passed peacefully, with no signs of any distress or injury, in his favourite place."
"… grateful that he passed peacefully, with no signs of any distress or injury, in his favourite place."
The Thompson family said: "On behalf of our entire family and close friends, thank you from the bottom of our hearts. We could never have gotten through this ordeal without the endless support of not just our friends, but also countless kind strangers. We are forever grateful for the time and energy you have dedicated to finding Gus. We appreciate every share on social media, everyone who joined the search, every flyer handed out, and every message of support we have received.
"Special thanks to all the volunteers from WSAR Western Cape who gave up nine days of their lives to dedicate each waking moment to finding our beloved Gus and bringing us this much-needed closure. We are forever indebted to these incredible people. In particular, thanks to Andre, Lara, Jami, Craig, and Jeanette for your relentless efforts.
"We know that many many people, both strangers and friends, will be feeling this huge loss. We will organise a small celebration of Gus' life on Saturday. Details will be shared with friends and family in the coming days. With thanks and appreciation, The Thompson family."
Some of the many messages pouring in from friends, family and strangers include:
"My most Deepest Condolences from an ex-VOB runner. He was Greatly loved and Highly respected by the VOB Community and The Cape of Good Hope Bank Community where a very Dear and close Late friend of mine worked. RIP Gus. Your Journey on earth has ended. Loss of a fine man with Deepest and Great Respect ???"

"… sincere condolences with Gigi, Kate, Alice and James Thompson on the loss of your very special husband and father. He was the most ideal colleague, with so much wisdom and compassion. A dedicated person with a beautiful balance between working, family and fun.

May we all treasure the memories of interactions with you as family, Gus and Gigi and Gus as Cape of Good Hope Banker and friend. May his soul now rest in peace."
"My heart hurts for you and your family. Of all the many things I hoped did not happen I am so very happy that he found his peace in a place he loved and that you all can have some kind of closure."
"What a bittersweet post So glad that Gus left this mortal coil peacefully and dare I say, at peace, in a favourite spot – he chose that spot and that time, I think. MHDSRIP Condolences to his Family and other Loved Ones ?"
The family has asked that in lieu of flowers, please consider making a small donation to Wilderness Search and Rescue (WSAR). Details on this image:

The family statement in full: