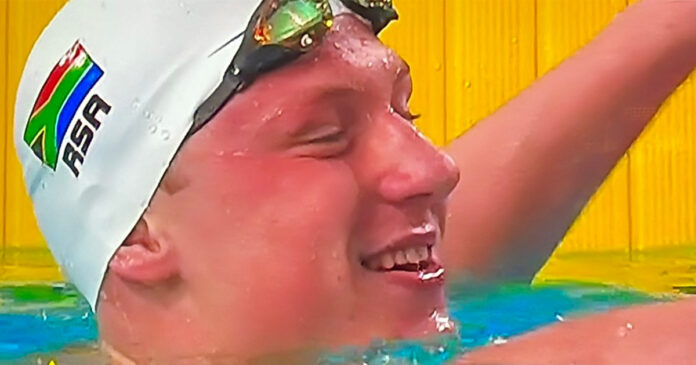 Rising South African teenager, Pieter Coetze, collected his first major title by winning the men's 100m backstroke on Saturday evening, with a last lunge to the wall, winning in 53.78. By GARY LEMKE in Birmingham.
Coetze had come into the race as the favourite and was given the treasured lane number four. He had a fight on his hands with English home favourite Brodie Williams turning strongly and powering down the final lap in lane five. The pair had a titanic struggle over the last 30 metres, but it was Coetze, having turned first in 25.75, who came again with a strong late lunge to hit the wall first.
The crowd were momentarily silenced as they digested the details on the scoreboard, but it wasn't deceiving them. Coetzee gold, Williams silver.
Coetze's gold followed Lara van Niekerk's remarkable debut Commonwealth Games. She won Team SA's first medal at Birmingham 2022 with another untouchable swim. Her 29.73 effort was her third Games record in as many swims, beating the 29.82 and 29.80 she had produced in the heats and semi-finals. And it was pure gold.
IF YOU'RE IN SOUTH AFRICA – Watch Team SA in action at the Commonwealth Games on Showmax Pro! 
Earlier in the evening, she too had arrived in the final in front of a packed and partisan Birmingham crowd who had come to see their home heroine Imogen Clark. Launching from lane four, she was one of three South Africans in the final. Double Olympic medallist Tatjana Schoemaker was in lane two and Kaylene Corbett in lane eight.
Schoenmaker broke through at the Commonwealth Games in Gold Coast in 2018 and went on to Olympic stardom. Although the 50m breaststroke isn't on the programme at the 2024 Paris Olympics, Van Niekerk has two years to add stamina to her blistering speed and have a crack at the longer distance in the French capital.
But that's all for today (Sunday). Yesterday the gamut of emotions flooding through her as she watched her country's flag being raised during the medal ceremony will be a memory of a lifetime.
Van Niekerk surged strongly in the second half of a race in which Schoenmaker showed impressive speed for someone who finds the 50m too short. She is most at home in the 200m, although also won silver in the 100m in Tokyo last year.
Schoenmaker (30.41) came desperately close to joining Van Niekerk on the podium, but her turn will surely arrive in the longer races. There was genuine delight in Schoemaker's hugging of her countrywoman in the water in the aftermath of the record swim. And don't forget Corbett (31.10), who will be a force to be reckoned with in the 200m.
Source: TeamSA
#TeamSA🇿🇦 #CommonwealthGames2022 pic.twitter.com/BwW7iYWA1d

— Swimming South Africa (@SwimSouthAfrica) July 30, 2022
Moment for the history books: Pieter Coetze receiving his gold medal following his 100m Backstroke win in the swimming event at the 2022 Commonwealth Games. We're proud of you, Pieter 🇿🇦🇿🇦🥇🥇🇿🇦🇿🇦🥇🥇🙌🙌🏊‍♀️🏊‍♀️. #B2022 #TeamSA #B2022Swimming @swimsa_official pic.twitter.com/67htV5I6OO

— Team South Africa (@TeamSA2024) July 30, 2022
IF YOU'RE IN SOUTH AFRICA – Watch Team SA in action at the Commonwealth Games on Showmax Pro!