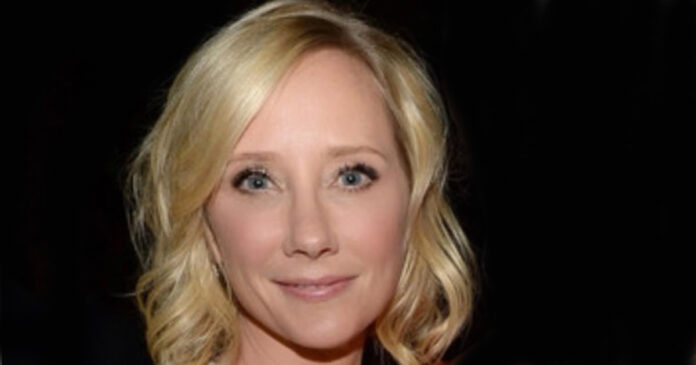 American actress Anne Heche has sadly been declared legally dead today, following the tragic car crash she had last week in which she suffered severe burns and other injuries, including smoke inhalation.
Anne's family and friends issued the following statement on Friday:
"Today we lost a bright light, a kind and most joyful soul, a loving mother, and a loyal friend. Anne will be deeply missed but she lives on through her beautiful sons, her iconic body of work, and her passionate advocacy. Her bravery for always standing in her truth, spreading her message of love and acceptance, will continue to have a lasting impact."
A family spokesperson explained at 11am Californian time on Friday, that Anne "was declared brain dead last night but has been kept on life support for organ donation. Her heart is still beating."
Anne, the one-time partner of talk show host Ellen DeGeneres, had been left in a coma and with "severe anoxic brain injury" (brain deprived of oxygen) following the incident in which she crashed into a Los Angeles home at high speed… causing the house and her car to be engulfed in flames. She had already crashed into a car and a garage of an apartment block beforehand, but resisted efforts by residents to get out of her blue Mini Cooper. In a podcast recorded three days before the accidents, she was allegedly drinking and slurring, and said she had had a 'bad day'.
It is reported by TMZ that Anne was under the influence of cocaine at the time of the incident. According to the BBC, preliminary blood tests showed drugs in her system although police said extra testing was required to rule out anything given to her in hospital.
Photographs of the 53-year-old last Friday (5 August) showed what appeared to be a bottle of vodka beside her in the driver's seat. However law enforcement sources told TMZ she was under the influence of cocaine, not alcohol. Fentanyl was also detected, the source said, but this could have been administered to her in the hospital.
Yesterday (Thursday), her family had released a statement letting fans know that she was "not expected to survive". The family said: "We want to thank everyone for their kind wishes and prayers for Anne's recovery and thank the dedicated staff and wonderful nurses."
One Twitter user said today: "Whatever you think of her, the Anne Heche story is so sad. The fact that she's leaving behind 2 young children is heartbreaking. Addiction doesn't care who you are."
Another on Instagram reminded the haters that "the accident is over and so is Anne's life. She paid the ultimate price for her decision that day. But that decision doesn't take away that she was loved and is loved by so many people. People who are grieving now. Don't add to their heartache by coming here to unload, to trash, to humiliate the person they love. With deepest sympathies to all who loved Anne."
Anne had battled emotional pain since she was a child. Her family history was tragic. She said her father – a Baptist minister – had molested her as a very young child. He died of Aids when she was 14, the same year the family discovered he had been living a secret life as a homosexual man. Anne's brother died soon afterwards, at the age of 18, when he crashed into a tree. She also lost a sister in her '40s to brain cancer. Anne was estranged from her mother. After discovering her husband's secret life, Anne's mother was an anti-homosexual crusader who apparently never accepted her daughter's relationship with Ellen.
Following Anne's three-year high-profile relationship with Ellen in the late '90s, the two had lost contact. When approached by reporters last week and asked about Anne's condition, Ellen said they were no longer in touch. Today, Ellen tweeted: "This is a sad day. I'm sending Anne's children, family and friends all of my love."
Anne leaves behind two sons – Homer (20) with ex-husband, cameraman Coleman Laffoon and Atlas with her Men in Trees co-star, James Tupper from whom she separated in 2018.
In an exclusive statement to People magazine, Homer said on Friday: "My brother Atlas and I lost our Mom. After six days of almost unbelievable emotional swings, I am left with a deep, wordless sadness. Hopefully my mom is free from pain and beginning to explore what I like to imagine as her eternal freedom." He thanked the thousands of friends, family and fans who've reached out with support, thanked his dad and stepmom for being his rock and said: "Rest In Peace Mom, I love you."
The news of Anne's death was announced today by close friend Nancy Lewis who thanked Anne for her huge support of her MS foundation, and described Anne as "loving, kind, fun, endearing and beautiful". Nancy said: "Heaven has a new Angel".
Meanwhile a GoFundMe page, set up for the woman who lost her home and all her belongings in the crash, has surpassed its target of $100,000, currently at $148,000.
WATCH Anne Heche Dead at 53
Anne Heche's last photos on Instagram
These happy snaps were taken 4 weeks ago, whilst filming a romantic comedy in Boston:
View this post on Instagram
WATCH Anne Heche's last video post:
View this post on Instagram