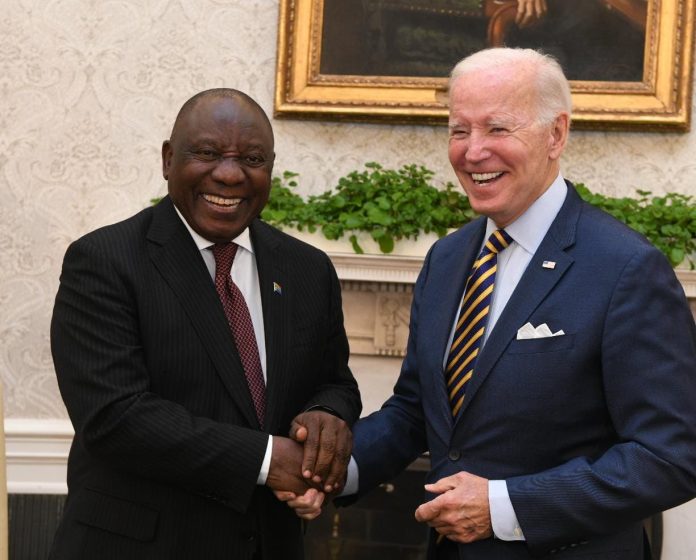 South Africa's President Cyril Ramaphosa met with US President Joe Biden in the White House in Washington DC on Friday (September 16), with both leaders set to discuss global stability and climate change during talks.
Biden, who has led an international coalition to punish Russian President Vladimir Putin for the near-seven month war in Ukraine, wants South Africa's help in efforts that include forcing Moscow to sell its oil at below-market rates.
However Ramaphosa made it clear he will not budge and does not appreciate being told to choose sides. The SA President said "we are sovereign and that should be respected" and that countries in Africa choose their own friends and should not be dictated to, emphasising that SA's sovereign foreign policy balances ties with the US and Russia.
He strongly condemned the United States' proposed Russian Malicious Acts Bill as harmful to Africa's development. The bill would oblige Washington to punish any governments in Africa that help Russian 'malign' activities.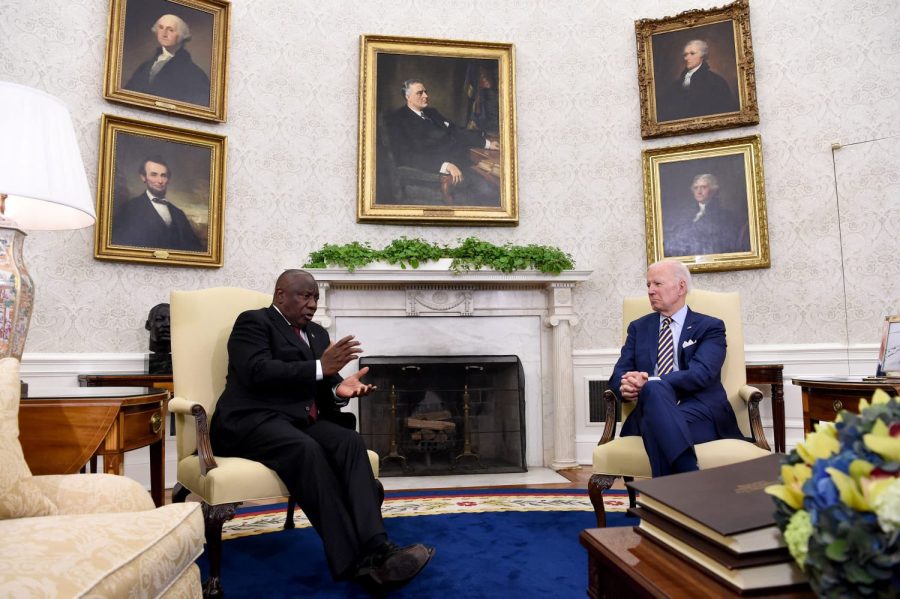 On Friday Ramaphosa expressed his discomfort and opposition to the proposed legislation, saying it would identify some countries in Africa that have economic or trade relationships with Russia and would be a "punishing type of act". (The authors claim the bill is designed to stop Putin exploiting resources in Africa to evade sanctions, undermine US interests and continue to finance his war on Ukraine. Some argue it's to punish Africa for not supporting the US in punishing Russia, while others say Africa is being targeted because that's where Russia has been most active. Read more here.)
The SA President said "I think it will harm Africa… a continent that is now seeking to recover from the after-effects of Covid-19…"
Ramaphosa says the legislation is misplaced and would touch on the sovereignty of African countries who should not be told "or put in a position (where) we have to choose who we are friends with… We refuse to do that." Ramaphosa said he would express "our very strong opposition" to the authoring of the legislation to Biden and "inform them how harmful this is going to be".
The South African president confirmed he will not be attending the US-Africa Leaders Summit in mid-December, convened by Biden, because he'll be at the African National Conference leadership elections. But he warned that what Biden is trying to achieve – by seeking to engage and get the co-operation of certain African leaders in the new legislation will be counter productive.
Ramaphosa has resisted calls to directly condemn Russia for the war on Ukraine, instead opposing the use of force generically. In March, he blamed NATO's eastward expansion for regional instability and said the conflict should be solved through United Nations-mediated negotiations rather than Western-led sanctions that hurt "bystander countries".
South Africa was one of 17 African countries to abstain from the U.N. vote condemning Russia's assault.
Ramaphosa welcomes Biden's support
Ramaphosa also said he was pleased to hear Biden say that South Africa needs more funding and support in its transition from fossil fuels to renewables, and that Biden said he will "raise this with other G7 partners". "We welcome that," said Ramaphosa, adding that it's a very "positive disposition to the challenges we are going to face".
Biden, he said, was even more detailed about coal miners who could lose their jobs, and that he supports Bidens view that during the transition new jobs need to be created and people need to be trained "so they don't lose their work situations".
Biden and Ramaphosa need to "fully understand" one another
President Biden said: "You (Ramaphosa) personally and your country have such a critical part in what happens in a continent of 100 million people, a billion people, almost. We really need to make sure we fully understand one another."
The two leaders are also expected to discuss trade, climate and energy as Biden ramps up engagements with African countries and casts a wary eye on investments and diplomacy by rivals Russia and China on the continent.
Ramaphosa added that "of course we want to discuss what I would call global stability and security. Particularly in relation to our region where we've had insurgents targeting one of our neighbouring countries, Mozambique. So that we can discuss that as well. So for us that is very important."
He also said: "And of course climate change is a matter that we should discuss, in a little while. Particularly in relation to a just transition as many of our people are a bit fearful of what a just transition could mean. So, thank you very much. There's a lot of issues that we have to cover and we really welcome this opportunity."
HE President @CyrilRamaphosa meeting with HE President @JoeBiden of the United States at the White House Oval Office in Washington DC during President Ramaphosa's working visit to the US. #SAinUSA ????#BetterAfricaBetterWorld pic.twitter.com/iPblANkRl3

— Presidency | South Africa ?? (@PresidencyZA) September 16, 2022
Ramaphosa meets VP Kamala Harris
Vice President Kamala Harris hosted President Ramaphosa for breakfast at the Naval Observatory on Friday.
According to the White House, she "applauded President Ramaphosa's leadership in the global COVID-19 response and thanked him for his efforts to promote vaccine equity across the African continent. Vice President Harris and President Ramaphosa had a wide-ranging conversation about steps each government is taking to strengthen global health and global health security, including our significant and longstanding collaboration through the President's Emergency Plan for AIDS Relief (PEPFAR). They also discussed how the United States and South Africa can best cooperate to tackle the climate crisis. Vice President Harris welcomed deeper bilateral cooperation on space engagement and thanked President Ramaphosa for South Africa's leadership on science and technology. The two leaders discussed the importance of advancing the women, peace, and security agenda, to include expanding joint efforts to combat gender-based violence, and online harassment and abuse. They also agreed to cooperate closely on matters of peace and security affecting the continent."
I am pleased to be starting my working visit at a breakfast meeting with VP @KamalaHarris – the visit is aimed at strengthening the relationship between our two countries. pic.twitter.com/8OSm8pWieD

— Cyril Ramaphosa ?? (@CyrilRamaphosa) September 16, 2022