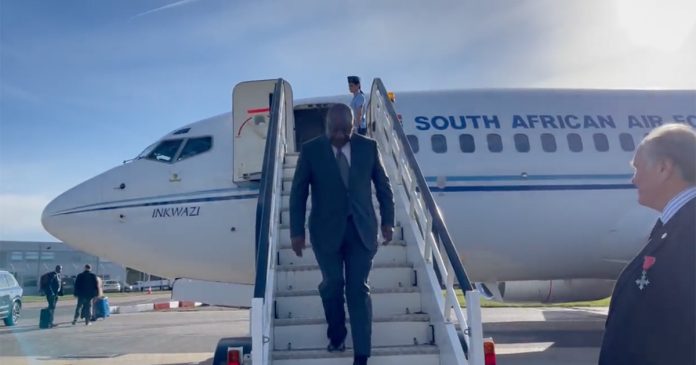 President Cyril Ramaphosa will be cutting short his overseas trip to return home to South Africa to deal with the Eskom crisis which has plunged SA into Loadshedding (pre-planned power cuts) Stage 6.
In a media briefing this morning, Eskom admitted that the powerlessness could get even worse, with unplanned blackouts that would take South Africa weeks to recover from. The so-called 'power utility' revealed there would be a lot more loadshedding in the week to come.
Eskom COO Jan Oberholzer said on Sunday that Stage 6 blackouts will remain in place indefinitely, and only be eased once enough generation capacity is available.
Eskom CEO Andre de Ruyter said investigations have shown that the breakdowns of at least 11 units in the country during the past week are not due to sabotage.
As President Ramaphosa met with US President Joe Biden on Friday in Washington, and then flew to the UK for Queen Elizabeth II's funeral tomorrow (Monday 19 September), many locals have been tagging the president begging him to come home and help turn the lights back on. The DA issued a statement earlier today about the system-wide failure of Eskom's generation units and said "Ramaphosa is now duty bound to heed the DA call and declare a ring-fenced State of Disaster around Eskom. The President must return to SA immediately."
On Sunday evening, eNCA reporter Olly Barratt tweeted from Windsor (UK) that "President Cyril Ramaphosa will return to South Africa on Monday after the Queen's funeral, instead of flying back to New York."
He said President Ramaphosa's team told him the SA president is seeking an update "on what led to so many units tripping and seeking an immediate solution to this devastating load-shedding".
In some parts of South Africa, they are experiencing 11 hours of no electricity in a 24-hour period.
Prof Jonathan Jansen tweeted: "Stage 6 on a Sunday? We are screwed."
Simon Grindrod tweeted: "Eskom implement Stage 6 early on a Sunday morning when demand is at its lowest. It's going backwards under Cyril Ramaphosa. Period." He also pointed out that while SA suffers under Stage 6 power blackouts, the "same President who promised to fix Eskom, campaigns to stay in office until 2029".
Ted Blom said: "Friends, this is unprecedented to have Stage 6 on a Sunday. No excuses can be tolerated for this mess. It will get worse tomorrow. I expect heads to role, starting from the top with those persons who demanded maintenance budget cuts to pay back debt early."
[BREAKING NEWS] President Cyril Ramaphosa cuts short his overseas trip to return to SA amid Eskom crisis. The President will fly home after Queen Elizabeth's funeral tomorrow. He was due to fly back to the US. #DStv403 pic.twitter.com/Q4cfS9B1JS

— eNCA (@eNCA) September 18, 2022
Stage 6 blackouts will remain in place indefinitely. Eskom COO, Jan Oberholzer, says it will only be eased once enough generation capacity is available. #DStv403 pic.twitter.com/rf5lVDq5P1

— eNCA (@eNCA) September 18, 2022
I believe I speak for everyone when I ask… What in the poes is stage 6?

— Kirsty Bisset ? (@KirstyBisset) September 18, 2022
Denial
Anger
Bargaining
Depression
Acceptance
Stage 6 <—— you are here
Stage 7
Stage 8

— Paul Berkowitz (@paulyberk) September 18, 2022
Cumulatively, my area is scheduled for 11 and a half hours of blackouts in a 24 hour period.

Brought to us by the ANC-led state.

Do NOT forget to contextualise Eskom's collapse: it is directly linked to the capture of the South African state, facilitated by corrupt ANC leaders.

— Eusebius McKaiser (@Eusebius) September 18, 2022
We are now on stage 6 and Eskom CEO Andre De Ruyter still receives his fat salary for switching the lights off

— Thabo Makwakwa (@ThaboMakwakwa) September 18, 2022