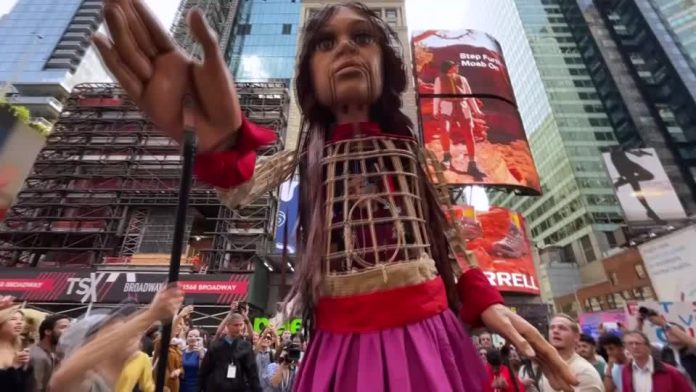 'Little Amal', the giant refugee puppet that was created by a South African company, strolled into Times Square in New York on Friday. The 3.66-metre tall (12 foot) puppet represents a 10-year-old Syrian refugee searching for her mom who disappeared after she went in search of food.
Little Amal is in New York to visit the city's five boroughs over the next couple of weeks, to raise awareness of the plight of displaced children looking for safety across borders.
The giant puppet was created by the Handspring Puppet Company, based in Cape Town. She has already followed in the footsteps of thousands of refugees in Europe, walking from Turkey to Glasgow for COP26, stopping in Rome, Paris and London on the way.
Handspring's founders Adrian Koehler and Basil Jones came out of retirement to create Little Amal, one of the most ambitious – and important – public artworks ever attempted. (They're the same team who created the famous War Horse puppets.)
New York City's Peter Avery, who is the producer of Little Amal Walks New York told Reuters: "After the Middle East and Europe, the producers of Little Amal chose New York because they said America and Europe specifically are where the 'huddled masses' are welcome, the Emma Lazarus poem." He's referring to the words inscribed on the pedestal of the Statue of Liberty.
Avery says: "Little Amal's message to the world is, 'Don't forget us'."
The refugee puppet is operated by three people – a puppeteer on stilts inside her bamboo frame controlling her facial expressions, and two puppeteers moving her arms, with a small computer operating her eyes. Three versions of Little Amal were created and a dozen puppet operators have taken turns across her long journey. Her body's made from moulded cane and her head, arms and legs are carbon fibre.