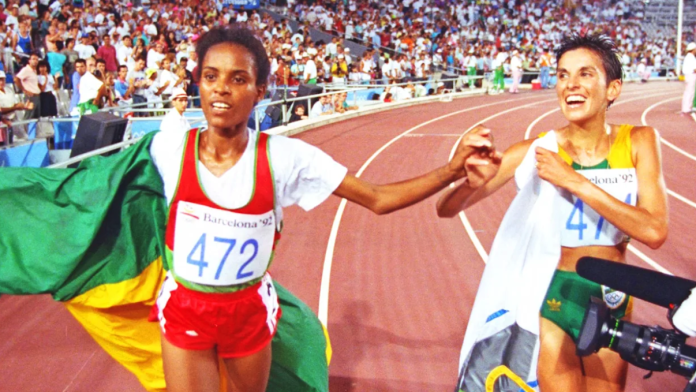 Thirty years ago, on a hot, humid August night in Barcelona, Elana Meyer and Derartu Tulu combined to create one of the most iconic moments in Olympic Games history. Now the two are getting together to celebrate that piece of history for the first time since that embrace and lap of honour reverberated around the world. By GARY LEMKE
"Thirty years, hey. Can you believe it? It feels like yesterday," says Meyer, the South African who won the silver medal, with Ethiopia's Tulu becoming the first African woman to win an Olympic athletics gold. In South Africa's return to the Olympic fold for the first time since 1960, and competing under a neutral flag, Meyer had seized the advantage with 10 laps remaining in the 10,000m, with only Tulu going with her. Then, at the bell for the final lap, the Ethiopian kicked for home and pulled out a winning advantage.
"I've watched the race over and over through the years," says Meyer, now 55. "I had gone in with the mindset to win gold, that was the objective. The thinking was that [world champion and favourite] Liz McColgan would set a faster pace, but she didn't go hard enough. My initial plan was to push hard after 5,000m, but when I'd been in front over the last 10 laps I probably could have had one or two laps where I should have gone faster, to break the invisible cord between myself and Derartu [the only athlete able to hang on to Meyer].
"It's easy looking back, but in the race I had a 'Sliding Doors' moment, you know, the film which stars Gwyneth Paltrow and which shows how differently life pans out based on catching a train or missing a train. I've often thought how different life would have been had I won gold. If I could run that race over again, in the same conditions and everything that went with it, I'd probably have run the same race, but just injected a bit more pace for one or two laps earlier on."
However, now Meyer and Tulu get the opportunity to revisit the scene of one of the most iconic tussles in Games history. Both will be part of a 30-year reunion on 26 and 27 September, with both athletes travelling to Barcelona with their families to be headliners of a schedule that includes a media conference, a visit to the Olympic Museum, a visit to the Montjuic Olympic Stadium and a Seminar followed by a Q&A session at the Instituto Nacional de Educación Física (INEFC), the sports studies university, with sports students and professors.
"There are two important strands to the celebratory reunion," says Meyer. "One is a visit to the Olympic Museum and the other is a session at the university. We're going to be connecting the event with the empowerment of young women. I was only 25 and Derartu was 20 at the time. Both of us have continued to make a difference in society and give back to a sport that gave us so much. Derartu is the current president of the Ethiopian Athletics Federation and I was a founding member of the JAG Federation in 2007 and helped form Endurocad, where we try to get to get South Africans active."
The South African Sports Confederation and Olympic and Paralympic Committee (SASCOC) has contributed to helping make this reunion with two giants of African athletics history possible.
"I'm delighted to be able to go back to the stadium where everything happened," says Meyer. "I've been back before but this time there will be people there – and Derartu, of course. I'll also be taking my two children along, Christopher [15] and Ene [12]. It's all very special and I'm definitely going to be raising a glass of champagne, given that I can share the reunion with them."
Immediately after the 10,000m final those 30 years ago, Tulu and Meyer embraced, joined hands and then went on a lap of honour. It was a momentous occasion given South Africa's fractured past and return to the Olympic family followed decades of apartheid-enforced isolation.
"It happened so quickly. In the moment it was just this incredible celebration, this unity, and I think even though I didn't realise the extent of the impact I felt it was something special," Meyer reflects.
Says Tulu: "I had never met Elana before, but she acted as if we were acquainted and we were former friends. That was a very big surprise for me. Amazingly we had the best-ever hug. We never forgot we two were from Africa."
And, 30 years later the world hasn't forgotten the night of 7 August 1992 when two gifted athletes produced a race and moment for the ages.
Source: TeamSA