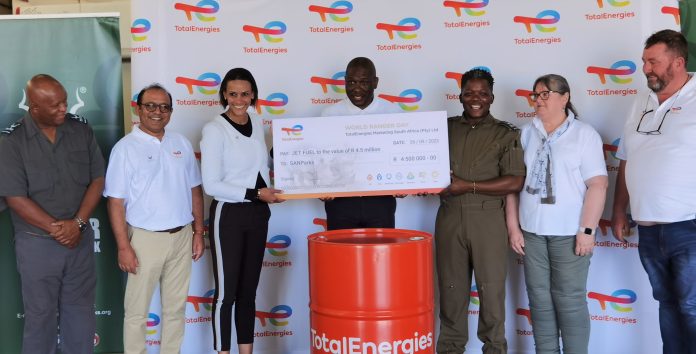 South African National Parks (SANParks) Airwing has received a R4,5-million donation for much-needed fuel for their anti-poaching operations.
The symbolic handover was made by TotalEnergies Marketing SA MD and CEO, Mariam Kane-Garcia. It also marked TotalEnergies and SANParks long-term relationship of 60 years, in which TotalEnergies has focussed on nature conservation and contributing to the communities in which it operates.
Accepting the cheque, SANParks Chief Operating Officer, Lize McCourt thanked TotalEnergies and said that "the on-going rhino poaching incidents in our country is an area of concern to government and ordinary people including corporate South Africa. It is with great humility and sense of pride that SANParks accepts the generosity presented by TotalEnergies – this is proof that together we can do more to win the fight against rhino poaching."
TotalEnergies has partnered with SANParks on various programmes over the years, including: 
The SA National Parks Week, which took place on 12 -16 September this year and affords South African citizens a chance to visit SA National Parks for free,
SANParks Kudu Awards,
the marketing campaigns including the Golden Classics Concert at the Golden Gate National Park,
the greening projects as well as the Environmental Conservation Education and
Awareness projects e.g. Keep Kruger Clean campaign which ran for over 15 years in the KNP as well as the Walk on the Wild Side programme.
McCourt said: "We really appreciate this gesture as it will not only make it easier for our air services to patrol and react to conservation teams on the ground in the vast areas National Parks provide for the protection of wildlife, but it also strengthens our relationship with one of our important business partners."