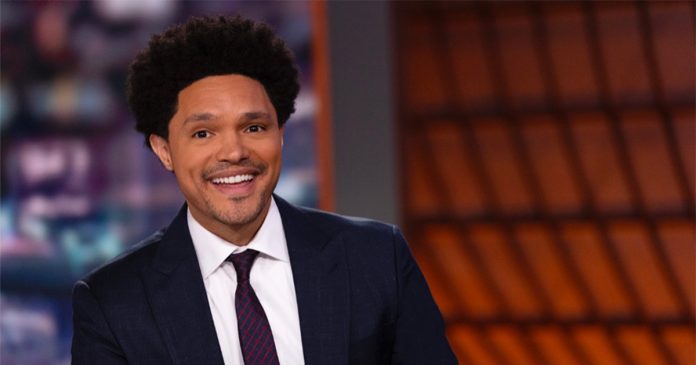 JOHANNESBURG – Comedy Central announced today that Trevor Noah will be hosting his final episode of 'The Daily Show with Trevor Noah' on Thursday, December 8th.
Leading up to his last day, the Emmy®-winning franchise will celebrate Noah's seven-year run with a look back at his greatest moments.
The award-winning late-night franchise will then return on Tuesday 17 January. The new host has not yet been revealed.
During his seven year tenure as host, Noah has moved The Daily Show seamlessly from insightful, hilarious satire to serious, provocative conversations, meeting society's moments of unrest and uncertainty with clarity and conviction, said Paramount in a statement on Thursday afternoon.
Whether it was tackling presidential campaigns, police violence and systemic racism or navigating a global pandemic, Trevor entertained and enlightened audiences through his unique voice and perspective, said the statement.
Monde Twala – Senior Vice President of Editorial and General Manager Paramount Africa and Peer Lead, BET International – said:
"Trevor has made us proud, as Africans. During his time on the Daily Show, he has not only represented our continent on a global stage, he has also opened doors for other South Africans like Loyiso Madinga who was the first African correspondent to do Daily Show segments for our market. His journey and achievements will inspire many for years to come. We celebrate him as he moves on to his next chapter."
Chris McCarthy, President & CEO, Paramount Media Networks and MTV Entertainment Studios, added:
"Trevor is an incredible talent who has left an indelible mark on The Daily Show and we're grateful for his creative partnership over the past seven years."
Trevor responded, saying:
"Chris (McCarthy) has been an amazing leader and partner who has helped me realize my dream of working not just in front of the camera, but also behind the scenes, producing content which now airs across the Paramount family. I'm truly excited to see what the future holds."
Trevor Noah resigned recently from The Daily Show, saying he wanted to pursue more stand-up comedy.
Whilst viewership had declined by 65% since 2015 when Trevor took over, other late night shows have suffered similar losses – Jimmy Fallon's viewership has dropped by 64% and Jimmy Kimmel's by 54%, according to Forbes.
The Daily Show airs Tuesdays-Fridays at 11:30 p.m. CAT on Comedy Central, DStv channel 122. (If you're in South Africa, you can watch Trevor Noah on The Daily Show until December on DStv CatchUp !)
OR laugh your way through all 13 episodes of Trevor Noah Presents NationWild only on Showmax – whether you're in SA or living abroad, you can watch it now, and there's a 14-day Free Trial!