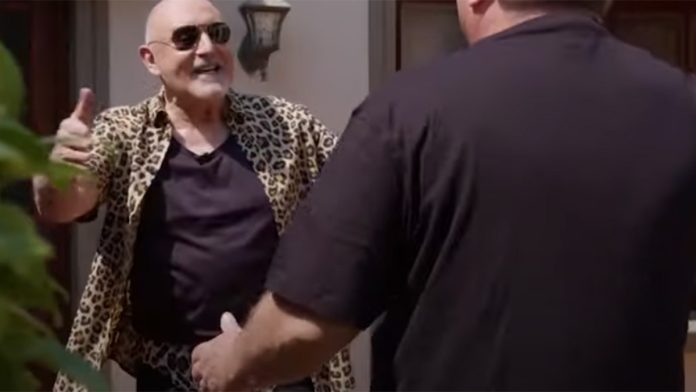 Here's what's coming up on Carte Blanche this weekend. You can watch the show on Sunday 23 October in South Africa on DStv Now or stream it overseas in most countries on Showmax from Tuesday 25 October if you're abroad.
"These are challenging times, so who'd deny us the distraction of an occasional bout of nostalgia, a reflection on a moment in time in which the new South Africa was alive with possibility (with due acknowledgment to Brand SA) and awash with creativity? This Sunday we launch an "investigative" series in which our intrepid producers and journalists track down characters from some of our most iconic commercials. Along the way we'll reacquaint ourselves with spotted speedos, much- "moore"-munch bars and Amaglug-Glugs." – John Webb, Executive Producer
The dawn of democracy saw a broadening of our creative horizons, especially in the world of advertising.   By 1995, big brands and advertising's brain power were combining in ways unseen in the restrictive apartheid years, defining new ways of reflecting on a changing society. The results were some of the most memorable commercials seen on TV, ones that remain etched in the minds of those old enough to remember them. So, where are those creatives now?  In a Carte Blanche "special" investigation lead by the intrepid Derek Watts, we  track down the icons behind the Vodacom "Ÿebo Gogo" campaign. (Producer: Sophia Phiripphides | Research: Sasha Schwendenwein | Presenter: Derek Watts)
Watch the show overseas | Watch in SA on DStv Now
Also on Carte Blanche this Sunday 23 October
Sex, Lies & Prison Bars
An unexpected phone call from a stranger throws your life into disarray. An eerily calm voice on the other end of the line demands you hand over a significant amount of cash or risk arrest for a heinous crime you know you didn't commit. However, the voice doesn't belong to a police officer but rather an inmate in a maximum-security prison, one of the masterminds of an elaborate extortion scam. It manipulates sex workers into handing over the contact numbers of their less-favoured clients, transformed into unwitting victims by a single phone call. Carte Blanche investigates. (Producer: Nicky Troll | Presenter: Masa Kekana)
Watch the show overseas on Showmax International | Watch in SA on DStv Now
Eskom's infrastructure is under attack. In Mpumalanga, landowners near its Emalahleni electricity hub  say power lines  running through their properties have become the latest target for cable thieves. It's a significant and unwanted challenge for a utility already struggling to meet electricity demand and generally failing to keep the lights on. The MO is simple: criminal syndicates – possibly operating on insider information – wait for overhead transmission lines to be switched off for maintenance before swooping for their loot. With deployed security and the police apparently powerless to stop it, the landowners are often the last line of defence for infrastructure critical to the supply of power to large parts of Gauteng.  (Producer: Anina Peens | Presenter: Masa Kekana)
Watch the show overseas | Watch in SA on DStv Now
Twenty-nine-year Pontsho Mohlanka was a well-known member of the Orange Farm community in Gauteng. She helped run the local shebeen and was a regular at the nearby spaza shops. Then, in April 2020, police were called to the shebeen during a search for a missing child. The horror they stumbled on would later see Mohlanka arrested on suspicion of murder. Five months later, she was released and within two days police were again investigating a disappearance and multiple murder. Carte Blanche unravels why this unassuming neighbour became a child killer in a chilling story of muti and murder. (Producer: Ntokozo Sindane | Presenter: Claire Mawisa)
Watch the show overseas | Watch in SA on DStv Now
HEAR it ALL
Your favourite episodes are now available on Carte Blanche: The Podcast
EXTRA! Peter Major on Deadly Coal Trucks
By now, many of you have probably seen the viral videos showing how massive coal tipper trucks plough through bakkies, taxis and other trucks. So, why has there been such a dramatic increase in road accidents involving these behemoths? And is it too late to find a workable solution? Mining expert Peter Major shares his thoughts.
Tipper trucks horror continues – ?R34 #Melmoth @carteblanchetv pic.twitter.com/r2yXr8q3cK

— Mlomo'mnandi (@TheBlackspice) October 20, 2022
Steinheist
A docuseries that untangles the story of the biggest corporate scandal in South African history: the Steinhoff investors who were taken in, the victims, and the CEO, Markus Jooste, who's still a free man.
If you're overseas – you can watch #CarteBlanche from Tuesdays, and thousands of other popular local South African shows & movies by subscribing to Showmax International now. You can try it FREE for 14 days. 
Carte Blanche is on M-Net & M-Net HD [101], 16 October at 19:00 & again on M-Net Plus 1 [901] at 20:00
***
Please note: Carte Blanche is only available to international Showmax subscribers in Andorra, Australia, Austria, Belgium, Denmark, Finland, France, Germany, Greece, Iceland, Indonesia, Ireland, Italy, Liechtenstein, Luxembourg, Malta, Monaco, Netherlands, New Zealand, Norway, Portugal, San Marino, Spain, Sweden, Switzerland, United Kingdom. Not all titles are available in all territories. Showmax brings you the best South African series and movies, from the classics to the latest releases, from complete box sets to kids' favourites.