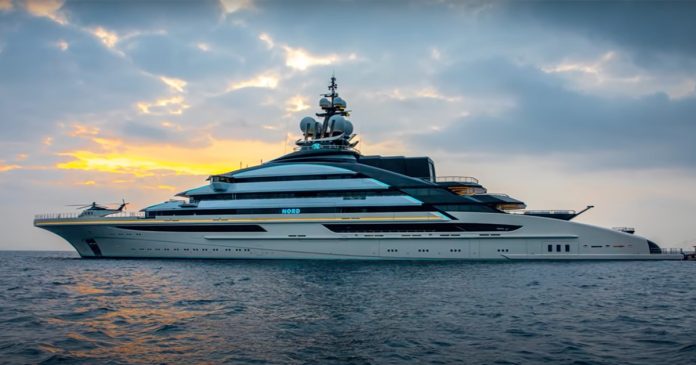 A super yacht worth around $521-million and owned by a sanctioned Russian oligarch is heading for Cape Town, according to a CNN report and details on MarineTraffic.com.
MV Nord, which is known as one of the world's most luxurious megayachts, had been spotted in Hong Kong earlier this month (11 Oct), after sailing from Russia. Yesterday the BBC reported that Hong Kong authorities refused to seize the vessel because the oligarch is under Western sanctions (imposed by the UK, US and EU) and not "unilateral" ones imposed by the United Nations.
According to MarineTraffic.com, Nord left Hong Kong on Thursday (20 Oct) and is expected to arrive in Cape Town on 9 November.
The owner – Alexei Mordashov – is not believed to be on board the boat. Mordashov is one of Russia's richest oligarchs as chairman of Severstal conglomerate which has interests in metal, energy and mining companies. He is said to be close to the country's President Vladimir Putin, and the sanctions follow Russia's attack on the Ukraine.
Nord can accommodate more than 24 guests, and a crew of 40. (According to Yacht Harbour the boat can actually take 36 guests and has 18 cabins.) Like many super yachts, it has two helicopter platforms (as well as a hangar), swimming pool, elevators, gym, sauna and cinema.
The 142m boat was delivered to Mordashov in 2021. He also owns MV Lady M.
South Africa, which has encouraged negotiation rather than sanctions against Russia, shared a long and close relationship with the country. About 10 days ago, SA again abstained from a UN vote on Russia, this time regarding its annexation of Ukraine territories. Only five countries, including Russia, voted against it; while 143 countries voted in favour of the resolution. Speaking in the US on a recent trip, President Cyril Ramaphosa said the country, and other countries in Africa, refuse to be "bullied" into choosing sides between Russia and Ukraine.
South Africa is a member of BRICS (Brazil, Russia, India, China and SA), a group of strong emerging economies who meet at least once a year.
Several other Russian superyachts have already been seized.
WATCH Nord: The World's Most Luxurious Megayacht