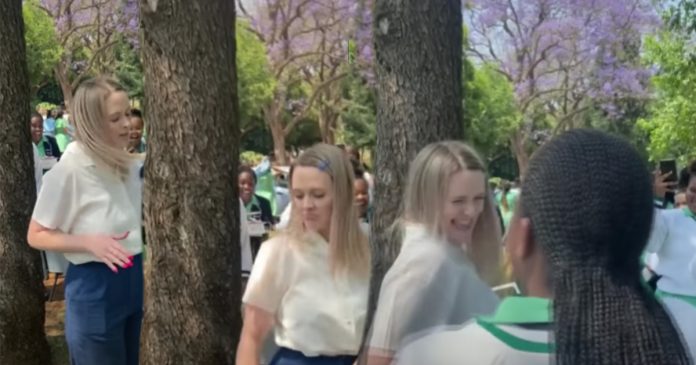 A teacher at Pretoria High School for Girls has united South Africans across the nation as a video of her dancing, and having fun, has gone viral around the world.
The school's English teacher – Mrs Bullock – can be seen nailing the TikTok challenge with her dance to Salary Salary by Robot Boii. The video was first uploaded by TikTok user Mihle.za and has been viewed over 6.6 million times in two days.
Mihle captioned the video: "best teacher in the world???" When asked if the teacher was dancing at her school, Mihle replied: "yes ?"
Viewers in South Africa are loving the video. Nkanyiso said "??????? A slight glimpse of the South Africa we want", JustCourtney said: "This is why I'm proudly South African ❤️", C Mc added: "This is what South Africa needs to embrace each other's culture, this teacher is phenomenal", and Chazlinn van Wyk said what's on everyone's mind: "GIVE THIS DAMN TEACHER A BELLS!!!!??????"
Zamazing won the internet with: "I would be an astronaut today if she taught me in high school ?"
And the compliments have poured in from around the world, with many remarking on her brilliant facial expressions. Gilles in France said: "oulala son expression faciale ?? rien que la joie de vivre. j'adore ♥️" (ooh la la, her facial expressions – nothing but the joy of life. I adore it.)
Many also pointed out that she could be a teacher influencer, because with teachers like this – who engage  – "them kids can't wait to go to school and learn".
There are over 11,000 comments on TikTok alone! Everyone wants this South Africa's Mrs Bullock as a teacher at their school!
WATCH Pretoria High School dancing teacher goes viral
WATCH the original video on TikTok