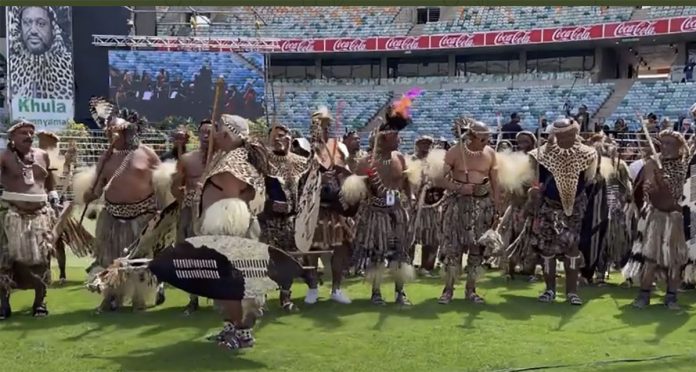 South Africa's President Cyril Ramaphosa has arrived at Moses Mabhida stadium in Durban, KZN, for the certificate of recognition handing over to AmaZulu King Misuzulu KaZwelithini, the final ceremony of his coronation.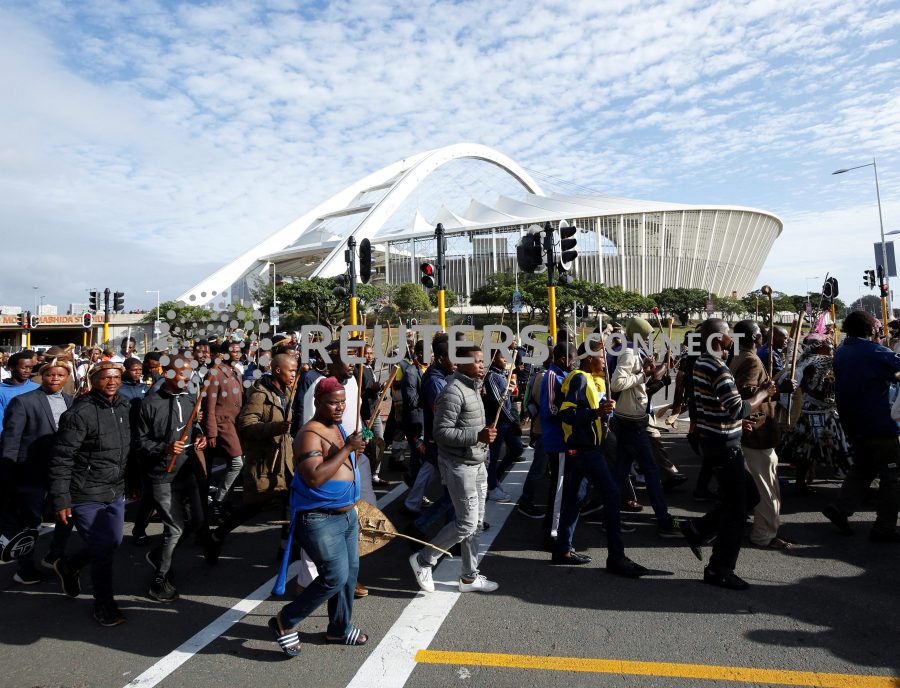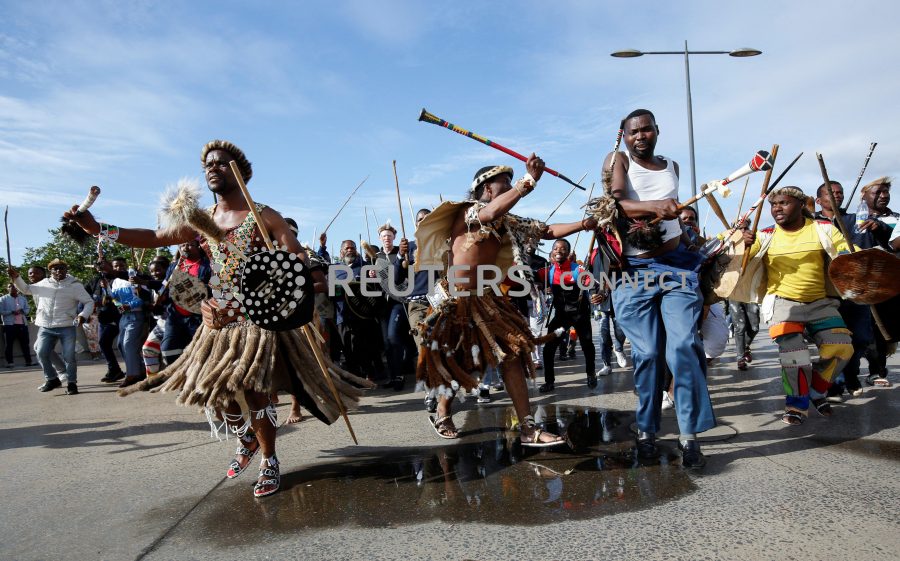 The historic event, themed "liphumile iLanga kwaZulu – the Sun has risen on the Zulu nation", will be held at the Moses Mabhida Stadium.
KwaZulu-Natal Premier Nomusa Dube-Ncube says the province is ready to roll-out the royal carpet to all Royal Dignitaries, Heads of State and Government, Kings and Queens, International and national guests that will grace the auspicious occasion.
This event was organised under the tight oversight of the Inter-Ministerial Task Team, the KZN Provincial Executive Council and the eThekwini Metro and the Royal Family Committee, led by Cooperative Governance and Traditional Affairs (CoGTA) Minister Dr Nkosazana Dlamini Zuma.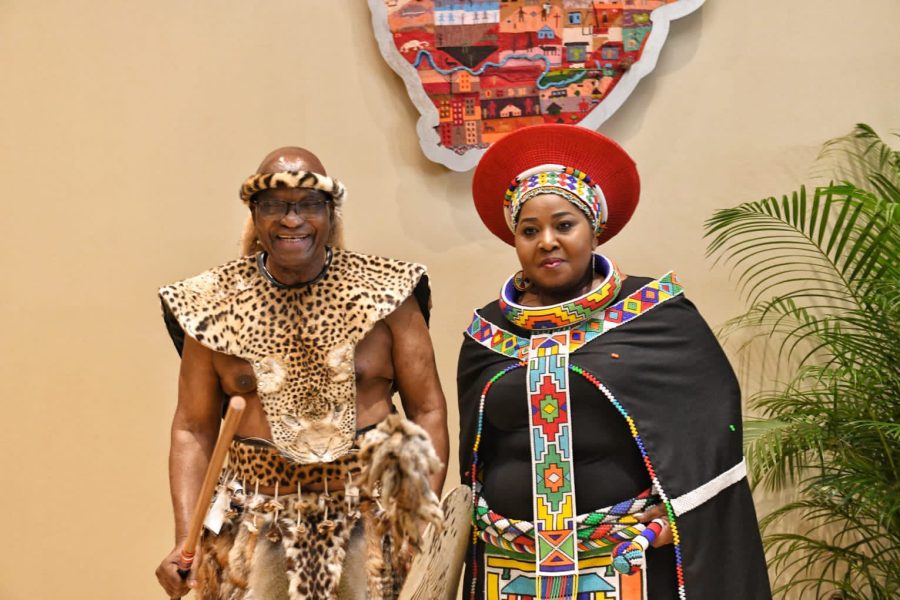 "Such is the significance of this event, that even for many of us it will be the first time that in the history of the Zulu nation, we will be witnessing history unfolding before us. We have done all preparations to ensure that this becomes successful and will leave behind a legacy to be remembered by many generations to come," said Dube-Ncube.
She said the theme was fitting, saying it has inspired a wave of hope across the length and breadth of society following the dark autumn of 2021. This was when the nation "was dealt a gaping wound that would take a lifetime to heal, as we witnessed the demise of His Majesty King Zwelithini and Regent Queen Mantfombi Dlamini Zulu in close succession".
She said: "It will be indeed a celebration of Africanness, our way of life as people of Africa. Hence we are encouraging everyone to dress in their finest traditional gear in celebration of our African culture, regardless of race, colour or creed. We want to see amabheshu, amahawu, izidwaba and any other dress code that show case the tapestry of our beautiful traditions and culture as Africans. We expect the Moses Mabhida stadium to be clad in a symphony of traditional colour.
"We are expecting a capacity crowd of about 48000 to fill –up Moses Mabhida Stadium. These will include amabutho, oMama beSphithiphithi, Izintombi, ordinary people, etc. We are expecting over 2500 guests and dignitaries which includes Heads of State, former Presidents; Kings and Queens, the Judiciary; Legislatures; Diplomatic Corp and the business sector etc."
Some of the confirmed foreign dignitaries are:
His Majesty the King Mswati III from Eswatini;
His Majesty King from Nigeria;
His Majesty King from Zambia;
His Majesty King from Zimbabwe;
His Majesty King Gungunyane from the Province of Gaza from Mozambique;
Prince and spouse from Lesotho representing His Majesty King Letsie III;
Former President of Botswana, H.E. Ian Khama;
Four ministers from Eswatini;
Logistics
The Premier said due to the magnitude and significance of the event, a lot of people are expected to attend.
"And as such an overflow venue has been arranged at the People's Park both in the East and West wings and public viewing screens will be installed to accommodate as many people as possible," she said.
Government has arranged over 80 buses and 200 minibus taxis to transport Amabutho, oMama and Izintombi to the event.
Respective municipalities in the province have been requested to, where feasible provide additional transport.
In this regard, she said eThekwini confirmed the procurement of 100 additional buses for its residents.
"Access to the stadium is open to all members of the public on a first come first serve basis. We encourage people to arrive on time and take their seats and enjoy the celebration. Once the 48000 capacity is reached inside the stadium, people will be accommodated in the overflow areas.
Gates will open from 7am and the programme of the day is segmented into three parts namely:
Prelude, Musical Entertainment: 8:15–9:30
Main Programme: 10:00–13:05
Epilogue, Musical Entertainment: 13:05-13:35
She said paramount to the activities of this momentous day, is the opportunity it provides for the nation at large to share in the celebration of the AmaZulu Nation.
"To this effect an entertainment programme of cultural and contemporary dance, music and poetry galore will be a defining feature of the festivities," she said.
Some of the artists that will constitute the line-up include:
Drums and blowing of horns, Spectacular Choreography, Four groups with oMama Besigekle;
Medley of Vumile Mngoma, Qadasi and MaQhinga;
Zawadi and Madala: Princess Magogo Song;
Mshunqisi the Poet;
Mpumalanga White Birds;
Medley of Khuzani, Ingcokama and Ntwencane;
Traditional groups and Shembe Indlamu;
Phuzekhemisi;
Jumbo; and
Sjava.
– SAnews.gov.za
Watch: People still flocking to Moses Mabhida stadium #MisuzuluKaZwelithini pic.twitter.com/3KCJoxr2L9

— @SAgovnews (@SAgovnews) October 29, 2022
WATCH: The most energetic Zulu regiments to arrive at the Moses Mabhida stadium in so far. They are from Newcastle and they are led by Induna Sibiya. #KingMisuzulu #KingMisuzuluCoronation pic.twitter.com/vxqNa0Nurr

— Sihle Mavuso (@ZANewsFlash) October 29, 2022
It is a privilege to be invited and to attend the #KingMisuzuluCoronation today on behalf of @afriforum. Congratulations to the Zulu nation. #MutualRecognitionAndRespect #ProfMusaXulu @bpuys6 #EugeneVanAswegen pic.twitter.com/LWWVZulXks

— Kallie Kriel (@kalliekriel) October 29, 2022
King Asante from Ghana is the first #African #monarch to arrive. He is part of the eight monarchs from African countries who confirmed that they will take part in #KingMisuzuluCoronation ceremony. ? by @LindaGumede15 pic.twitter.com/T75HydB3Xp

— IOL News (@IOL) October 29, 2022
Former President Thabo Mbeki together with Former President Jacob Zuma #LiphumileiLangaKwaZulu #UyamemezaOkaNdaba #KingMisuzuluKaZwelithini pic.twitter.com/qGo1T3hLLd

— KZN Provincial Gov (@kzngov) October 29, 2022