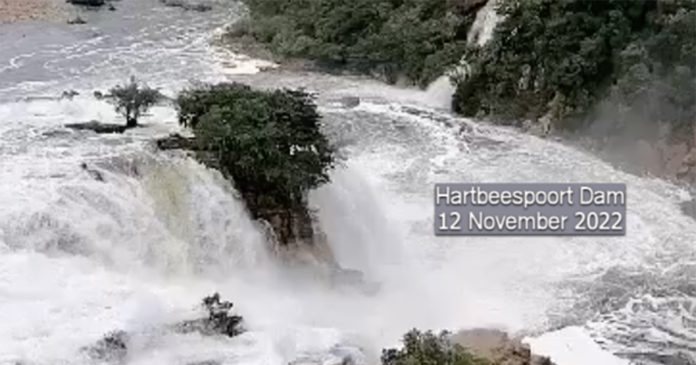 As predicted by the South African Weather Service (SAWS) heavy rain has fallen in parts of South Africa over the weekend, leading to some dams reaching over 100% capacity and sluice gates therefore being opened.
Angeline Maree was at Hartbeespoort Dam yesterday – Saturday 12 November 2022 – and captured the following video footage after five sluice gates were opened.
ReenvalSA said that at 05h30 on Saturday morning, the inflow into the Hartbeespoort Dam had been at 98 m³ ℓ/sec. Angeline captured this video at 11h52:
Hartbeespoort Dam, South Africa, 12 November 2022
Gauteng Weather has issued warnings of danger after flooding on Rabie and End Streets in Centurion, following heavy overnight rain. ReenvalSA said on Sunday morning: "Numerous reports received from group members measuring 100mm+ rain overnight along the Witwatersrand, Midrand and southern parts of Pretoria mainly Centurion suburbs with localized flooding of roads and dwellings and rain still continuing."
Flood warnings issued for residents near Vaal Dam
Eight sluice gates have been opened at the Vaal Dam. The openings were done in sets of two from 09h00 Sunday morning. Flood warnings have been issued to everyone who lives near the banks of the Vaal, as the water level will rise significantly and flooding can be expected. Farmers were also advised to ensure that their livestock is taken to high-lying areas in time.
8 ste Sluis is sopas by die Vaaldam oop gemaak. Mense stroom af moet asb. versigtig wees, water kan moontlik heelwat styg in 'n kort tydperk. BAIE WATER op pad rivier af. 13:15 13-11-2022 ?Nico Duvenhage https://t.co/SCElxDvQGe pic.twitter.com/2fafLJBhGW

— ReenvalSA (@ReenvalSA) November 13, 2022
#Vaal_dam now have 7 sluice gates open at 12:15 Downstream flooding is possible. ?Nico Duvenhage https://t.co/X4aSRpmxFx pic.twitter.com/PXQ0MYa09f

— ReenvalSA (@ReenvalSA) November 13, 2022
? DANGER: FLOODING ON RABIE & END STREETS IN CENTURION AFTER HEAVY OVERNIGHT RAIN | ? FIRSTHELP pic.twitter.com/NnzNNniFqH

— Gauteng Weather (@tWeatherSA) November 13, 2022