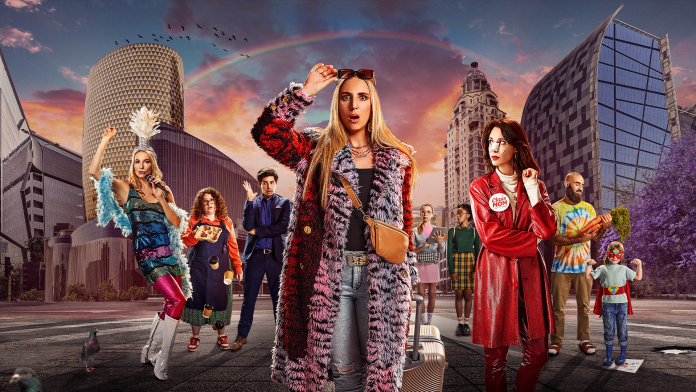 Best. News. Ever. The first episode of Tali's Joburg Diary is now streaming on Showmax, with new episodes launching every Friday.
Early reviews are glowing, with SAPeople's co-founder and editor Jenni Baxter writing, "Tali's Joburg Diary is Tali-tastic! Beyond fabulous! So funny. So sharp. So relevant. As a South African abroad, it connects you with the heart of SA. The accents. The references. The acting is world class. The script and cinematography are excellent. It should go global. Love love love it! We're hooked."
If you've been sleeping on the first two seasons of South Africa's Best Comedy, let's catch you up.
First, there was SuzelleDIY
Before Tali, there was SuzelleDIY, a YouTuber and queen of DIY, from Somerset West. After becoming famous for teaching people how to make cinderblock benches and braai pies, she now has over 32 million views for her videos.
People thought Suzelle was a real person, but she was actually a character co-created for the fun of it by actress Julia Anastasopoulos and director Ari Kruger. They had so much fun creating her that they were soon getting engaged and married. Their shared sense of humour was part of what brought them together and they had lots to laugh at in the build-up to their wedding – enough for a mockumentary, it turned out.
Then there was a wedding and a lot to celebrate
Tali's Wedding Diary launched on Showmax on 14 December 2017, the very first Showmax Original. The mockumentary followed Tali (Julia), a self-obsessed Sandton princess who's moved to Cape Town and is filming the build-up to her wedding to her sweet property-agent fiancé Darren (Anton Taylor).
This created a lot of confusion for SuzelleDIY fans, who suddenly realised that Suzelle was actually an English actress called Julia, who could play more than one character. They became even more confused when Tali and Suzelle made a DIY wedding cake together – appearing on screen at the same time.
Tali and Suzelle are very different characters. As Julia said at the time, "Everyone loves Suzelle but audiences are going to love to hate Tali – she's definitely a bridezilla, who's determined to have the perfect wedding, with or without her husband-to-be."
But we all know a Tali, so Tali's Wedding Diary became a phenomenon (in Sandton and Sea Point, at the very least). It set a then-record for the most first-day views of any title on Showmax and went on to win five SAFTAs in 2019, including Best Comedy, Best Actress (Julia) and Best Director (Ari). This made Showmax the first streaming service to win a SAFTA and made Tali's Wedding Diary the most awarded comedy of the year.
Then there was a baby and a very bumpy ride
When Julia and Ari had their first child, they again found lots to laugh about in the process, so a sequel followed on 26 February 2021.
In Tali's Baby Diary, an unexpected pregnancy forces Tali into a desperate pivot from Insta-influencer to wholesome momfluencer.
Filmed during the Covid-19 lockdown, Tali's Baby Diary went on to win another five SAFTAs in 2022, again including Best Comedy, Best Actress (Julia) and Best Director (Ari, shared with Daniel Zimbler). This made Tali's Baby Diary jointly the most-awarded title at the 2022 SAFTAs overall, across all categories.
Tali's Baby Diary also reinforced how much on-screen talent surrounded Julia, with Anton nominated as Best Supporting Actor as her long-suffering husband and Kate Normington winning Best Supporting Actress as her mad mom Michelle, with co-star Kate Pinchuck also nominated in the category as Taryn, Darren's clumsy cousin who joins the Goldprop team.
This season is about pre-school, Joburg, and living on a budget after Covid
Between seasons, Julia and Ari had become pre-school parents – and again kept their sense of humour about it. Enter Tali's Joburg Diary, which sees Tali determined to get Jayden into the premium preschool, Little Angels Hyde Park – and become Class Mom.
This season also sees Tali moving home to Joburg. And back in with her parents. "Dar-rennnnnnnnn-a!"
So brace yourself for the same Tali, in a very different Joburg, with a very different bank balance. What. The. Actual.
All your faves are back this season, including three-time Comics' Choice nominee Glen Biderman-Pam as Darren's wingman Rael Rosen; two-time Fleur du Cap winner Guy de Lancey as Tali's dad, property tycoon Les Shapiro; Julia's real-life sister Stephanie Anastasopoulos as Tali's sister Mikaela; and Coconut Kelz, who'll give Tali a Joburg makeover this season to help her dust the Cape Town off her.
There are also three new faces to look forward to: newcomer Troy Davy as Tali's son, Jayden; Ndoni Khanyile (When We Were Black; host of Innovate Africa and earthrise on Al Jazeera) as Little Angels Hyde Park principal Barbara Bhembe; and Naledi Award nominee Sharon Spiegel Wagner (Bedford Wives) as Monique the Beak, the reigning Class Mom. Also look out for a cameo from Ilse-Lee van Niekerk, who was up against Julia in the 2022 SAFTA Best Actress: Comedy category as Jessica in Troukoors.
What's next for Tali?
Unlike that other Showmax smash hit The Wife, this is not the third and final season. "What is next for Tali?" we ask Julia. "I really don't know," she admits.
"But it's so much fun playing this character and exploring this world. There are so many funny things we could do with the character, and so many fun places we could go. Does Tali emigrate? Does Tali get divorced? I don't know, guys; you're just gonna have to wait and see. But yeah, whatever adventures Tali goes on next, you know they'll be pretty crazy."
Did you know?
Julia Anastasopolous is a Joburg girl, just like Tali. She was born there and actually went to St Mary's with Ndoni Khanyile, who joins the cast this season as principal Barbara Bhembe. "I don't have any stories from Julia from school that I'm going to share, because I'm good like that," says Ndoni to our disappointment. "But I will absolutely say that everything that Julia is today was all there when I met her as a 13-year-old. So none of her success surprises me. I'm just so happy that I get to play along and be a part of this season."
Ari Kruger and Daniel Zimbler, who shared the 2022 Best Directing SAFTA for Tali's Baby Diary, are lifelong friends who have been creating videos together since Herzlia High School. They're godfathers to each other's children.
Anton Taylor and Glen Biderman-Pam (aka Darren and Rael) have known each other since going to school at Bishops together. They reverse their characters in real life: Glen is the quiet one, whereas he says, "Anton does not stop talking. He's like a walking podcast. Sometimes I have to tell Anton that I need time alone as an actor; he thinks I'm so rude when I say, 'Anton, just stop talking please.' But it's too much. I love him so much and he loves me but sometimes you have to think about learning your lines. He's so much more prepared than me that he can afford to talk at me for hours, but I'm still trying to learn my lines."
Anton Taylor is getting more zen in real life, just like his character Darren does this season. He's even started teaching yoga.
While Rael Rosen and the Selebowitz brothers are mortal enemies in every season of Tali, in real life the actors who play them, Glen Biderman-Pam and Oliver Booth, run a production company together called Panther Punch, building on the success of Glen's multi-award-winning My Kreepy Teacher, a spoof of the Oscar-winning My Octopus Teacher documentary.
Watch the Tali's Joburg Diary trailer:
Watch the Tali's Joburg Diary launch teaser:
Add Tali's Joburg Diary to your Showmax watchlist:
https://www.showmax.com/eng/tvseries/q0mi0rfd-talis-joburgdiary