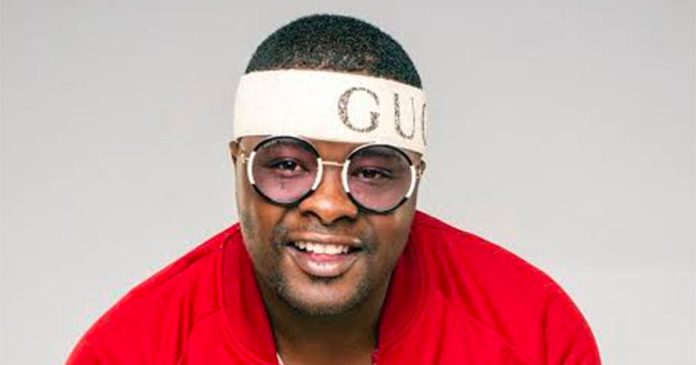 DJ Sumbody has tragically died in what is believed to have been a deliberate hit. The popular South African disc jockey and radio presenter was shot and killed whilst travelling in a blue car in the early hours of this morning, Sunday 20 November 2022.
DJ Sumbody – whose real name was Oupa John Sefoka – was famous for his hits Ayepyep and Monate Mpolaye (featuring Cassper Nyovest), amongst others.
Tributes have begun pouring in. Film producer Khanyi Magubane said: "What a year! ?? DJ Sumbody dead, shot dead in a hit, wow! Entrepreneur, owner of the Ayepyep clubs, Sumsounds Music, Amapiano pioneer… He achieved a lot in his few years…Rest In Peace champ!"
Ayepyep Management issued a statement announcing the cancellation of a large event that was meant to take place in Pretoria today with DJ Sumbody.
The management said: "It is with great sadness and heavy hearts that we notify of the cancellation of the DJ Sumbody All White Veuve Clicquot Picnic. The cancellation follows the news of the sudden passing of DJ Sumbody in the early hours of Sunday morning, 20 November 2022."
Ayepyep said the details of DJ Sumbody's "untimely death cannot be released at the moment."
Both Ayepyep Management and the Sefoka family have kindly requested privacy during this difficult time. "Details regarding the cancellation of the event will be communicated in due course," they said.
The ANC study group on Sports, Arts and Culture issued a statement on Sunday saying:
"It is with great sadness, that we have learned of the untimely and tragic passing in the early hours of this morning of Mr Oupa John Sefoka, famously known to many as DJ Sumbody, a young South African musician and entrepreneur.

"Indeed, our youth and South Africans at large have lost an icon and true role model. As the ANC study group on Sports, Arts and Culture in Parliament, we send our heartfelt condolences to the Sefoka Family, relatives, close friends, and fans of DJ Sumbody."
DJ Sumbody's bodyguard Sbu Walter reportedly also died during the shooting incident.
While we at it, let's send our heartfelt condolences to Walter's family, the driver/body guard who was with Dj Sumbody during the tragic shooting. Rip mfanasekhaya #RIPDjSumbody pic.twitter.com/N24bxPZobj

— ☠ ????? ???‍☠️ (@smith_tshepi) November 20, 2022
Returning home safely is another underrated blessing. Tomorrow is not guaranteed. It's a war zone out there. Today is such a sad day, may your soul forever rest peacefully and thank you for sharing your talents with us. #RIPDjSumbody

— Lasizwe (@lasizwe) November 20, 2022
This was a hit on DJ Sumbody by a professional assassin.

It wasn't a robbery nor being at the place at the wrong time,they were following him and they made sure he doesn't survive.#RIPDjSumbody pic.twitter.com/hZH4BVyqws

— Azania (@azania1023) November 20, 2022
MacG is ahead of times he interviewed the manager of Woodmead and he said those who are saying that they spike drinks they are talking sh*t, Stay away from NewsCafe Woodmead. #RIPDJSumbody pic.twitter.com/0k4kEKvJHR

— Truthteller (@Truthte83602973) November 20, 2022
What a year! ?? DJ Sumbody dead, shot dead in a hit, wow! Entrepreneur, owner of the Ayepyep clubs, Sumsounds Music, Amapiano pioneer.. He achieved a lot in his few years…Rest In Peace champ! #RIPDJSumbody pic.twitter.com/xGcH99wlUk

— Khanyi Magubane (@Khanyi_Magubane) November 20, 2022
Before you attack Cassper Nyovest for mourning the passing of his friend, DJ Sumbody ?

Remember, this is how tight they were, this is how they rubbished the alleged fight over money & royalties❤#RIPDJSumbody ??

Pitori Rick Ross Pretoria Sjava Shona Fetty Wap Fraser Lupita pic.twitter.com/Cs50viOZWm

— YaseBlock B ?? (@ThisIsColbert) November 20, 2022
It is honestly a sad day in Pretoria, what was supposed to be a massive event turned into a very tragic event. Strength to his family and friends #RIPDJSumbody #woodmead #NOTA pic.twitter.com/nhhv9KzNm8

— Tulip? (@cloudiankoatse) November 20, 2022
#RIPDJSumbody Ayepyep Woodmead

I'll leave it here pic.twitter.com/W69RMHSxWp

— Zip-Chiloane (@chiloane_zip) November 20, 2022
WATCH DJ Sumbody ft. Cassper Nyovest, Thebe & Vettis – Monate Mpolaye