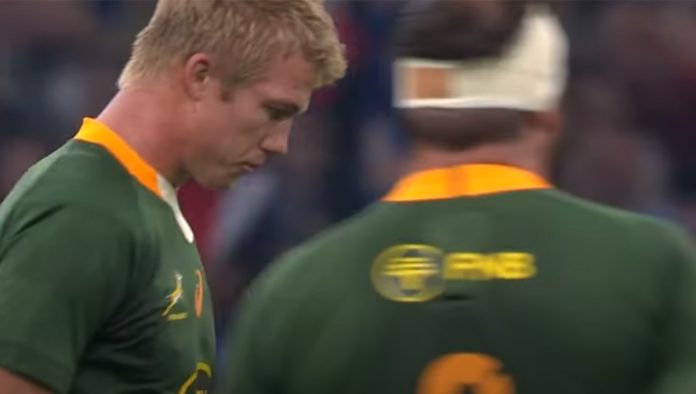 Here's what's coming up on Carte Blanche this week. You can watch the show on Sunday 4 December in South Africa on DStv Now or stream it overseas in most countries on Showmax from Tuesday 6 December if you're abroad.
Intense and full of drama, rugby union is one of the globe's biggest sports. World Rugby has never been more competitive, with traditional rivalries like the Springboks and the All Blacks often decided by a single point. With such fine margins, referees hold the key to ensuring fair play. But the performance of match officials is increasingly in the spotlight, with every controversial decision analysed and criticised. With so much at stake, and innovative technology advancements at their fingertips, why are some referees still getting it wrong? (Producer: Julian Sun | Presenter: Xola Ntshinga)
Watch the show overseas | Watch in SA on DStv Now
Also on Carte Blanche this Sunday 4 December
"We investigated an audacious coal scam just three years ago, so it's disheartening to be doing it again. And, as if the shamelessness of these commodity criminals weren't bad enough, that we're confronting some of the same characters is downright infuriating." – John Webb, Executive Producer
Coal – it's a commodity in high demand – locally and globally. Power stations need it, export markets want it, and criminals are after their slice of the action. The black market for coal is thriving, and a devious new trend is hitting the industry. Syndicates are paying willing transport company drivers to replace their loads of high-grade coal with a lower-grade product. The driver pockets a cut of the profits, while the criminals sell loads of coal back to the legitimate market at a premium. It's called coal switching and Carte Blanche has the inside edge on how it's done, and who's pocketing the lion's share. (Producer: Nicky Troll | Presenter: Macfarlane Moleli)
Watch the show overseas | Watch in SA on DStv Now
In October this year, ten healthy dogs were taken to a well-known veterinarian in Gauteng for sterilisation. It was a simple enough procedure, especially for an experienced practitioner, but inexplicably, seven dogs died. This wasn't the first time animals had mysteriously died in the vet's care. This time, though, an animal activist who'd been investigating the vet for years, finally obtained crucial evidence to prove her negligence. Carte Blanche investigates. (Producer: Tarryn Crossman | Presenter: Masa Kekana)
Watch the show overseas | Watch in SA on DStv Now
This is Shocking and if true Must be removed immediately and exposed people love their pets and want vets to treat there animals with care ??

— carren spaans (@CarrenSpaans) December 1, 2022
South Africa has a well-known flair for developing its own musical genres: from the catchy tunes of Kwaito to the heady jams of 'Gqom', December anthems are almost always home-grown. Now, the distinctive lock-drum hook and irresistible sounds of Amapiano are taking centre stage. It's a genre with a massive following both locally and internationally, but here at home, Amapiano isn't just a music sensation, it's a lifestyle. So, what's behind the rise of the so-called "Yanos"? Carte Blanche heads into the studio booth.(Producer: Busisiwe Gumede-Chizhanje | Presenter: Masa Kekana)
If you're overseas – you can watch #CarteBlanche from Tuesdays, and thousands of other popular local South African shows & movies by subscribing to Showmax International now. You can try it FREE for 14 days. 
PODCAST EXCLUSIVE: The Streets of Hillbrow with Masa Kekana
Hillbrow – a Johannesburg neighbourhood that's famous for all the wrong reasons. But underneath the dark veneer of violence and crime are residents just living their lives. Masa Kekana speaks to Carte Blanche producer Sasha Schwendenwein about spending a night on the streets of Hillbrow.
One Night in Hillbrow
It's dog-eat-dog kind of suburb where buildings are hijacked and stripped bare, alcohol flows freely and drug addicts camp out on the streets. It's a full-time job for one security company in Hillbrow.
PICKS OF THE WEEK
Presidential Panic
With a potential career-ending criminal investigation looming over his head, some political commentators say that party president Cyril Ramaphosa is politically wounded and exposed… But in the battle for the leadership of the ANC, who will come out on top?
President Ramaphosa is confused. The Judges' judgement was gut-wrenchingly fatal unto him. He's a heavyweight boxer on the 15th round refusing to throw in the towel. Where's the referee to enforce the towel rule? He's been knocked down himself. https://t.co/6gZZgn5qBv

— Mduduzi Dlamini (@Questerr_) December 1, 2022
The President is engaging a number of stakeholders, including those within cabinet and some alliances, in order to make a decision (not a rushed decision) that will be in the best interest of the country. – Vincent Magwenya, Presidential Spokesperson.

— Athi Mtongana (@AthiMtongana) December 1, 2022
Sting in the Tale
It started off as an innocent friend request on social media – a new friend and a party – and turned into a drug hell that stole years of her life. We reveal how a syndicate is utilising apps and social media to recruit children as drug mules.
Social media and online apps being used as drug trading platforms is scary stuff. "High profit, low risk and anonymous". Short of completely not allowing your child to have a phone/tablet what can be done? The 'war' on drugs has taken a nasty turn. We are doomed. #carteblanche

— لوسي (@LucyPearl620) November 27, 2022
A Helping Hand at Tygerberg
The Carte Blanche Making A Difference Trust has just finalised its 22nd project – this time at Tygerberg Hospital. With as many as 10 000 people at Tygerberg on any given day, this project is a lifeline for many.
we are so, so proud of the #cbmadtrust and all the work it does! thank you for all your efforts @Karolina_Androp ❤️???? #carteblanche

— claire mawisa (@clairemawisa) November 27, 2022
Great Partnerships Succeed ??????

— marchelle hendricks (@marchellehendri) November 29, 2022
Find full episodes of Carte Blanche on DStv Catch Up.
Carte Blanche is on M-Net & M-Net HD [101], 4 th December at 19:00 & again on M-Net Plus 1 [901] at 20:00
***
Please note: Carte Blanche is only available to international Showmax subscribers in Andorra, Australia, Austria, Belgium, Denmark, Finland, France, Germany, Greece, Iceland, Indonesia, Ireland, Italy, Liechtenstein, Luxembourg, Malta, Monaco, Netherlands, New Zealand, Norway, Portugal, San Marino, Spain, Sweden, Switzerland, United Kingdom. Not all titles are available in all territories. Showmax brings you the best South African series and movies, from the classics to the latest releases, from complete box sets to kids' favourites.