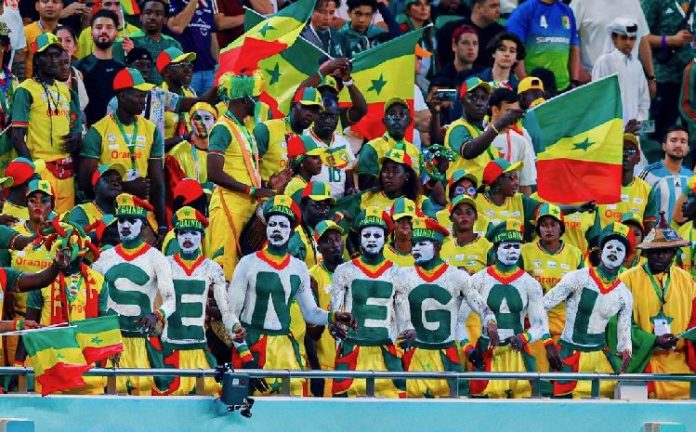 AL KHOR, Qatar (Reuters) – England may have triumphed tonight on the field in Qatar, but it was Senegal that won the hearts of FIFA World Cup fans around the world. Even the BBC tweeted after the match, in which England won 3-0: "What a great run for the African champions!"
England overcame a pedestrian start to surge to a comfortable victory over Senegal on Sunday as goals by Jordan Henderson, Harry Kane (the England captain's first goal of this year's World Cup) and Bukayo Saka swept them into a mouth-watering World Cup quarter-final clash with holders France.
For Senegal, they made history tonight – reaching the World Cup knockout stage for the first time in 20 years. Manager Aliou Cissé (46) is being hailed a "national hero". He was the Senegal team's captain in 2002, the only other time the nation has reached a World Cup knockout stage (and tragically, the same year he lost several members of his family when a ferry capsized off the coast of Gambia).
IF YOU'RE IN SOUTH AFRICA, YOU CAN

WATCH ALL THE WORLD CUP 2022 QATAR MATCHES ON SHOWMAX PRO

:

SUBSCRIBE NOW

, SPECIAL R199 DEAL
Ghanian journalist Frank Darkwah said: "Applauds for how well (Aliou) has managed the Senegal team since taking over in 2015."
Messages have streamed in for Senegal's team. Kenya's National Assembly Speaker tweeted: "No matter what has happened, you can always bounce back. Africa is proud of you!" Olympique de Marseille said: " ? Congratulations on an excellent run at the @FIFAWorldCup to our boys Pape and Bamba and @FootballSenegal ??."
Caalz said: "Sad for Senegal but they really have the most beautiful people and fans." Many international journalists agreed, with one from Sky saying: "Senegal ?? fans have been amazing at this World Cup – as always."
Senegal fans always bring the vibes ?? pic.twitter.com/O1F0z9gJs7

— GOAL (@goal) November 21, 2022
Earlier today, Yimzy??➐ said: "We are not friends of Senegal. We are all Senegal today, let that sink!! ????"
CBS Sports Golazo pointed out that Senegal won a penalty shootout against Egypt to qualify for the 2022 World Cup; lost their best player in Sadio Mané right before the tournament and they won two of three group stage matches to advance to World Cup KO stage for only the second time ever ?. "Senegal deserve all of the respect. ?" said CBS.
England took a long time to impose themselves on the African champions, a team they had never faced before, and survived a couple of scares before two goals late in the first half changed the feel of the night and it was no contest after the break.
The victory extended England's all-time unbeaten run against African teams to 21 games, including eight in World Cups. Morocco, who face Spain on Tuesday, are now the only African team left in the tournament.
The absence of the suspended Idrissa Gueye and injured Cheikhou Kouyate left Senegal's midfield too underpowered to pose problems for England. (England was also missing players including Raheem Sterling whose Surrey home was broken into last night by armed robbers while his partner and young children were there. He flew home to be with them.)
With Sadio Mane missing the tournament through injury, the Africans also lacked a cutting edge to trouble an England defence that kept a third successive World Cup clean sheet for the first time in 20 years. Mane is famous worldwide for his caring attitude, as expressed in this quote: "I don't really care too much owning expensive cars or smart devices. My major priority is always to make sure my country men in Senegal go to their beds with food, better hospital services and schools. I will never rest until I made a better impact in my community."
Tonight he tweeted a message to his teammates saying how proud the nation is of their journey, and how they'd warmed the hearts of Senegal and its supporters by defending the national flag with dignity. The learning continues, he said, and "we will go in search of more trophies".
On Saturday France beat Poland 3-1 with an exceptional performance by one of the world's top young players Kylian Mbappé, who set up the first goal before scoring two of high quality.
Argentina will play the Netherlands.
IF YOU'RE IN SOUTH AFRICA, YOU CAN

WATCH ALL THE WORLD CUP 2022 QATAR MATCHES

ON SHOWMAX PRO:

SUBSCRIBE NOW

, SPECIAL R199 DEAL
(Writing and editing by Mitch Phillips / Reuters and Jenni Baxter / SAPeople)
Senegal watching the World Cup ???

(via maestro___king/TikTok) pic.twitter.com/zRfJcoWaAI

— ESPN FC (@ESPNFC) November 30, 2022
Without Gana Gueye and Cheikhou Kouyate in that midfield, it was always going to be difficult for Senegal ?? to beat England ??????? tonight.

End of the road for the African champions but they can be proud of the fight they put up this tournament. Now back to the drawing board. pic.twitter.com/Mq08Df4WiL

— Usher Komugisha (@UsherKomugisha) December 4, 2022
Senegal have made the World Cup knockout stage two times in their entire history:

©️ 2002 – Aliou Cisse captain
? 2022 – Aliou Cisse manager

National hero ?‍♂️?? pic.twitter.com/oBRY7cO76n

— 433 (@433) November 29, 2022
Chers frères, vous êtes tombés les armes en main.
Le peuple est très fier de votre parcours qui a mis du baume dans le cœur des supporters, en défendant dignement le drapeau national.
Bon courage, l'apprentissage continue. On ira à la recherche d'autres trophées Inchallah ???❤ pic.twitter.com/iWfJ9vPwMH

— Sadio Mané (@SMane_Officiel) December 4, 2022