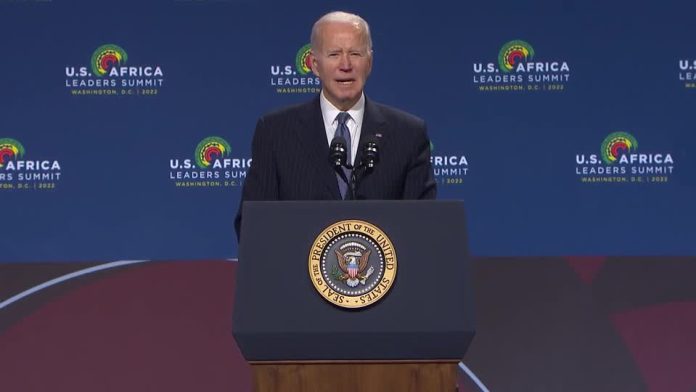 US President Joe Biden has announced an agreement aimed at bolstering trade ties between the United States and Africa on Wednesday (14 December) after years in which the continent took a back seat to other US priorities.
"The United States is 'all in' on Africa's future," Biden told African leaders – including DIRCO Minister Naledi Pandor – attending a three-day summit in Washington.
According to Reuters, Biden's remarks, and the summit, aim to show that the United States is a better partner for Africa than China, which has sought to expand its influence by funding infrastructure projects in Africa and elsewhere. Chinese trade with Africa is about four times that of the United States, and Beijing has become an important creditor by offering loans with less stringent conditions than Western lenders.
However Biden didn't mention China in his remarks, and Washington has toned down its criticism of Beijing's lending practices and infrastructure projects amid calls from some African leaders for more American leadership.
Biden said a new U.S. agreement with the African Continental Free Trade Area will give American companies access to 1.3 billion people and a market valued at $3.4 trillion. He listed companies that had made deals at the summit, including General Electric Co and Cisco Systems Inc.
"When Africa succeeds, the United States succeeds. Quite frankly, the whole world succeeds as well," the president said.
Delegations from 49 countries and the African Union, including 45 African national leaders, are attending the three-day summit, which began on Tuesday, the first and is the first of its kind since 2014. Washington will also tout its support for food security and climate change.
It's part of a renewed push to boost ties with a continent where US interests have been challenged by China's security ambitions and trade, investment and lending drives. By contrast, Beijing has held its own high-level meetings with Africa every three years for more than two decades.
Biden is expected to announce his support for the African Union's joining the G20 group of the world's largest economies as a permanent member during the summit, a move that SA's President Cyril Ramaphosa has been championing.
#RSAInUSA | Minister Dr Naledi Pandor meeting between US Secretary Antony Blinken, President of the Republic of Zambia HE Hakainde Hichilema, & the President of the Republic of Namibia HE Hage Geingob, on the sidelines of the US Africa Leadership Summit in Washington. 14/12/2022 pic.twitter.com/8EAurpmCN8

— DIRCO South Africa (@DIRCO_ZA) December 14, 2022