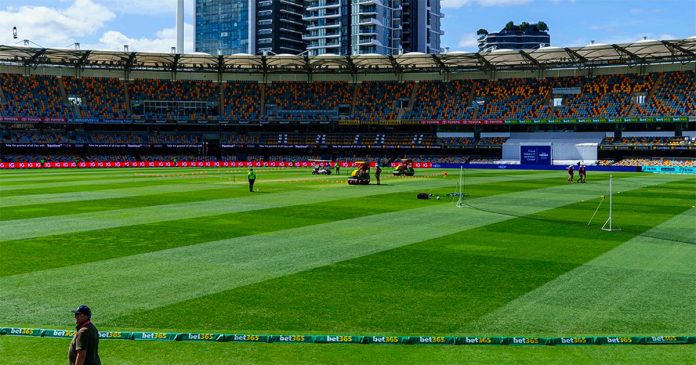 Brisbane's famous cricket pitch – the Gabba – has received a 'below average' rating from the ICC, and has received one demerit point. The dismal rating follows the first Test between South Africa and Australia, which was held at the Queensland venue, and which received much criticism from both sides.
Australia won the match by six wickets after South Africa were bowled out for 152 and 99. The state of the pitch, which played into the home bowlers' hands, raised questions after 19 wickets fell on day two and 15 on day one.
"You've got to ask yourself if that's a good advertisement for our format. 34 wickets in two days, pretty one-sided affair I would say," Proteas captain, Dean Elgar, told reporters. "I don't think it was a very good test wicket, no."
Reuters reported it was "so green it was indiscernible from the outfield on day one, quickened on day two and became pock-marked with divots as the match wore on".
The ICC said in a statement today: "A green top, the contest between the two sides was over under two days, with 34 wickets falling in this duration."
Emirates ICC Elite Panel of Match Referees member Richie Richardson released the following report on Tuesday:
"Overall, the Gabba pitch for this Test match was too much in favour of the bowlers. There was extra bounce and occasional excessive seam movement. The odd delivery also kept low on the second day, making it very difficult for batters to build partnerships."
Richardson added that he "found the pitch to be 'below average"'as per the ICC guidelines since it was not an even contest between bat and ball".
As a result of its 'below average' rating, the Gabba has received a demerit point. The ICC said: "Demerit points remain active for a rolling five-year period and when a venue accumulates five demerit points it is suspended from staging any international cricket for a period of 12 months."
In related news, Kagiso Rabada – who has taken the most wickets this year in SA Tests (202 in 2022) – has highlighted some issues with South Africa's Test team. Speaking to reporters he said it was "frustrating as a team" to accept their poor performance in the first Test, BUT pointed out that the team is "relatively inexperienced" and that "patience and understanding" is needed. Rabada said:
"The batting line-up that we have is quite inexperienced. In fact, the team that we have is relatively inexperienced if you look at other cricketing nations. Dean Elgar is our most experienced player followed by myself and Temba (Bavuma).

"I've played 50-odd Test matches and everyone else hasn't played much. It can get frustrating as well and when I say frustrating I don't mean to single out the batters, it's frustrating as a team and you almost have to understand that sometimes this is what happens in a rebuilding phase."
He admitted that he's been part of legendary "star-studded" SA teams in the past, "where you are literally playing with greats of the game", but said that doesn't happen frequently.
"Now, the situation that we're faced with, there's a whole lot of players who have come in, who have the ability but need to get used to the international circuit. So, there needs to be an element of patience and understanding but at the same time, you can't advocate for bad performances. However, we're quite positive."
Rabada said: "If you don't have the belief, then I don't think we'd be able to go out and produce performances like we have. It's all down to belief and I think we have the belief. We will never go down without a fight."
WATCH A moment in Australia between Rabada (not watching) and Bavuma that's gone viral:
Good thing Bavuma's got glasses on, he might have lose an eye! #AUSvSA pic.twitter.com/0QM7jW9XU5

— cricket.com.au (@cricketcomau) December 18, 2022