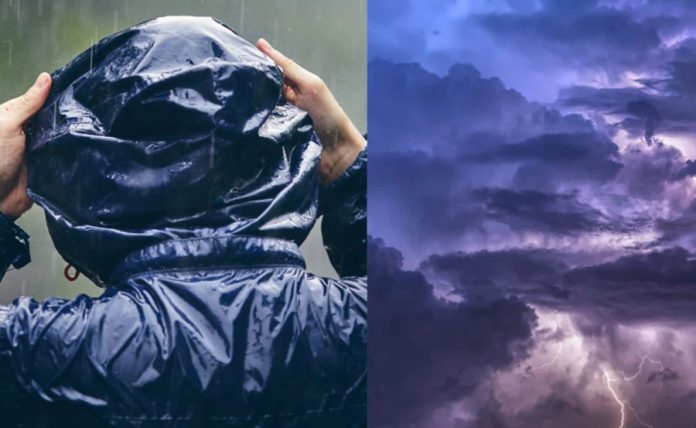 The Met Office suggests the temperature in London on Friday will be 'warm', while thunderstorms are expected in parts of South Africa.
The forecast for the Greater London area is a minimum of 8 degrees Celsius with a maximum of 12.
But we warned!
Temperatures are expected to plummet to ONE degree on Sunday!
Meanwhile, down south in Mzansi, according to the
SA Weather (SAWS)
, severe thunderstorms are expected in parts of Gauteng, Mpumalanga, and KwaZulu-Natal on Friday from 10:00 until midnight.
ALSO READ: Teenager shot 17 times just hours before release of his matric results in Cape Town
The impacts of severe thunderstorms include: 
Localised flooding of susceptible informal settlements,
Low-lying roads/areas
Poor driving conditions due to the pooling of water on roads and reduced visibility
Increased travel times
Localised service disruptions due to increased lightning activity
ALSO READ: Krugersdorp: Boy SUSPENDED after assaulting girl at school [VIDEO]
HERE ARE THE AREAS THAT WILL BE AFFECTED:
The SAWS said the following areas would be affected by the severe thunderstorms on Friday.
Thaba Chweu / Sabie
Mbombela – Sabie / Whiteriver / Mbombela
Emakhazeni / Machadodorp
Mbombela – Sabie / Whiteriver / Mbombela
Steve Tshwete / Middelburg
Albert Luthuli / Carolina
Victor Khanye / Delmas
Govan Mbeki / Secunda
Pixley Ka Seme / Amersfoort
Dipaleseng / Balfour
Mkhondo / Mkhondo/Piet Retief
uPhongolo
eMadlangeni / Utrecht
Newcastle
Abaqulusi / Vryheid/Abaqulusi
Ulundi
Nquthu / Nqutu
Okhahlamba / Royal National Park
Msinga / Pomeroy
Nkandla
Umvoti / Greytown
Mpofana – Mooi River / Mooi River
uMshwathi / New Hanover
Ingwe / Donnybrook
Umzimkhulu
Ubuhlebezwe / Ixopo
Whiteriver / Mbombela
SAFETY WHILE DRIVING IN THE RAIN
Arrive Alive has issued some tips when driving in severe weather.
ALSO READ: Cape Town house on sale for a WHOPPING R100 million
To keep a safe distance from the vehicle ahead of you, increase the three-second rule to five-six seconds.
Slow down if it is raining and the roads are wet. Remove your foot from the accelerator and gradually reduce your speed.
Never apply the brakes abruptly as this may cause the car to skid.
Slow down and be prepared to move to the left shoulder if an oncoming vehicle is overtaking from the opposite direction and will not be able to do so safely.
Only move towards the shoulder if you can see 150m ahead of you clearly. Keep in mind that pedestrians may be walking on the shoulder to avoid mud on the road's surface.
Be cautious of oil patches. Do not slam on the brakes; instead, steer through. Patches will be small in most cases.
Before taking a bend, especially a sharp bend, always shift into a lower gear. As you approach the bend, your speed should be at its slowest, and both hands should be on the steering wheel. When driving around a bend, this slow in/fast out technique gives you the most control.
Double your normal following distance from 3 seconds to 6 seconds to increase your space cushion.
Switch on your headlights.
Other vehicles in the rear and in blind spots should be avoided because they are difficult to see through rain-splattered windows.
ALSO READ: Is there a millionaire or billionaire living in YOUR neighbourhood?