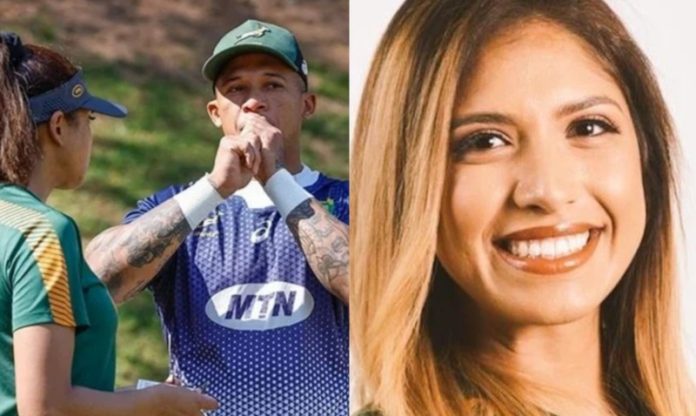 A new SA Rugby policy regarding 'romantic relations in the workplace' reportedly came into effect from the beginning of this year.
In 2022, Springbok flyhalf Elton Jantjies and team dietician Zeenat Simjee were released from the Bok camp after reports of an alleged tryst between the two, which the World Cup winner later admitted to.
It led to one of the most dramatic stories in South African sports history, while it increasingly appears that Jantjies' Springboks career is indefinitely on hold.
According to a Netwerk24 article from this past week, SA Rugby has in fact drafted a policy in connection with 'romantic and sexual relations in the workplace', which has been distributed to all staff, and that came into effect from the beginning of the year.
Part of the document highlights how "operational effectiveness and the reputation of employees and SA Rugby can be affected by sexual or romantic relationships between colleagues and/or teammates".
It is also stated that certain relations can "give rise to the perception of a serious conflict of interest and give rise to problems such as favouritism, and affect employee morale. Furthermore it can also result in negative publicity for SA Rugby, and bring the union as well as individuals' names into disrepute."
Although the Jantjies-Simjee saga is not directly highlighted in the document, it's clear that the national rugby governing body has responded to last year's drama by enforcing certain regulations, albeit without prohibiting relationships between employees.
Part of the guidelines include declaring any relations to their managers or line managers.
Meanwhile, when it comes to Jantjies, he has recently joined up with new French club Agen.
When asked whether leaving South Africa to play in France was based on the circumstances of his difficult past few months, he responded emphatically.
"All my problems are behind me today!" he stated.
ALSO READ | ELTON JANTJIES ARRIVES IN FRANCE, CAREER AT A CROSSROAD
ALSO READ | ANOTHER BOMBSHELL DEVELOPMENT IN JANTJIES-SIMJEE SAGA
ALSO READ | RASSIE EXCITED BY SPRINGBOKS' DEPTH AHEAD OF RWC 2023