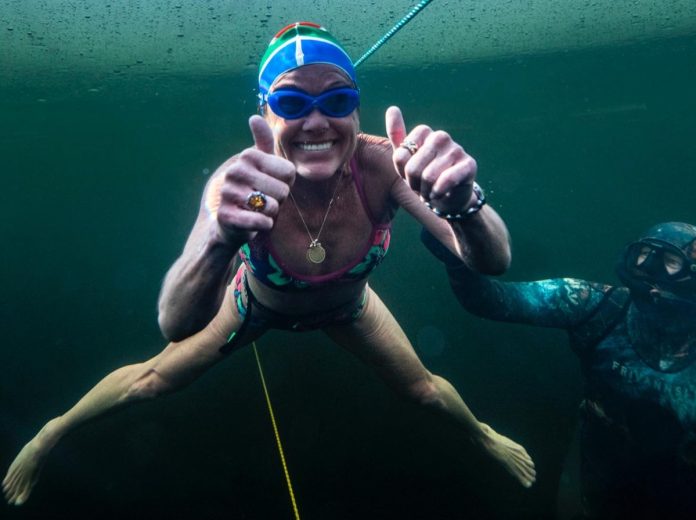 While cold water swimming and ice plunges may have become one of the latest health trends, 50-year-old South African Amber Fillary is taking things to a new level.
FOR THE LATEST GUINNESS WORLD RECORDS VISIT THE SOUTH AFRICAN WEBSITE
As the current Guinness World Record holder for the longest swim under ice on a single breath, wearing only a bikini and goggles – 90 metres – which she set in March 2022 in Norway, Amber has set her sights on achieving two new Guinness World Records this year.
On 4 March, Fillary will be in Norway, to not only attempt to beat her current record, by swimming more than 110 metres on a single breath, but then get straight back into the water to set a new Guinness World Record for the longest swim under ice on a single breath using a mono fin.
"I am really excited to be getting back under the ice again this year, it truly is my happy place," said Fillary.
"These two record attempts are very exciting and very scary at the same time. It will be intense getting into the icy water twice to do two breath holds in one day, but I'm not getting any younger and want to give this my all!"
In November last year, Fillary returned to the pool that started her love of ice water swimming, the 91.44 metre Tooting Bec Lido, one of the United Kingdom's oldest outdoor swimming pools, where she set a new record of swimming the length of the pool and a few extra metres – 104.8 metres to be exact – on a single breath.
"It was such an honour to be able to go back to where it all started and use the swim as part of my training for the new attempts," said Fillary.
"The water, while not frozen over yet, was below 10 degrees, making it a great training swim!"
The driving force behind Fillary's record attempts is to raise awareness for Mental Health Issues plaguing so many people in the world, particularly after the global pandemic.
As a recovering addict and eating disorder survivor, Fillary's key message to those she interacts with is, to not let depression and addiction get in the way of achieving great things and live your dream.
For more information about Amber and her records, visit www.amberfillary.com