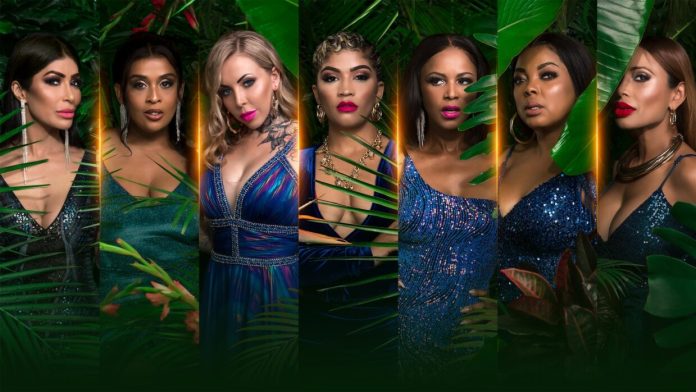 These are some of the best local hits to stream on Showmax in February, viz. S2 of SAFTA winner DAM, Kidscreen nominee Superworm, DIFF winner Girl, Taken and Tribeca winner Blind Ambition.
DAM S2 | Showmax Original | Thursdays from 16 February 2023
Created by four-time SAFTA winner Alex Yazbek, the twisty and twisted Showmax Original psychological thriller DAM was one of the 10 most-watched titles of 2021 on Showmax and the most nominated drama series at the 2022 SAFTAs, earning rave reviews for breaking the mould of South African TV.
Season 2 is set three months after the Spring Festival. The cult's ritual sacrifice seems to have worked: rain has come and transformed the land. Yola has no memory of anything since her return for her father's funeral. Can she put the missing pieces together as diamonds are discovered, a mass grave uncovered and a monster surfaces in the dam?
Lea Vivier and Pallance Dladla return in their SAFTA-nominated roles as Yola and Themba, with Natasha Loring reprising her SAFTA-winning role as Yola's sister, Sienna. Made in partnership with Picture Tree, the Showmax Original also won Best Art Direction for Sue Steele at the 2022 SAFTAs.
SUPERWORM | First on Showmax | 9 February 2023
Directed by South Africans Sarah Scrimgeour and Jac Hamman, Superworm is up for Best One-Off, Special or TV Movie at the Kidscreen Awards next week, where it's competing against Luck and Shaun the Sheep: The Flight Before Christmas. It's also nominated for Best Special Production at the Annie Awards later this month, where it's up against the likes of The Sandman.
An animated adaptation of the bestselling picture book of the same name by Julia Donaldson and Axel Scheffler, Superworm was hailed as "an instant classic" by The Sun; "one of Christmas TV's greatest delights" by The Daily Telegraph; and "the BBC's standout offering" by The Guardian.
Superworm is super-long and super-strong, and is always saving the day. But who can save him when he gets too full of himself and is captured by the evil Wizard Lizard?
Superworm's voice cast includes Oscar winner Olivia Colman (The Crown) as the narrator, Emmy nominee Matt Smith (House of the Dragon) as Superworm, and Ghanaian-British actor Kobna Holdbrook-Smith (Paddington 2, Mary Poppins Returns) as the Wizard Lizard.
Superworm is the ninth TV adaptation of a Donaldson and Scheffler book for the BBC by Magic Light Pictures. Previous adaptations include the Oscar-nominated classics The Gruffalo and Room on the Broom, as well as the 2021 Annie Award winner The Snail and the Whale and 2020 International Emmy-winning Zog.
GIRL, TAKEN | Stream from 20 February 2023
Named Best South African Documentary Film at the 2022 Durban International Film Festival (DIFF), Girl, Taken is the incredible story of two parents whose baby was stolen at birth, who miraculously found her 17 years later, and who then lost her again…
Girl, Taken was co-directed by multi-award-winners Francois Verster and Simon Wood, whose previous collaboration, Scenes From a Dry City, was nominated for a News and Documentary Emmy, earned a Special Mention at AFI Docs, and was named World Press Photo Online Video of the Year.
The 92-minute documentary follows Celeste and Morne Nurse, whose baby daughter Zephany was stolen from hospital three days after her birth in Cape Town, April 1997. For 17 years, the devastated couple searched for Zephany, regularly making media appeals, hiring private detectives and following false leads.
Then in 2015, their second daughter, Cassidy, enrolled in a new school, where other pupils pointed out an older pupil, Miche Solomon, who looked much like her. DNA samples confirmed that Miche was Zephany, and, incredibly, she had grown up only a few miles from the Nurse's home. The Nurses were overjoyed, and the story saw them becoming media darlings around the world.
However, the arrest and trial of the seamstress whom Miche knew as her loving mother devastated her and ultimately, she chose to remain with the kidnapper's family. The Nurses, against all expectations, lost their daughter a second time. This film follows the process of two broken families climbing the difficult path towards forgiveness and wholeness.
"It could have been sensationalist, but it wasn't," said the DIFF jury, praising the "twists and turns" and "many complexities and different layers" of the "real human story about family." Similarly, alongside its international release on Paramount+, Heat (UK) gave Girl, Taken four stars, calling it "compelling and heartbreaking stuff."
BLIND AMBITION | Stream from 28 February 2023
The inspiring story of four Zimbabwean refugees who conquered the odds to become top South African sommeliers, the heartwarming documentary film Blind Ambition won the Audience Award at the Tribeca and Sydney film festivals, among others.
Forming Zimbabwe's first-ever wine-tasting team, the four set their sights on the coveted title of World Wine Tasting Champions and, from the moment they arrive in France to compete, this team of mavericks turns an establishment of privilege and tradition on its head.
Blind Ambition has a 100% critics' rating on Rotten Tomatoes, with The Guardian's Peter Bradshaw writing, "It's impossible not to smile along with this feelgood documentary."
THE SMEDS AND THE SMOOS | First on Showmax | 9 February 2023
South Africans Daniel Snaddon and Samantha Cutler direct The Smeds and the Smoos, adapted by South African Julia Smuts Louw from Julia Donaldson and Axel Scheffler's bestselling picture-book of the same name. Snaddon was previously a director on the 2021 Annie Award winner The Snail and the Whale, 2020 International Emmy-winning Zog, and the BAFTA-nominated and Annecy-winning Stick Man.
The Smeds and The Smoos tells the story of two warring families whose children, Bill and Janet, fall in love and run away together. Hotly pursued by their grandparents, Grandfather Smed (comedian Bill Bailey) and Grandmother Smoo (Adjoa Andoh from Bridgerton), the two young aliens lead their families on a chase across space, giving them the opportunity to find out they have more in common than they think.
Rounding out the cast are Ashna Rabheru (Sex Education) as Janet, Daniel Ezra (All American) as Bill, Rob Brydon (Gavin and Stacey) as Uncle Smoo, Meera Syal (Roar) as Aunt Smed and Oscar nominee Sally Hawkins (The Shape of Water) as the narrator.
As Independent (UK) says, "There really couldn't be a better allegory for Britain today than this pretty weird tale of a blue and red alien who fall in love… This is the West Side Story of our modern age; the Romeo and Juliet version of romance with a touch of… well, Brexit."
The Smeds and The Smoos is the 10th TV adaptation of a Donaldson and Scheffler book for the BBC by Magic Light Pictures. Previous adaptations include the Oscar-nominated classics The Gruffalo and Room on the Broom.
DONKERBOS | Showmax Original | Binge now
Having cracked multiple Best of 2022 lists, the Showmax Original Donkerbos has become the only African series selected for Berlinale Series Market Selects 2023 – described as being for "curated series with high market potential." Taking place from 20-22 February 2023, The Berlinale Series Market is a joint initiative of the European Film Market, the Berlinale Co-Production Market and Berlinale Talents. It is organised in close cooperation with Berlinale Series.
When the bodies of six children are found in the backwater forests of Donkerbos, Limpopo, an ostracised detective (multi-award-winner Erica Wessels) must wrestle with her dark past, her family and a distrustful community to catch the killer before another child is taken.
Created by Nico Scheepers (Nêrens, Noord-Kaap) and produced by Nagvlug (Nêrens, Noord-Kaap, Skemerdans, Barakat), Donkerbos is a small-town murder mystery that switches between English, Afrikaans and Venda.
The star-studded cast includes SAFTA Lifetime Achievement Award winner Thoko Ntshinga (The River), Fleur du Cap winners Sanda Shandu (Skemerdans) and Nicole Holm (Fynskrif), Silwerskerm winners Stian Bam (Racheltjie de Beer), Jacques Bessenger (Fynskrif, Warrior) and Aphiwe Sithole (Poppie Nongena), and multi-award-winners Leandie Du Randt (Meisies Wat Fluit) and Wilhelm van der Walt (Fynskrif), with breakout performances by newcomers Steph van der Merwe and Marko Vorster.
TVPlus hailed Donkerbos as "a cinematic masterpiece" that will keep viewers on the edge of their seat and shock them with twists, turns and red herrings."
Also look out for Season 2 of Afrikaans crime drama Projek Dina, starring SAFTA nominee Chanelle de Jager (Fried Barry, Stroomop), now available to binge.
THATO YA MODIMO | First on Showmax | Stream from 17 February 2023
When her best friend, Neo, passes away tragically, Cindy is forced to step up and help a struggling Libo tackle single parenthood without his beloved wife. However, while Cindy tries to plan her wedding, the decision to help raise baby Thato throws her and Libo on a journey that might change the course of their lives forever.
SAFTA nominees Zikhona Bali (DiepCity, Is'thunzi) and Thembikile Komani (Blood Psalms, Knuckle City) star as Cindy and her fiancé Sizwe, with Sizwe Khumbuza (Unmarried, Durban Gen, Uzalo) as Libo. Rosemary Zimu (Savage Beauty, Ayeye: Stripped), SAFTA winner Kere Nyawo (Zone 14), and Pascanline Phale (The Throne, Impilo: The Scam) co-star.
Directed by Athi Petela (Ayeye Stripped), Thato Ya Modimo is the third Showmax film from Beyond Black Productions, building on the success of both Welcome to the Family and Umakoti Wethu.
THE WIFE S3 | New episodes on Thursday, with a broadcast break on 16 and 23 February 2023
The truth is finally out: Mthaniya's father is Qhawe, not Mqhele. Hlomu's not even apologetic about sleeping with her husband's brother. "Brother," she tells Nkosana at the family intervention. " I don't know what you mean when you put it like that – that you people forgive me. Because now it seems like I acted alone in this. What about Qhawe and Mqhele? Why aren't you blaming them too?"
Hlomu goes on to place the blame squarely on Mqhele's past abuse, which caused a miscarriage, and his murder of her fiancé Sandile. She says she was so angry that she wanted to see if this family would kill one of their own. But with Mqhele pulling a gun on her soon after, she might be the next to die instead…
Is Mthaniya's paternity the final straw for Qhaledi? Neither seems to have moved on successfully: Qhawe's latest hookup left him and Mqoqi walking home half naked after their drinks were spiked and they were robbed, while Naledi's lobola engagements took a dive when Tshedi mentioned her sister's sex tape…
It's been tense. Thankfully, fans of The Wife will get to take a breath and heal their shattered nerves on 16 and 23 February 2023, when the record-breaking, multi-award-winning, Twitter-topping telenovela goes on a two-week broadcast break.
The Wife will return on 2 March 2023 to answer all your remaining questions before the third and final season concludes on 6 April 2023. How will Mqhele and Hlomu's toxic love story end? Will Qhaledi reunite and live happily ever after, despite their families' rivalry? And what is Xoli going to do next? So many questions; so little time…
THE RIVER S6 | Four new episodes a week from February 2023
1Magic's hit telenovela The River returns for its sixth and final season, set in the colliding worlds of the privileged on one side of the river, who will go to any lengths to keep their wealth, and those on the other side, who have little to show for their hard work.
The series has bid a fond farewell to three of its original cast members with the exit of Hlomla Dandala, Lawrence Maleka and Tango Ncetezo, but fans will be thrilled with this season's new arrival – none other than three-time SAFTA-winner Siyabonga Thwala (Isibaya, The Republic, eHostela), who comes in as the street smart Bangizwe Zwane, a childhood friend of Lindiwe's. He's as ruthless as she is… but far more patient and calculated.
The River was nominated for an International Emmy in 2019 for best telenovela and has won 29 SAFTAs, including Best Telenovela, Actress (Sindi Dlathu as Lindiwe and Moshidi Motshegwa as Malefu), and Actor (Presley Chweneyagae as Thuso), as well as the Audience Award for Most Popular TV Soap.
DIEPCITY S1 | Binge 10 episodes every Friday from 10 February 2023
Set in the Johannesburg township of Diepsloot, Season 1 of the hit telenovela DiepCity centres on a group of disillusioned young women who were forced into crime while in high school, just to make ends meet.
Created and directed by SAFTA nominee Mandla N, and produced by Black Brain (who together gave us the multi-award winning drama Lockdown), DiepCity was the joint most-awarded title overall at the 2022 SAFTAs, winning five awards – the most of any telenovela, including Best Telenovela and Most Popular Soap or Telenovela – with a further four nominations, including Best Supporting Actor for previous SAFTA winner Obed Baloyi (Ga re Dumele, Giyani). The show also boasts seven wins at the 2021 Royalty Soapie Awards, including Outstanding Daily Drama.
The cast is led by Kgaogelo Monama (Lockdown), Nozuko Ncayiyane (Scandal!), newcomer Nompumelelo Vilakazi, and SAFTA nominee Zikhona Bali (Is'Thunzi, Lakutshon' Ilanga), while the support cast includes the likes of SAFTA winners Dawn Thandeka King (Lockdown, Uzalo), Mduduzi Mabaso (Rhythm City, Ehostela), Hamilton Dlamini (Reyka) and Vele Manenje (Ring of Lies), as well as Tessa Jubber (The Girl from St. Agnes).
THE REAL HOUSEWIVES OF ABUJA, CAPE TOWN, DURBAN & NAIROBI | New eps of Durban every Wednesday
The Real Housewives of Lagos was the only title to crack the Showmax 10 most-streamed of 2022 lists across Ghana, Kenya, Nigeria and South Africa.
Now the ladies of Lagos have new competition, with the Cape Town edition ready to binge from 9 February 2023; new episodes of The Real Housewives of Durban every Wednesday; the Nairobi edition on Thursdays from 23 February; and the Abuja edition on Fridays from 17 February 2023. Which city will have the best looks, the most lavish lifestyles, and the most inspiring women?
In Durban, Maria Valaskatzis, Mbali Ngiba and Slindile Wendy Ndlovu have joined returning cast members Annie Mthembu, Jojo Robinson, Nonku Williams and Sorisha Naidoo.
Seasons 1 and 2 were one of the 10 most streamed titles of the year on Showmax in 2021 and 2022 respectively. Season 1 went on to screen on NBCUniversal's reality streaming service hayu in 28 territories outside of Africa, as well as on Peacock and Bravo, the original home of the franchise.
Reality TV fans can also look out for:
• Idols SA S18, express from M-Net, and Boer Soek 'n Vrou S15, express from kykNET – with new episodes of both on Thursdays
• Season 3 of Mzansi Magic's Mnakwethu, hosted by polygamist Musa Mseleku, from 20 February 2023, as well as Season 9 of Date My Family from 9 February 2023 and Season 2 of Pastor Wants A Wife, from 23 February 2023
• Season 1 of 1Magic's Makoti, Are You the One?, which sees potential wives move in with their potential mothers-in-law with the hopes of earning their blessing to marry their sons, which is available to binge now, and Season 1 of the hit talk show Downtime With Somizi, which is due on 16 February 2023
• Two episodes a week of the reality series Uyajola 9/9, which exposes cheaters, and the second seasons of both the relationship reboot show Mina Nawe House and You Promised to Marry Me, the show that puts a ring on it (or not) – all from Moja Love, named Coolest TV Channel of 2022 at The Sunday Times' GenNext Survey
EVERYTHING ON SHOWMAX IN FEBRUARY 2023
To see everything on Showmax in February 2023, including The Last of Us, the most popular series on IMDb right now; Maggie Gyllenhaal's Oscar-nominated Elena Ferrante adaptation, The Lost Daughter; and the true crime mini-series Victoria's Secret: Angels and Demons, click here.