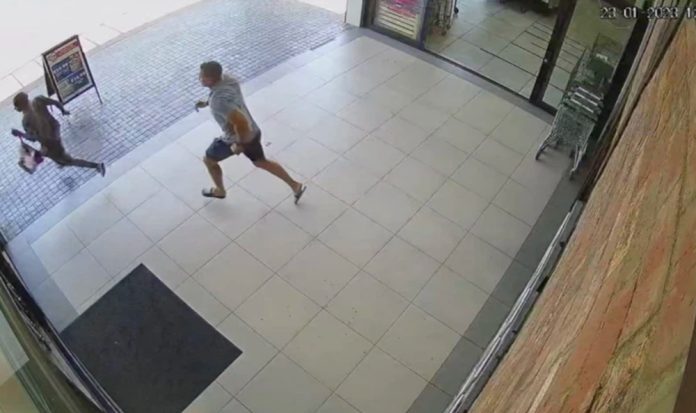 In news that went viral this week, Netwerk24 reported on how Jean de Villiers – who played 109 Tests for the Springboks – had grown suspicious of a man who was seemingly slipping items into his pockets before walking out of The Boer & Butcher in Paarl late last month.
Store owner Edu Hanekom said that De Villiers and his wife Marlie, who are regular customers, were at the checkout when the well-known former Springbok and Stormers captain spotted the man acting suspiciously.
MUST READ | ARE THESE FLIP FLOPS OR SLIP SLOPS? WE KNOW WHAT JEAN DE VILLIERS THINKS!
Screenshots from surveillance footage show the 41-year-old – who is still in tip-top shape – running after the suspect – losing his flip flops in the process – before returning and handing him over to security.
The butchery has now shared some edited footage of the incident, showing the actions of De Villiers, while also hailing him as 'Superman' for his heroics.
ALSO READ | SLOW-MO VIDEO: SA-BORN WING'S STUNNING SOLO SIX NATIONS TRY
YOU CAN SEE IMAGES OF JEAN DE VILLIERS' HEROICS BELOW:
Netwerk24 also quoted a voice note from De Villiers to his wife describing how he "watched him the whole time without him seeing that I was watching him".
"And when I looked again, he just slowly started walking out. And when he walked out, I also slowly walked behind him," he told his spouse.
"When I said 'hey' he looked around and started running. Then I just said to myself, but I must also run now. And then I ran out of my sandals and glasses and finally across the road."
Hanekom praised the quick thinking of De Villiers, who successfully brought the perpetrator back to the shop.
"We are very grateful for Jean's actions. It was quite a thing when a former Springbok rugby captain arrived with the thief," Hanekom said.
MUST-READ: JAKE WHITE OPENS UP ON NEAR-DEATH EXPERIENCE
De Villiers is one of the most well-known former South African rugby players, having featured in 109 Tests between 2002 and 2015. He was renowned for his ability to read the game and for often scoring incredible intercept tries.
The centre was also one of the most loyal servants of Western Province and Stormers rugby, featuring in over 100 games for the Cape franchise.